WHAT'S NEW | Controlled Assurance | WebRTC | Diameter Test | IMS/EPC Test | Load Test
TEST TOOLS FOR LAB & PRODUCTION SOLUTIONS
NETSCOUT delivers core network test and validation functions to ensure the successful deployment of new telecommunications networks, network expansions, or software upgrades. Our Spectra2 solutions address capacity, conformance, interoperability, and performance testing of multiple functions and elements found in IMS, EPC, and NextGen IP networks including:
Media Gateways
Signaling Gateways
SIP Servers
AAA functions using Diameter
WebRTC servers and applications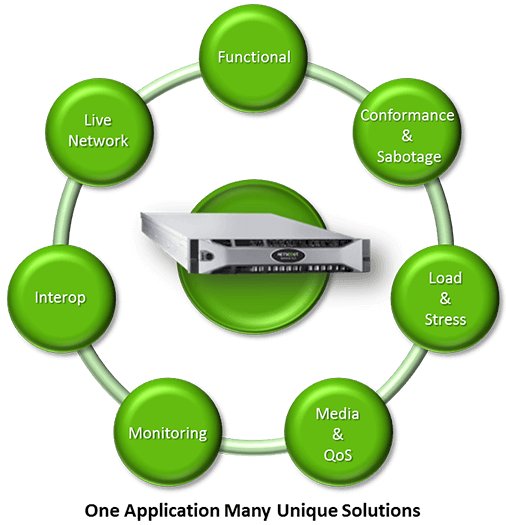 Benefits
Core network test has never been easier than with NETSCOUT Spectra2 award winning multi-user GUI. It is the front end to an automated set of functional, load, and conformance testing applications. With this level of ease-of-use, Spectra2 enables customers to maximize their productivity.
Ideal Audience for Spectra2
Software developers and testers
System / Quality Assurance testers
Interoperability testers
Regression testers
Load and performance testers
Engineering and Operations
Multi-Protocol Testing for IMS, EPC, and PSTN
With the growth in IMS and EPC, testing each functional element in isolation is not enough. Standardized elements use SIP, MEGACO, H.248, Diameter, and RTP to interoperate across different revisions and vendor implementations. In addition to signaling protocols and media codecs, different IP-based transport protocols including UDP, TCP, and SCTP ensure timely delivery of protocol messages. Add a security layer using IPSec, TLS, or DTLS, and the implications for testing can seem daunting. NETSCOUT's Spectra2 meets the testing challenges that are inherent with IMS and EPC solutions
Even though VoIP is becoming ubiquitous, the need to test interoperability between VoIP and legacy PSTN components continues to be a critical step in many test cycles. NETSCOUT's Spectra2 3u solution supports next generation VoIP testing and legacy PSTN testing with SS7 and ISDN in a single platform.
WebRTC
NETSCOUT's WebRTC solution has the potential to change the playing field with browser based communication. See how Spectra2, with support for SIP over WebSockets, ICE/TURN, and HTTP coupled with a solid foundation in measuring voice and video QoS can help make sure that early adopters achieve success with WebRTC based solutions.
Functional, Load, Interoperability, and Conformance Testing
Our Spectra2's wide array of functionality can be utilized in all test scenarios. With Spectra2 SE2 with software-only and virtual deployment options, in addition to Spectra2 XL3 and Spectra2 3u with hardware acceleration for high density voice testing, there is a Spectra2 solution that meets your testing needs.
Controlled Assurance
The need to test does not end when a solution is deployed in production. Spectra2 enables continuous, active testing of individual devices or entire networks using Controlled Assurance. This can help identify problem areas before customers are impacted.