Radio Access Network Monitoring and Analytic Solution
As mobile technologies progress more and more intelligence is moving out of the core network, to the Edge and RAN. With smarter devices and more complex signaling, the RAN plays a major part in supporting, and adequately serving subscribers.
No matter how well the core network is performing, issues in the RAN can cause significant quality of experience (QOE) or Quality of Service (QoS) problems. For Carrier Service Providers (CSPs), understanding the RAN means proactively resolving problems, to reduce the risk of widespread, debilitating churn.
RAN monitoring combined with requirements for higher quality expectations for existing 4G services (mobility, data, VoLTE and video), and the arrival of 5G services like network slicing, only magnifies the problems in the RAN around latency, reliability, and additional signaling overhead.
CSPs must be ready to overcome any RAN monitoring challenges that impact time to market, network degradation, and ownership of fault isolation with cross functional teams.
5G RAN Planning and Deployment
CSPs interested in reducing OPEX with 5G must incorporate and achieve visibility into configuration management and automation frameworks to ease operational risks.
With NETSCOUT's RAN Monitoring and Analytics solution, CSPs will benefit from best practices with a reliable life cycle network planning and oversight strategy for their 4G/5G and Open RAN networks. Starting from pre-launch to operations, RF teams can successfully identify and quickly resolve root cause service degradation anywhere in the network, to optimize issues based on proven data and actionable insights.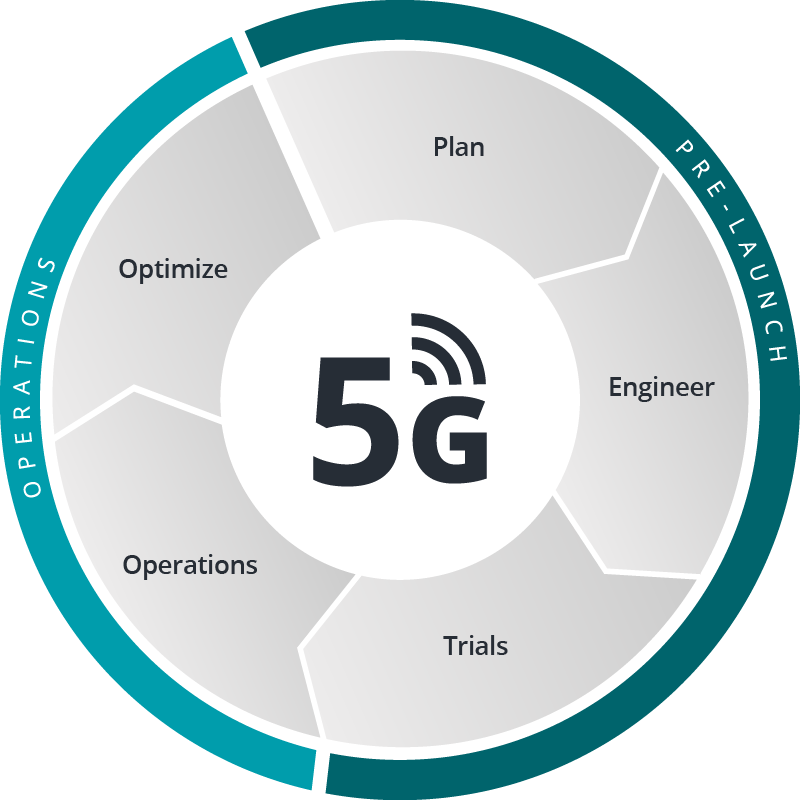 Click on the 5G life cycle diagram to learn more about any of the phases.
Deploying 5G Networks?
Build RF Propagation models with real drive test ground truth data. Audit and optimize RF plan and design with real-time heatmap.
Need Simplify RF Workflows?
Over 4000 global unique RAN engineers use TrueCall GeoAnalytics workflow daily to solve RAN issues.
Testing RAN KPIs?
NETSCOUT RAN Analytics solution has proven assurance for workflows primarily with high level Key Performance Indicators (KPIs) for RAN visibility, optimization, and performance.
How Smart Is Your RAN Data?
Achieve deeper insights into RAN and core performance for continuous assurance and improved optimization for your third-party applications with Smart Data feeds for actionable insights.
Trust but verify - RAN Policy working?
Ensure 5G automated policies with succinct KPIs, while validating performance especially for RIC with Open RAN.
NETSCOUT's RAN Analytics solution is 3GPP compliant, built on a cloud docker framework, and vendor agnostic. Our solution offers visibility with deep insights from Smart Data into the performance for all RAN activities around: monitoring, architecture, integration, deployment, and optimization.
NETSCOUT RAN Analytics Solution Focus Areas
Subscriber Network Analytics (OPEX)
Reduce Mean Time To Know (MTTK) using rich data sets with AI/ML for RAN Analytics
Kafka export to CSP AI/ML automation systems and standalone reporting options address Carrier Aggregation, SON/O-RAN Feeds, and Neighbor Cell Analysis
NETSCOUT's RAN Solution
Real Time Visibility
Provide 24x7 real-time visibility needed to effectively troubleshoot RAN issues
Reduce OPEX
Reduce overall troubleshooting costs and the need for drive testing
Geo-Analytics
Use geo-analytics to monitor RAN performance to detect and determine root cause of subscriber's issues
Data Feeds
CSPs can feed data lake and data tools with Smart ASI valuable geolocated RAN signaling data for manual, AI/ML analysis, or geo-marketing
Contact Us Today
To learn more about how NETSCOUT can help your company, speak to one of our highly experienced RAN subject matter experts.