EMEA Travel/Hotel
Hotel
The Hotel Arts Barcelona is the official hotel of NETSCOUT Arbor 2019 EMEA Summit and is regarded as a blissful retreat and cultural hub in the Mediterranean. And just 20 minutes from Barcelona Airport.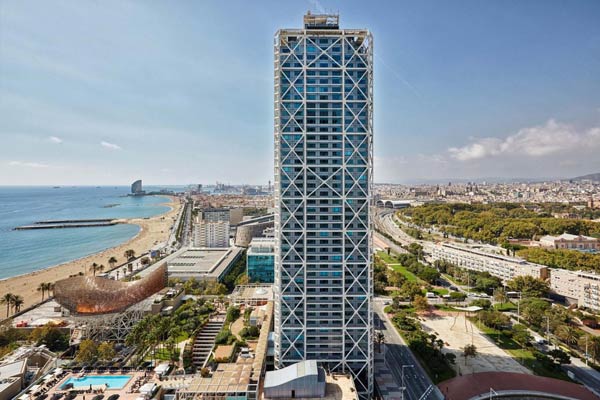 Hotel Address/Phone:
Marina 19-21
08005 Barcelona, Spain
Phone: +34 93 2211000
Check In / Check Out: 3:00pm / noon
Making Room Reservations:
All attendees are responsible their own hotel reservations. Reservations must be made by 10 January 2019 to take advantage of our discounted group rate of 250€ /night (plus applicable taxes and service charges).
Reservations may be made online by visiting the Arbor Networks Reservations Page, or by emailing the hotel reservations department at [email protected] - simply mention **NETSCOUT Arbor Summit** to receive the special group rate. Please note – a hotel reservation does not confirm your attendance at the Summit. You must return to the Summit Registration Form to complete and confirm your registration for the Summit.
Cancellation Clause:
If you are unable to attend the NETSCOUT Arbor Summit, your cancellation must be confirmed, by sending an email message to [email protected] by 15 January 2019, 21 days prior to the start of the Summit on 5 February 2019.
Cancelling your hotel reservation: This must be done directly with the hotel. You can cancel up to 72 hours prior to your arrival. After that, your card will be charged.
Please note that in making your reservation, the site will quote a total for the entire stay. Your credit card is required and a one-night deposit will be charged to guarantee the room.
Transportation
Attendees are responsible for booking their own air travel, and/or for arranging their own ground transportation.
The closest airport is Barcelona Airport – El Prat (BCN), which is approximately 20 minutes from the hotel.
After the Summit is over, for those flying out of Barcelona - Travel authorities advise arriving to the airport a minimum of 3 hours prior to your flight's departure.
There are a few ground transportation options to/from the hotel/airport including taxis, shuttles and sedan services. Please note the rate estimates below are subject to change and should be verified before booking.
Taxis:: A taxi will cost approximately Euro 40€ one way and are readily available from the airport.
Limo/Sedan Service:: Special requests – you can contact the official transportation company, ABASER at [email protected]
Rental Cars:: Rental cars are available through the major car rental agencies. Please note that if you choose to rent a car, parking at the hotel offers self and valet parking. For driving directions and more details on taxis and shuttle service, please visit the hotel's Web site.
Questions?
For questions about the NETSCOUT Arbor Summit, please contact Sharon Reynolds at [email protected].