Value of Virtual Probes in Closed Loop Automation
Virtual Network Probes (Vprobes) will play a critical role in the future of service assurance, according to the latest from Appledore Research.
By: Patrick Kelly
The network transformation from physical network functions to virtual network functions requires a fundamental design change in how application and services are tested and assured in a hybrid virtual network. Workloads will move dynamically to support cloud bursting, driving the need to scale the network in/out in dramatically shorter timeframes. Existing monitoring systems will need to adapt from expensive, dedicated fixed monitoring points to adaptive, lightweight cloud native container based plug-in monitoring points.
The Telco Cloud offers for the first time on demand services both within the CSP network but also outside the boundaries of the CSP network. Network Function Virtualization (NFV) increases the complexity of assuring services using todays processes and tools. Cloud based services require new approaches in the monitoring and troubleshooting of services because virtualization adds more layers of abstraction and dynamic change within these added layers. The ability to address this challenge requires more automation and fewer manual touchpoints. Assuring services in a cloud infrastructure will change workflow processes and the service assurance systems necessary to isolate and identify service disruptions.
The Role of Virtual Network Probes in Service Assurance
Vprobes will play a critical role in the future NOC and SOC. Nextgen assurance solutions will complement Policy Management and Orchestration as a method to automate a closed loop in the dynamic hybrid virtualized network. Appledore Research published our 2018 Outlook for Network Testing and Monitoring Market in the Virtualization and Data Analytics Market Report in May 2018. https://appledoreresearch.com/report/network-testing-and-monitoring-in-the-virtualization-and-data-analytics-market-appledore-market-outlook-0518/
In the report we mapped out the adoption and business value achieved from the deployment of vProbes over the next 5 to 7 years (figure 1).
Figure 1: Appledore Research Network Probe Market Evolution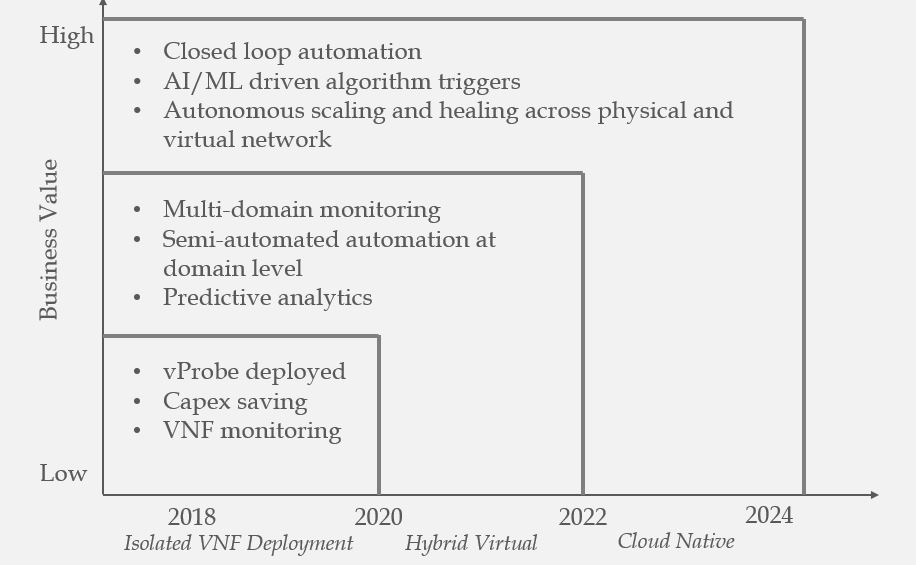 Source: Appledore Research
Without large scale automation and process change virtualization has the potential to massively increase operational cost. Active and passive probing has business benefits beyond basic test and monitoring. Virtual probes (vProbes) will be used to provide insight and real time data on the state of the network, the services transiting the hybrid virtual network, and customer quality of service.
We will evaluate the use of network monitoring and the use of virtual probes in the following areas in an upcoming post.
Achieving visibility and assurance in Edge computing
Analytics and AI components for cloud services – the benefits of passive and active probing
Preparing for 5G and related technologies
For more insight on automation and the evolution of service assurance systems please visit us at www.appledoreresearch.com