NGENIUSONE NETWORK MONITOR
One complete unified view of application and network services
Real-time user experience and transaction monitoring
Network auto discovery and service dependency mapping
Network topology dashboards, alerts, and historical look-ups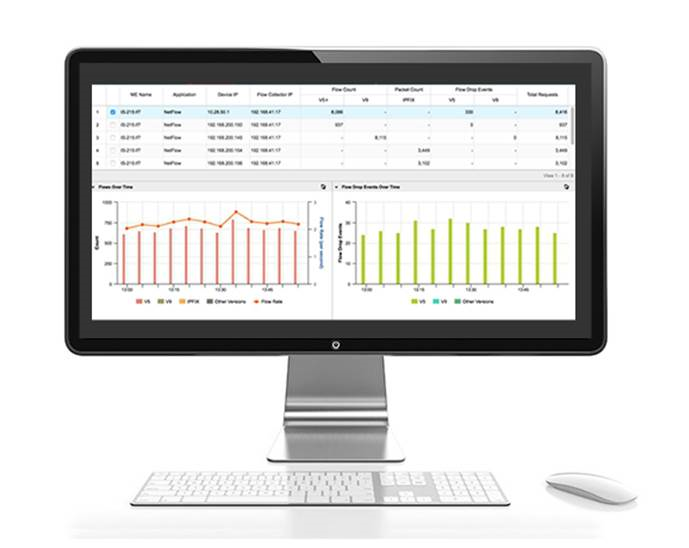 Why You Need Intelligent Real-Time Network Alerts & Troubleshooting
Network alerts greatly depend upon KPI metric threshold settings, correlated to the impact of all your vendors and solutions on the network to pinpoint service issues and reduce MTTR. This ensures performance that is flexible and scalable to your team's needs.
Real-time Application & Network Alerts That Matter
DELIVERING REAL-TIME AUTO DISCOVERY AND NETWORK TOPOLOGY MAPPING WITH SIMPLE DRILLDOWN VIEWS
Real-time configurable threshold alerting
Horizontal east-west visibility with end-to-end views of the enterprise
Vertical north-south layer depth incorporates application, server, and network performance data
Real-time and back-in-time views for root cause of problems that arise intermittently
Comprehensive interfaces with easy-to-understand charts, graphs, and reports to speed accurate problem resolution
What is NextGen Network Monitoring?
Service triage and alerting with operational intelligence in context to your network, regardless of vendor or infrastructure or service. Triage, alerting and operational intelligence in context of your network. Stay in the know with NextGen network monitoring application performance.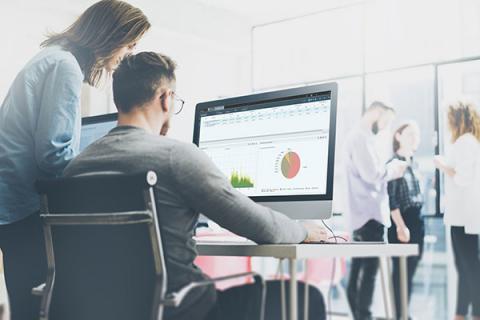 IT Operations Management
BETTER DECISION WITH PREDICTIVE ANALYTICS AND INSIGHTS MINED FROM TRAFFIC DATA
By inspecting traffic data continuously and analyzing large volumes of data efficiently at high velocity for complex, distributed IT services, NETSCOUT helps customers solve performance issues before they impact the bottom line.
Layer 7/8 deep packet inspection ​
Built-in load balancer and acceleration​
Aggregation and desegregation ​
Control, User, URL groups, OTT planes​
Packet decodes and analysis
Best Network and Data Center Infrastructure Monitoring
IT architectures and system deployments are in constant change and transformation, however traffic data remains a constant source of truth. Assure high availability and performance with real-time network monitoring application performance metrics.
Full Infrastructure Monitoring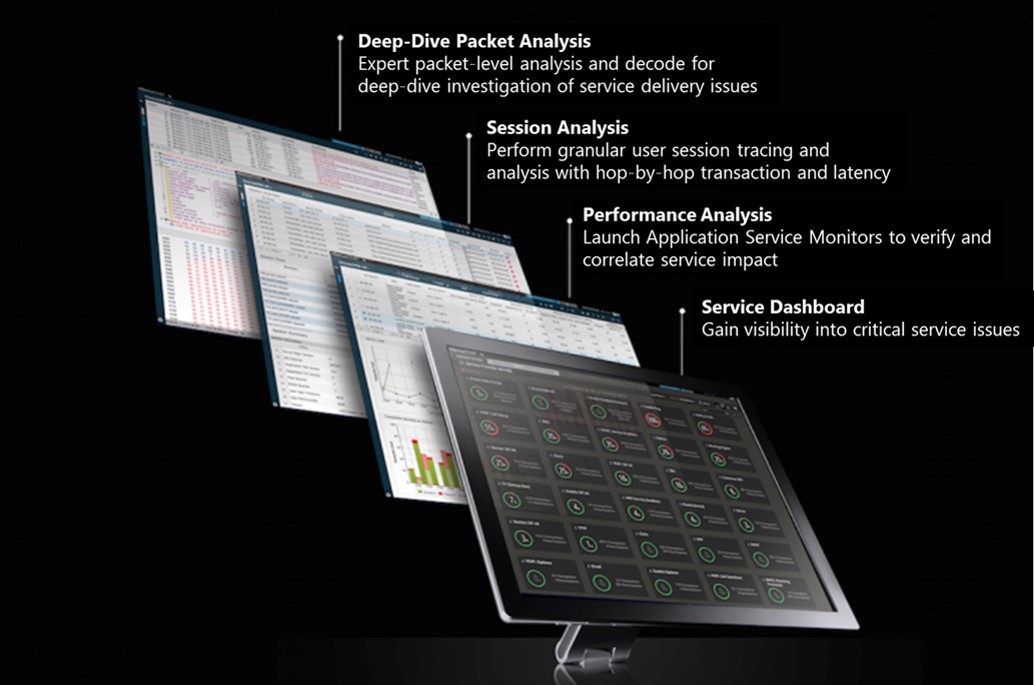 ---
NETSCOUT'S Adaptive Service Intelligence (ASI) technology uses traffic data to gain visibility into user communities, services and strategic IT assets, as well as how they are performing.
Monitor the health and performance of your data center's physical and virtual SaaS infrastructure in real-time​
View user groups, server pools or clusters to review bandwidth consumption, load balancing and traffic patterns​
Measure the responsiveness and availability of critical services from the end user's perspective​
Manage real-time dynamic capacity planning, reporting and analysis
What is Devops Monitoring?
DevOps teams design, deliver and fine-tune network application life cycle management performance. This requires a solution with real-time application release monitoring in the cloud, across hybrid and on-premise networks.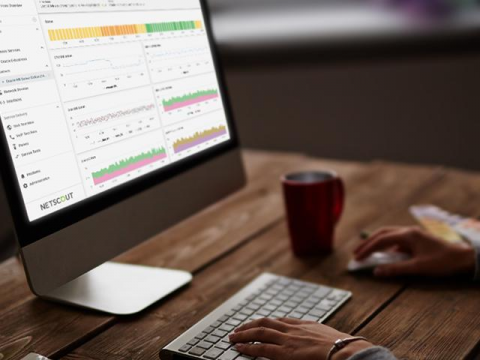 Best DevOps Performance Metrics
MOST DEVOPS ISSUES OCCUR WHEN THE SOFTWARE HITS PRODUCTION, SO MAINTAINING CONTINUOUS VISIBILITY IS KEY
Multi-component end-to-end business transaction tracking​
Dynamic cloud-scale alerting, reporting and monitoring all with nGeniusONE​
Truly the solution that puts the Ops in DevOps – see the things native monitoring apps cannot​
Through continuous deployment visibility, measure success rates, error rates and incidents
Why NETSCOUT?
Still Want to Learn More?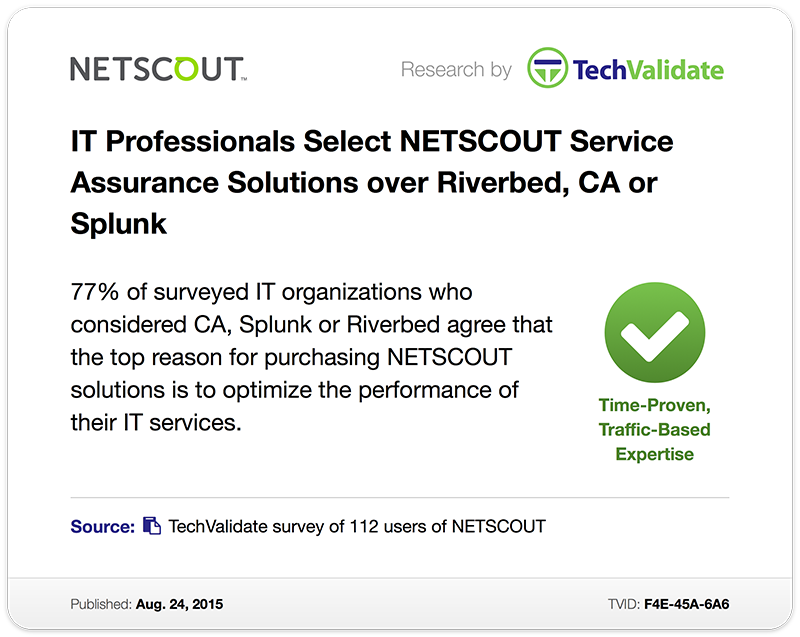 WHAT MAKES NETSCOUT NETWORK MONITORING DIFFERENT?
Deep packet inspection and analysis for actionable business intelligence
Independent and exacting infrastructure device, component and element fault detection
Proactive configuration management to protect business critical applications
Auto discovery and correlation for application availability monitoring and delivery
Packet broker and flow switching for network monitoring
Network Monitoring
What is Network Monitoring?
What is NETWORK PERFORMANCE?
Network monitoring is deep packet analysis, capacity/load visibility, with metrics-based alerts that are scalable and robust enough to accommodate an end-to-end user perspective across the enterprise, cable or communications provider.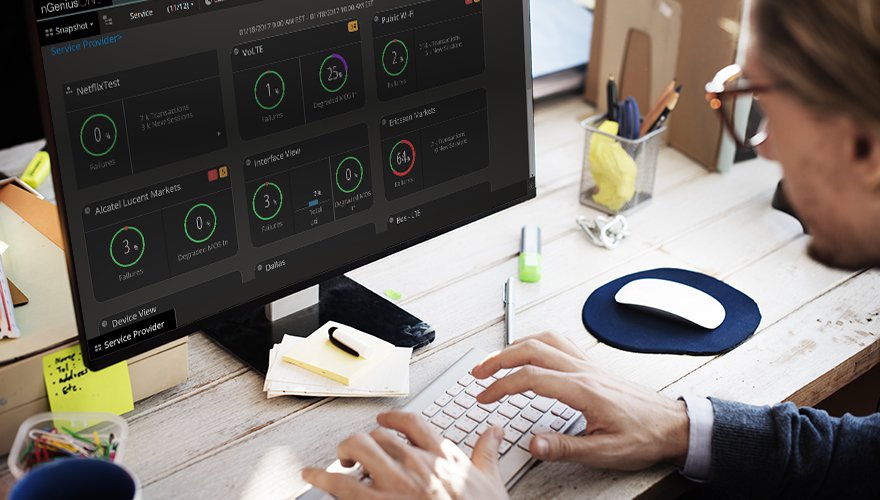 TOP NETWORK PERFORMANCE METRICS TO MONITOR:
Out of order packets - too many can cause a network slowdown
Bi-directional latency metrics - how much time it takes to get a response to a packet
TCP retransmits - application performance degrades, causing for retransmits