Inspiring Interns: Guardians of the Connected World
Learn about Dyanna Rivera and her journey at NETSCOUT.
Internships are the stepping stones of a career path filled with growth and exposure to one's desired field. For more than 10 years, NETSCOUT's internship program has provided hundreds of college and graduate students with full-time paid work experience on their journey toward success. We are proud to have hosted more than 35 interns in the U.S. this past summer. In this series, we will be profiling a few interns who share their experiences as Guardians of the Connected World. Read on to learn more about Dyanna Rivera and her journey at NETSCOUT.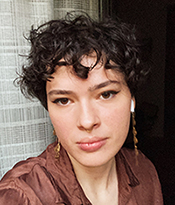 How did your internship go?
The internship has gone phenomenally well from start to finish. From the very beginning, I was learning so many new things that are relevant to my career aspirations as a computer science student just by getting to know better what NETSCOUT does and how it operates. Within the visibility-as-a-service (VaaS) team, this learning was even more specialized, giving me the opportunity to work directly on several data science projects that have also served to improve my skills as a developer. 
What does an average week look like for you?
I usually log on for work in the morning or later in the afternoon, depending on when I have classes that day and how heavy my workload with school is. Normally, I start off by checking emails/messages, and then I open JupyterLab and pick up wherever I left off on my to-do list for a particular project. About once a week, I meet with my supervisor to check in and see how progress is moving on whatever project I have at hand. Throughout the week, we also have biweekly team standup meetings I attend if I am able to work the same hours in which the meetings are occurring. 
What is the most important skill needed for your role as an intern? 
The ability to think critically and learn quickly. Everyone assumes that being in data science or software development means that you have to be an expert in programming, but the reality is that you are always learning in this field. There have been multiple times I have sat down with my supervisor, and we both spent some time looking through documentation to better understand the tools we were working with. Being able to understand and apply so much new information within a reasonable timeframe while also being able to look at my own work and see how it can be improved are both things that have helped me out massively in my day-to-day work. 
Can you tell us about a project you worked on?
At the beginning of my internship, I was tasked with creating a new kind of dynamic chart that could be implemented as part of the team's monthly reports. This task actually wound up being quite the challenge due to the specific types of data wrangling I had to work with in order to get things formatted correctly. There were actually quite a few points where myself and one of the engineers on the team would get on a call to discuss, and it was clear we were both scratching our heads trying to find the solution! Of course, we were able to work together and get the program built successfully, but it was a great introduction to what it's like working on a software development team, and showed me how collaborative the job is, even when it comes to individual projects.
What have you learned, and how have you grown at NETSCOUT?
I have learned so much regarding the technical side of data science and software development, which I had only just gotten a taste of through my university studies. This is thanks to being able to be involved with several projects at various stages, from building things from scratch to learning how they get implemented within a professional codebase. On a more interpersonal note, it has also been an incredible opportunity to learn about what it's like to work in an office environment, especially with international colleagues in the case of the Madrid office where I am stationed. Truly the most unique work experience I have had so far!
What has been your favorite intern event or workshop? 
Being in the European office, I was actually unable to attend the events/workshops specifically for interns. However, we did have two summits during the summer at the Madrid office where the other European team members all came together, and we reviewed the status of current bigger projects as well as how to move forward with them. I was also fortunate enough during one of those days to have the opportunity to present some of my own work to everyone and hear their constructive criticism on the draft I had presented at the same time. Being able to get direct feedback while also seeing what others were doing as part of a bigger effort was my favorite part of the experience.  
What motivates you? 
I am motivated by knowing that I am making a positive and tangible impact somewhere, regardless of the project I am working on. Through my experience with NETSCOUT, I have definitely gotten this satisfaction out of my work by not only getting to help implement it into our professional framework but also by hearing from colleagues their thoughts on how it will be used in the future after I have left.