Inspiring Interns: Guardians of the Connected World
Learn about Erin Hill and her journey at NETSCOUT
Internships are the stepping stones of a career path filled with growth and exposure to one's desired field. For more than ten years, NETSCOUT's internship program has provided hundreds of college and graduate students with full-time paid work experience on their journey toward success. We are proud to have hosted more than 35 interns in the U.S. this past summer. In this series, we will be profiling a few interns who share their experiences as Guardians of the Connected World. Read on to learn more about Erin Hill and her journey at NETSCOUT.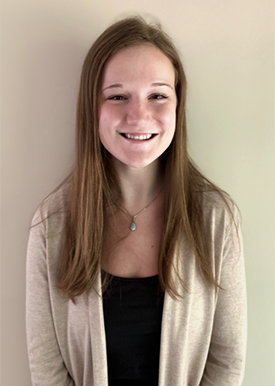 How did your internship go?
My internship at NETSCOUT was extremely well-run and organized. I went into the office almost every day and was able to form numerous connections with coworkers while learning more about a potential future career. This was my first internship; however, I couldn't have asked for a better first experience and introduction to the corporate world.
What did an average week look like for you?
The average week for me consisted of meetings, tasks, and other intern activities. During the week, I met with my manager as well as other leaders within the company. After these meetings, I continued to work on ongoing projects and other small tasks to assist the human resources department. I was able to be a part of NETSCOUT's intern cohort program, where I got to meet with company leaders as well as other interns (around the country) about their experiences.
What was the most important skill needed for your role as an intern?
The most important skill I needed as an intern was the ability to be flexible but also to be an attentive and active participant. I benefited by listening to advice and directions from my coworkers as well as staying focused on the tasks I was assigned. However, flexibility was a crucial part of my role due to having to adjust my schedule so that I could learn as much as I could!
What did you learn, and how did you grow during your internship at NETSCOUT?
During my internship, I learned how to self-manage my time and tasks. I also learned about the different branches of human resources because I was able to shadow different parts of the HR team, such as compensation, employee engagement, benefits, talent acquisition, and global mobility. I feel as though this internship really helped me grow on a professional level and improve my skills in the corporate world.
Can you tell us about a project you worked on?
One project that I had the privilege to lead and work on was an intern volunteer project. During this project, I partnered with one of my fellow interns and organized an office clothing drive for Catie's Closet. I got to experience setting up meetings, scheduling time with the interns to fold and sort the clothes, and spreading the word around the office—which led me to meet many new people!
What was your favorite intern event or workshop?
My favorite intern event was the Learn with Leaders sessions. During these sessions, I was able to meet with some of the managers and leaders of NETSCOUT to get career advice, make connections, and learn about how they got where they are today. This helped me in realizing the many different paths you can take to get a certain position, as well as how managers can lead their employees and improve the business as a team.