Achieving 5G Readiness: One Size Does Not Fit All
Why holistic, real-time visibility is crucial to building 5G revenue
As demand for technologies such telemedicine and smart cars continues to rise, the pressure is on for communications service providers (CSPs) to maximize these new 5G-based revenue opportunities. 
But effective ROI on these applications means that CSPs must offer ultra-reliable, low latency communications, support for massive numbers of IoT devices, and enhanced mobile broadband.
Right now, most 5G networks use a non-standalone architecture linking an LTE core to new radios supporting 5G frequency bands, allowing CSPs to leverage 3G and 4G existing investments while gradually rolling out broader 5G capabilities. However, many carriers are beginning to deploy stand-alone 5G networks based on a new cloud-native 5G core, allowing them to extend virtualized technologies out to the radio access network (RAN) and distribute cloud-based services out to the edge.
"In meeting the need for a faster, lower-latency network, CSPs must achieve the security, performance, and availability required to quickly spin up services in the most cost-effective way possible," explains Bruce Kelley, senior vice president and chief technology officer for NETSCOUT. "Regardless whether it is a standalone or non-standalone approach, this will require multipurpose, high-fidelity, real-time visibility across all layers of the network—from physical, to virtual, virtualized services, and automation."
Managing 5G Open Architectures
The complexity of 5G presents significant management challenges for CSPs, who are looking for the most effective and cost-efficient way forward. In the past, RANs were built with all the components coming from a single network equipment vendor. This approach has proven to be excessively expensive and does not readily lend itself to the innovation necessary for 5G. Instead, the industry has been pushing OpenRAN, which ultimately will be required for 5G to reach its maximum potential. Stand-alone 5G continues to open up the network by using virtual networking architectures such as software-defined networking (SDN), network functions virtualization (NFV), and 5G network slicing, which allows CSPs to meet SLA-specific requirements for connectivity, speed, and capacity.
The best way to assure service and security across such architectures is to use packet data to see across the entire infrastructure, as well as the applications and services involved. This includes all dependencies in an open architecture, with an end-to-end view of all components in both physical and virtual multigenerational networks.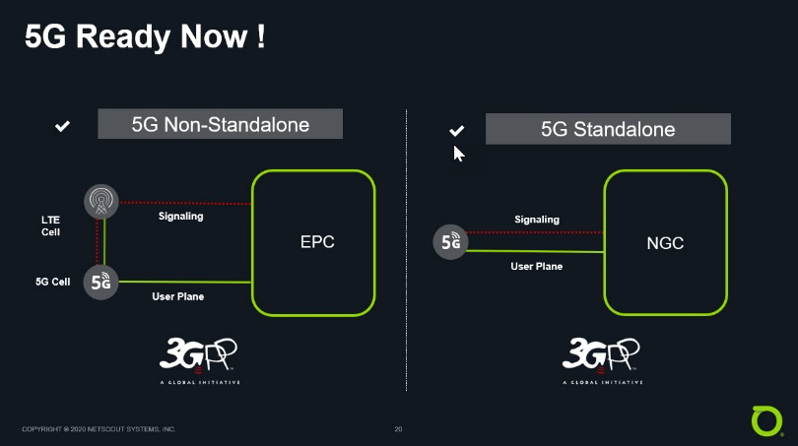 Using a software-based approach to gain visibility into a CSP's network environment and conduct real-time analysis of 3GPP-based packet data to generate smart data at its point of collection is key to monitoring the health and security between all components.
Because of the dynamic nature of 5G development and the complexity of these networks, it makes good sense for CSPs to look for a single source of truth to create the holistic visibility necessary for 5G security and service assurance. And rather than relying on in-house efforts, CSPs would be well-served by selecting an independent vendor that offers an affordable software-based approach to end-to-end visibility. As Kelley says, "That outside perspective is key—it's never a good strategy to have the fox watching the henhouse."
Read the Paper "5G Ready Now! The Fourth Industrial Revolution – 5G/IoT"