5G Checklist for Network Operations and Engineering
With 5G trials underway throughout the world, are network operations and engineering teams ready to manage the rollout of 5G networks and technology?
Network Operations and Engineering teams rely on service assurance tools to provide visibility into the network, services, applications, subscriber sessions and devices and to be able to monitor and trouble shoot network, service and device issues as they arise. However, traditional service assurance tools will not work effectively (nor are they cost effective) on the virtualized network on which 5G will run. Therefore, to realize the promise of virtualization to move to an agile operating mode and deliver the promised OPEX and CAPEX saving carriers must also have a 5G service assurance solution with these capabilities.
Service Assurance in a 5G World
What does this mean for service assurance in an increasingly virtualized, multi-cloud network for 5G?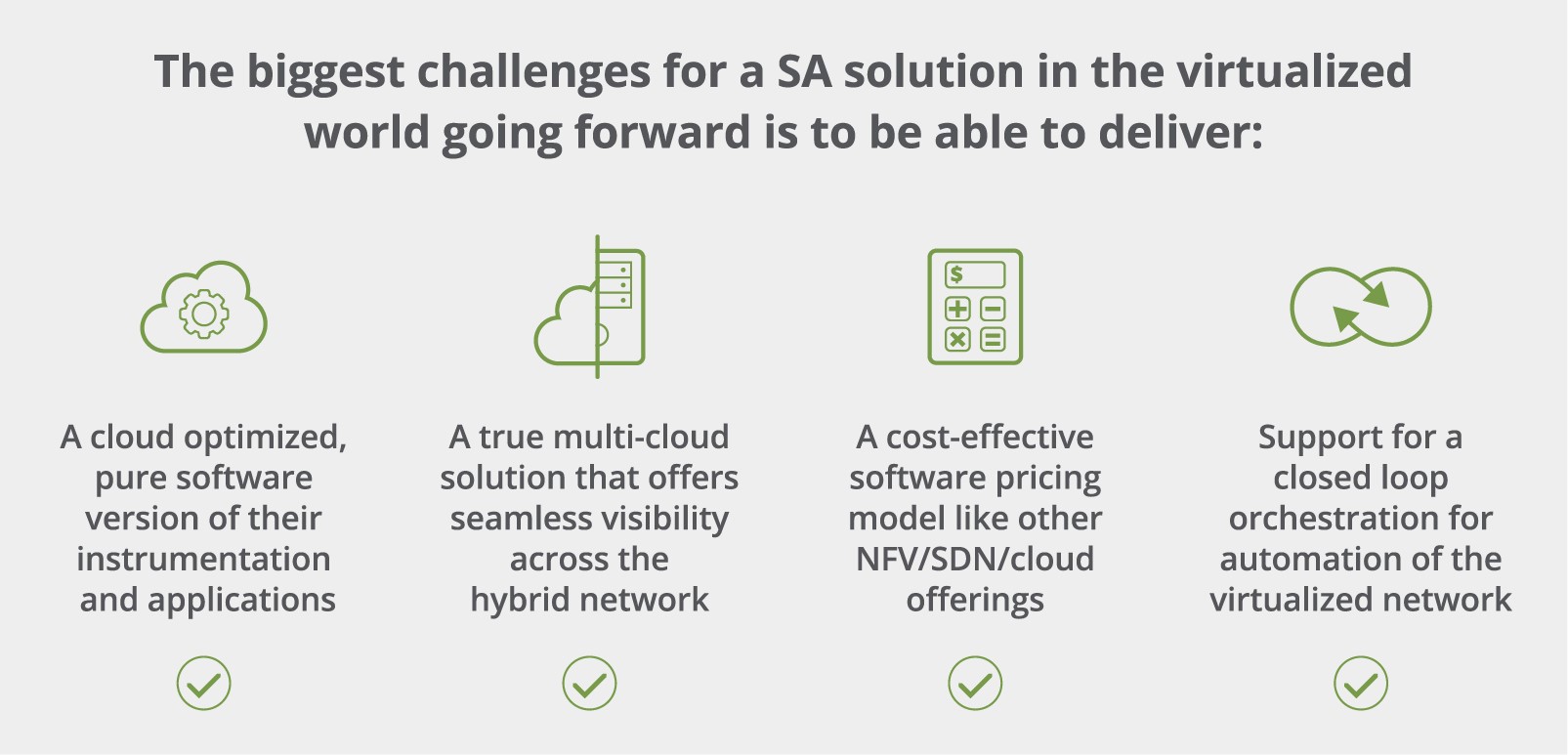 Indeed, with the deployment of multi-access edge computing (MEC) having visibility and observability of network functions and applications becomes more difficult than ever for service assurance tools. For starters Communications Service Providers (CSPs) must have a visibility down to the VNF layer or container bin with virtual instrumentation that also provides the context of the service chain and subscriber session. For MEC this virtual instrumentation must be lightweight as the compute resources must be reserved and prioritized to deliver the network quality of service such as (ultra) low latency, high bandwidth and/or support high device density as dictated by IoT devices and services and other new and existing communication services. And finally, this virtual instrumentation must also be deployable by the orchestration layer of the NFV/SDN network to spin up and down in sync with virtualized network. 
5G: The Next Leap in Network Technologies
5G brings us to the next generational leap in network technologies. This mobile technology evolution is also forcing a corresponding one in service assurance that needs to happen to successfully build and scale 5G networks. 
It appears that 5G is being introduced in at least 2 phases. Unlike the transition from 2G to 3G, and 3G to 4G, in which these new network technologies were rolled out as self-contained mobile networks (that handed off traffic to the older generation network where new radio base stations had not yet been deployed.) In the first phase of 5G introduction it is expected to be tightly integrated with 4G with CUPS (Control User Plane Separation) in which the signaling utilizes the 4G infrastructure and the user plane goes over the 5G network to deliver (ultra) low latency and very high bandwidth. 
The only way to deliver on the new network capabilities for scalability, latency, bandwidth and device density promised by 5G along with lower CAPEX/OPEX and increased agility is with virtualization and automation. Adding virtual infrastructure in real-time to respond to 5G speeds of communication, numbers of devices, and variability of traffic is beyond the scope of human intervention. Hence, closed loop orchestration is the present focus of the mobile telecom industry and service assurance solutions with the later looking to provide visibility and real-time feeds to the orchestration layer.
Ultimately, carriers look to add true Artificial Intelligence (AI) to NFV/SDN and multi-cloud networks to be able to attain the long-standing goal of self-organizing and self-optimizing networks. Learning algorithms exist today in some service assurance solutions, but it is the ongoing development of machine learning and AI that is the next frontier in service assurance solutions. 
With the largest gathering of the mobile industry gearing up to talk about everything 5G in a few weeks' time at Mobile World Congress in Barcelona, Network Operations and Engineering who plan to attend need to go over their 5G readiness checklist in preparation for some serious service assurance solution evaluation at the show!
To see us in Barcelona visit the NETSCOUT Mobile World Congress 2019 page and to learn more about 5G service assurance, check out the NETSCOUT 5G page