UC&C-related Trouble Tickets Spell Big Trouble for Business
Slow resolution times around communication issues can negatively impact user experience, productivity, and revenue
Over the past two years, the use of unified communications and collaboration (UC&C) and unified communications as a service (UCaaS) has skyrocketed for enterprises looking to keep remote workers connected and businesses functioning.
This has put enormous pressure on IT professionals to ensure the quality of these vital services. With the growing reliance on UC&C and UCaaS platforms, there has been a significant increase in the number of IT help desk tickets.
In a recent survey, more than one-third of respondents indicated between 50 percent and 75 percent of all help desk requests are related to a UC&C issue. This same report found that half of IT organizations receive a UC&C trouble ticket at least once a day—with 24 percent of respondents receiving multiple tickets daily. And although the survey revealed that 56 percent of UC&C help desk tickets are resolved within a few hours, that length of time can be devasting for a business.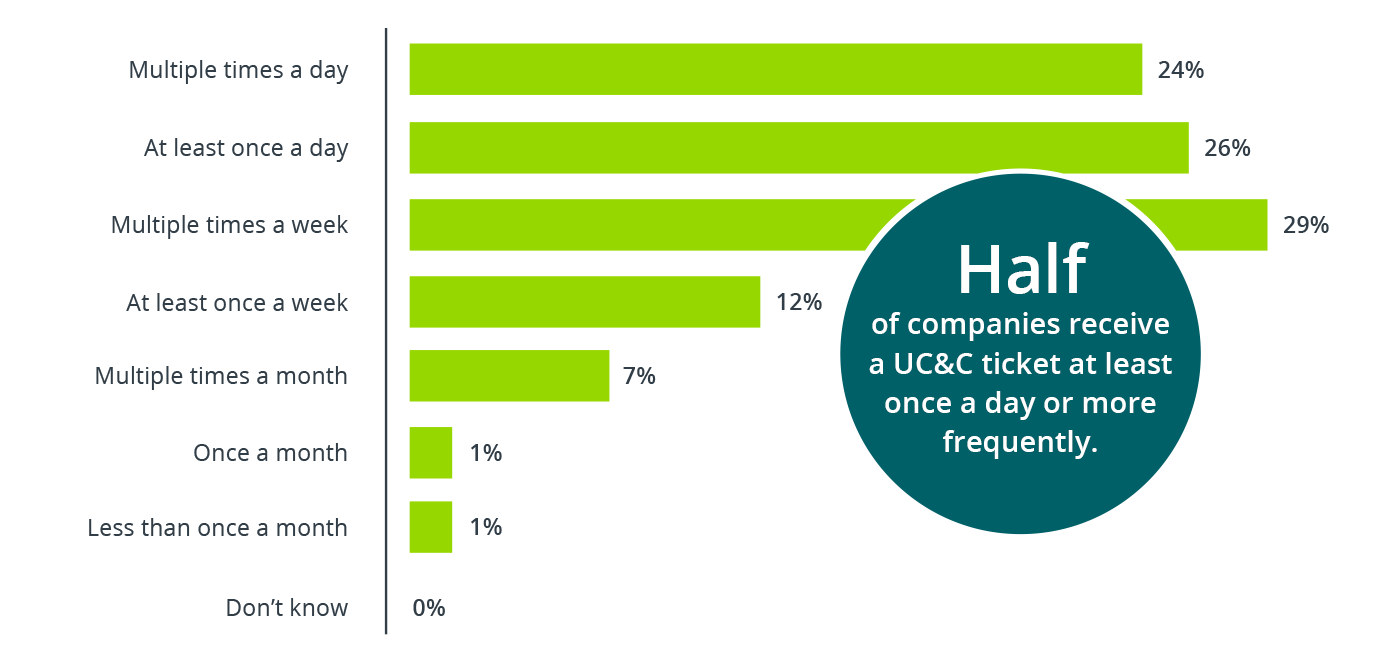 Try Holding Your Breath for Two Hours
Two hours might seem like a reasonable time for resolving a U&C problem, but that's a long period of time to have communications down from a business standpoint. Just imagine not being able to communicate with your customers for two hours. Or your customers not being able to access your contact center. Or your partners and suppliers unable to get through to you with urgent messages. Or your company's employees being unable to connect via video or audio to conduct business as usual.
Losing communications for two hours could be a crushing blow to productivity, customer service, and ultimately to the bottom line. In fact, approximately one-third of the survey's respondents indicated they are extremely concerned about the impact of UC&C-related challenges on productivity. Clearly, any breakdown in communications is bad for business.
Resolving UC&C Tickets Is a Top IT Priority
IT organizations face a multitude of reasons for UC&C and UCaaS trouble tickets. The survey found the most commonly reported causes were device configuration (48 percent), followed closely by challenges sharing screens (44 percent), maintenance/software updates (43 percent), poor webcam/video quality and delays in joining UCaaS video or audio conferences (37 percent), and poor audio quality and inability to log into UCaaS services (31 percent).
Regardless of the reasons for the reported disruption, IT must determine the root cause of the issue in order to respond quickly to the problem and restore service before it can adversely impact users and the business.
Visibility Is Key to Speeding Resolution
Gaining visibility into the performance of UC&C and UCaaS platforms throughout the enterprise ecosystem, from user to platform, requires highly effective network and application performance monitoring tools. NETSCOUT offers industry-leading solutions that provide insights into critical applications and services that are essential to remote communications and collaboration. These solutions provide deep visibility into network, voice, and application services systemwide via a single-pane-of-glass view. With detailed information about the causes of interruptions or degradations of service, including metrics from the end-users' point of view, issues can be quickly identified and troubleshooting can proceed, reducing mean-time-to-knowledge (MTTK) and mean-time-to-restore (MTTR).
For more information on the trends in UC&C-related trouble tickets, productivity, and problem resolution, please see the "Communication, Collaboration & IT: Growing Pains and IT Strains" report.