Overcoming the Barriers to Digital Transformation
Packet-level data about your hybrid cloud environment is key. Here's why.
Many businesses have made rapid advancements in their digital transformation strategy and adoption of cloud/hybrid cloud environments. Although every organization is unique and has its own starting point, successful transformation will require network and security team collaboration and compromise along this journey.
A recent study by Omdia, "Assessing the Role of Packet Intelligence in Securing the Modern Enterprise Network Environment," breaks down this journey based on a sample of more than 100 participants from both network and security roles, representing enterprises of 5,000 employees or more and various geographical regions.
Digital transformation is needed regardless of this reluctance, however, and the only way to truly gain full visibility into these cloud environments is via packet-based data. Study participants found various benefits to this approach, including the ability to have a deeper view into traffic, allowing for faster investigation and resolution (see Figure 1). But the highest-rated benefits were that packet-level data made it easier to adapt operational processes to new environments (43 percent) and gave them the ability to fill visibility gaps by deploying in network environments/devices when they are unable to deploy endpoint detection and response (EDR) agents such as IoT devices (35 percent).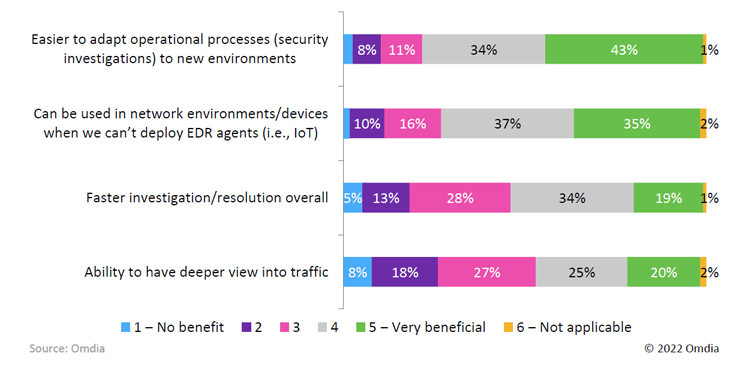 If organizations know the benefits and importance of providing consistent, useful information via packet-level intelligence, what is standing in the way of their digital transformation journey? A majority of respondents (51 percent) cited the biggest hurdle as staff limitations or finding the people with the correct skill set—with senior management in particular (79 percent) indicating this as the main issue holding them back. The other main issues, with responses ranging from 28 percent to 32 percent, were lack of scalability, poor query and analysis performance, operational costs of packet capture and storage, and inability to see encrypted traffic (see Figure 2).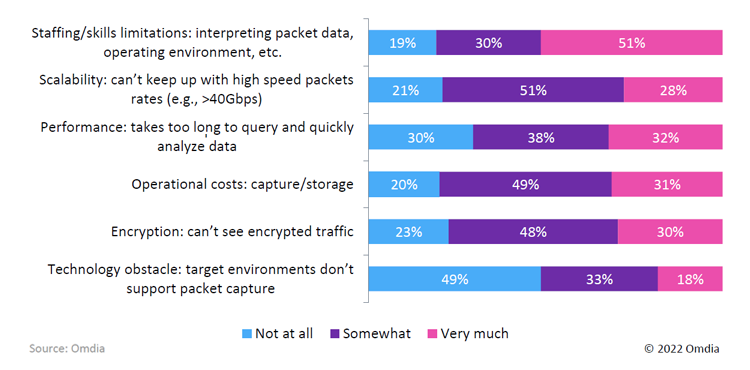 Digital transformation is here to stay, and the companies with more actionable data will be the ones that can adapt faster and make better, quicker decisions to win. Companies need to address and implement the digital strategies that will help them stay with or ahead of their competition. 
"Packet-level data can provide the consistent underpinning of intelligence needed to understand the impact on all parts of the infrastructure—on-premises, the edge, and in the cloud—as it evolves to support the changes required by the business. This intelligence helps both those tasked with network performance and reliability and those concerned with security and data integrity meet their goals." — Fernando Montenegro, Senior Principal Analyst, Omdia.
For more than two decades, NETSCOUT has managed the world's most complex networks via patented deep packet inspection (DPI) and Adaptive Service Intelligence (ASI) technology. ASI technology converts raw packets into a robust set of layer 2–7 metadata in real-time that can be used for network/application performance analysis and cybersecurity. NETSCOUT's Omnis Cyber Intelligence (OCI) leverages this technology to deliver an advanced, DPI-based network detection and response (NDR) solution.
Why do we consider NETSCOUT Omnis Cyber Intelligence advanced NDR? The table below shows how it compares with legacy NDR.
| Characteristic | Legacy NDR | Omnis Cyber Intelligence Advanced DPI-based NDR |
| --- | --- | --- |
| Source of Data | Heavy use of NetFlow or limited use of packets | All packets, including those that are encrypted and those from hybrid cloud environments |
| Packet-Capture Performance | Uses shortcuts, such as capturing only after an alert is triggered, not full line-rate and packet-slicing techniques | Continuous (before, during, and after attack) line-rate and full-packet capture |
| Metadata Extraction, Storage, and Analytics | Limited extraction of metadata; raw packets require massive amounts of storage; cumbersome analytics | Real-time extraction of layer 2–7 metadata from packets; intelligent indexing; packet compression enables longer-term storage and responsive analytics |
| Detection and Response Capabilities | Real-time detection only | Real-time detection and historical detection via investigation and integration with blocking devices at the network edge (firewalls, DDoS protection) |
| Integration | Little integration into existing security stack; siloed data | Full integration into security stack, including sending alerts to SIEM/SOAR, investigating third-party alerts from SIEM/SOAR, and exporting metadata for combination with other data sets and custom analysis |
NETSCOUT OCI also allows organizations to overcome the barriers to using packet-based data that were mentioned in the Omdia report. For example:
Staff shortage: With a consistent data source, security and network teams can collaborate and have quick access to the packet and metadata they need for faster, more efficient investigation, helping organizations to get the most out of their staff.
Scalability: NETSCOUT Omnis CyberStream network instrumentation uses patented and proven technology to continuously capture full packets (not sliced or when thresholds are exceeded) at line rates up to 100 Gbps and can support any network environment, including hybrid cloud, to maintain a lower TCO.
Poor performance: NETSCOUT OCI can quickly access, analyze, and retrieve robust metadata and packets from Omnis CyberStream instrumentation.  
Operational costs: NETSCOUT Omnis CyberStream network instrumentation uses patented indexing and compression technology to continuously capture and store full packets and associated smart metadata on local instrumentation.
Encryption: NETSCOUT's decryption appliances can be used to decrypt encrypted packets for analysis by OCI.
Support for all environments: Omnis CyberStream probes can be deployed in any network environment, including public cloud environments such as AWS, Azure, or Google Cloud. 
Full integration and data export: Full integration into existing security ecosystems—for example, via security information and event management (SIEM); security orchestration, automation, and response (SOAR); and blocking devices such as firewalls—provides the ability to export metadata and packets for combination with other data sets (for example, EDR, SIEM logs, or threat intelligence) for custom analysis.
NETSCOUT OCI is designed to ensure a consistent security operation center (SOC) analyst experience and create an analytics process that leads to faster threat detection, faster mitigations, and an improved security posture going forward, with quick access for analyzing saved packets and metadata for responsive analytics and long-term investigation.
See how NETSCOUT Omnis Cyber Intelligence, network, and security solutions can make a difference in your organization.