Reimagine visibility and control in a modern network
Digital transformations, cloud migrations, SaaS adoption, and a newly hybrid workforce have increased the complexity of the connected world. As migrations have occurred, gaps in performance visibility have impeded problem resolution.
Borderless visibility is essential for isolating problems – from home, to data center, to cloud.
Netscout Smart Edge Monitoring brings visibility throughout your ever-evolving, multi-cloud environment to solve performance issues affecting digital services across your technology and organizational boundaries. Assure high-quality end-user experience in any network, any location, any service, for any user, regardless of where they perform their jobs.
Enterprise-Wide Visibility With Services Context and Actionable Metrics
End-Through-End Across Multiple Domains
Remote Office & Home User Client Edges • Internet, Co-Lo, SD-WAN & WAN Network Edges • Cloud & Data Center Service Edges
Manage User Experience Risk With NETSCOUT Adaptive Service Intelligence
Availability • Reliability • Responsiveness • Quality • Security
Unique Combination of Monitoring Technologies
Smart Data analytics from passive, packet monitoring • User-Experience Measurements from active, synthetic tests, including business transaction testing
Get the Best of Both Worlds: Network Packet Monitoring and Synthetic Testing
Netscout Smart Edge Monitoring overcomes the biggest challenge in evaluating service assurance and end-user experience by gaining awareness of issues impacting users from home, branch, or headquarters offices.
Comprehensive visibility comes from the unique combination of nGeniusONE Service Assurance platform smart data and nGeniusPULSE synthetic test monitoring, which enables organizations to pinpoint the true root cause of problems from remote location network, user's ISP, VPN or corporate infrastructure, the data center or public cloud, or any other domain the transaction depends on.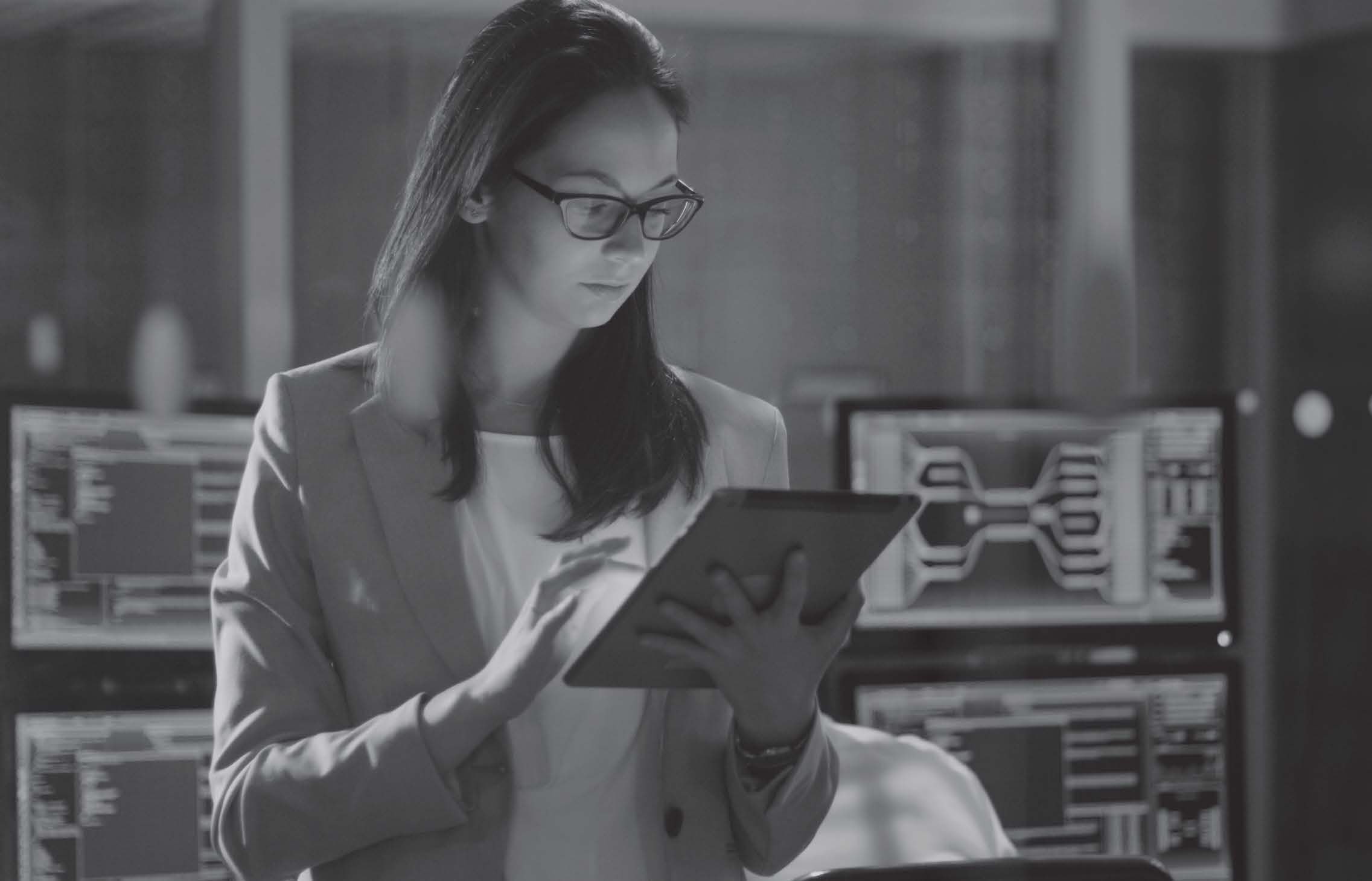 Smoothing Out the Rough Edges
Organizations around the world responded to the COVID pandemic work from home directives by accelerating some of their digital transformations. However, these remote initiatives exposed the need for visibility and continual monitoring at the edges to assure end-user experience.
Read the White Paper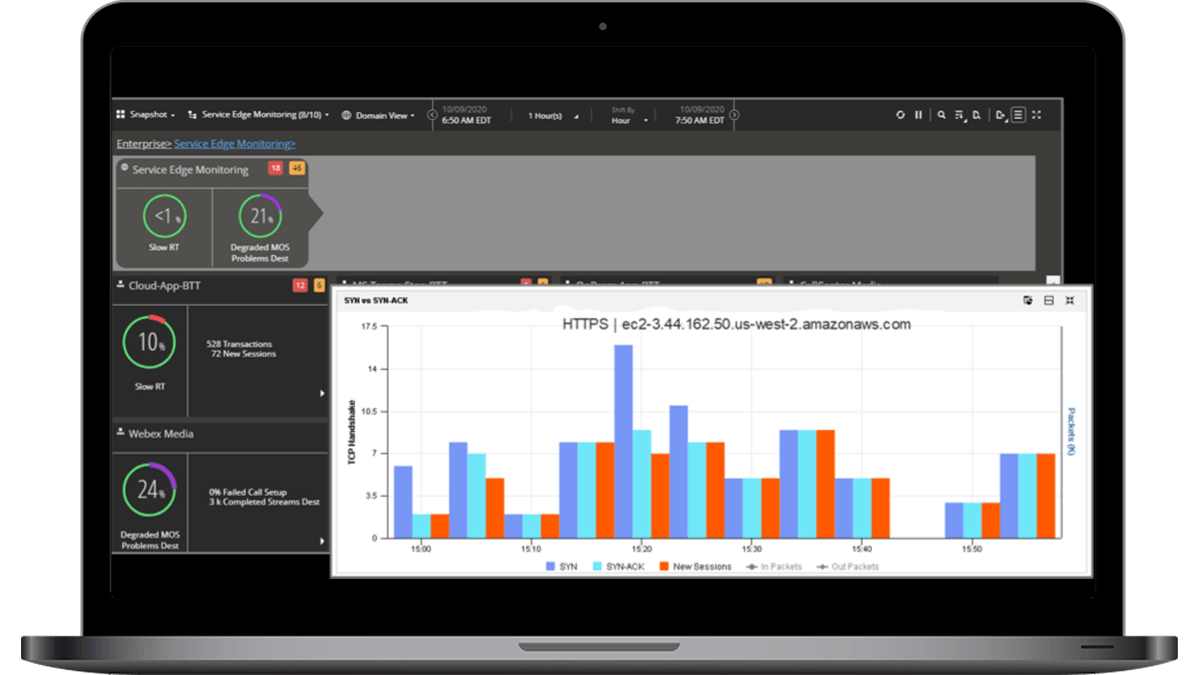 Smart Edge Monitoring for Performance and Triage
The Netscout nGeniusONE Service Assurance platform leverages smart data from InfiniStreamNG appliances and vstream virtual appliances with Cloud Adaptor module deployed at key service edges. This provides borderless visibility across multiple domains for application and network performance analysis, as well as troubleshooting throughout complex multi-cloud environments.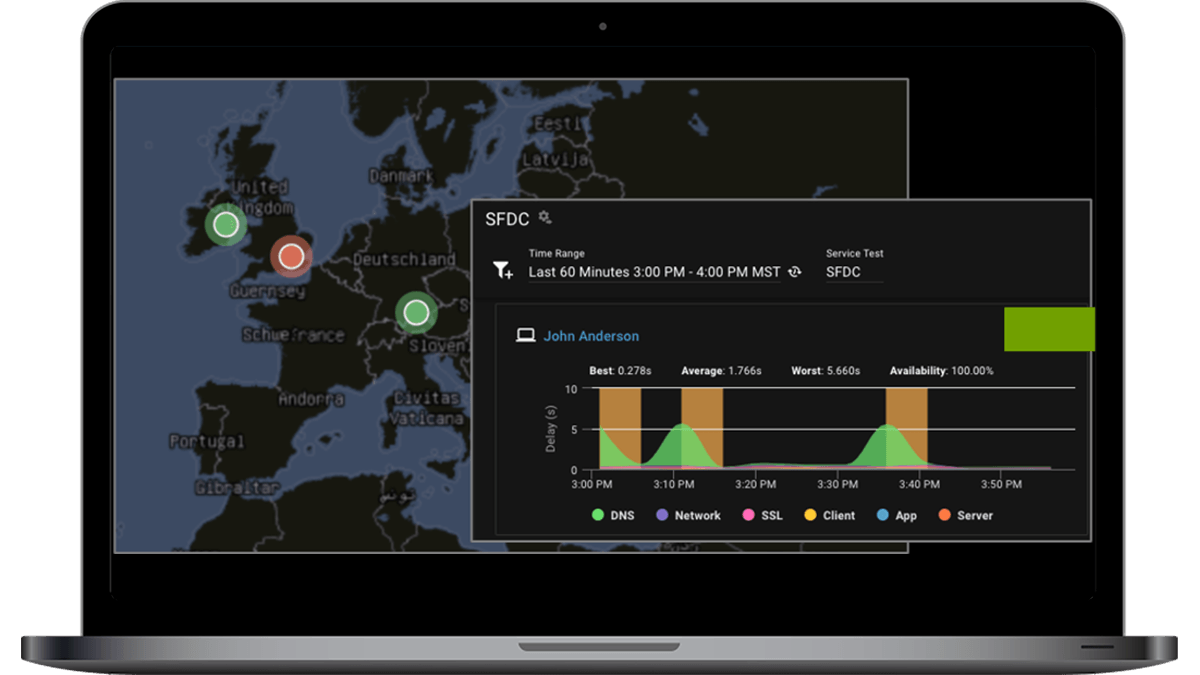 Service Availability and End-User Experience Monitoring
Netscout's nGeniusPulse platform leverages synthetic testing, including configurable business transaction tests, performed by nPoint devices deployed in the critical client edges, including home and remote locations. This provides monitoring visibility into availability and performance, from the user perspective, of on-premises, cloud-based, and SaaS applications. This smart data is used by nGeniusONE to identify issues impacting end-user experience, from wherever users work.
Gain Visibility with Smart Edge Monitoring
Learn More About NETSCOUT Smart Edge Monitoring or request a demonstration.