nGenius for Flows
Advanced, cost-effective solution for Flow, MIB-II and IP SLA-based performance management
Extend your network visibility beyond data centers and in remote areas of your network where packet based instrumentation is not possible with Flow, MIB-II based data sources and gain combined visibility of Packet and Flow based data all in one nGeniusONE solution
Various use cases one common solution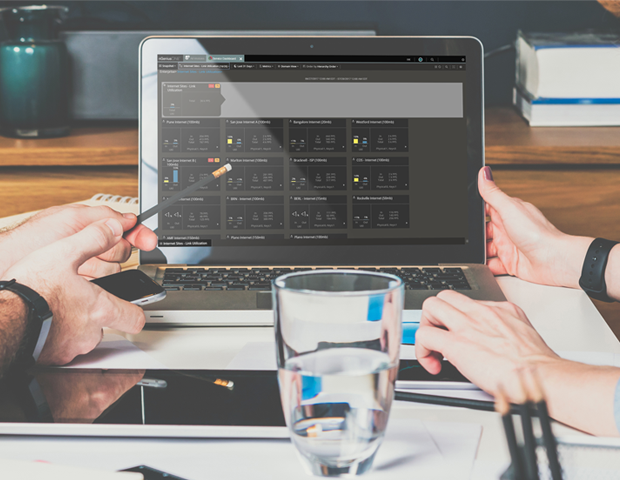 Today's IT environment is continuously changing and becoming more complex; IT staffs are increasingly challenged to protect high quality delivery of business applications and services across the network to meet their organization's goals while at the same time control costs. Potential problems must be identified earlier than ever before; the root cause accurately diagnosed; and optimal service delivery restored prior to the end-user experience or the business being impacted. To optimize the network infrastructure and effectively meet business needs, network operators require detailed and comprehensive visibility into performance of key business services across the network. Netscout nGeniusONE service assurance platform combined with nGenius for Flows provides single pane of visibility across data centers and remote networks using combination of wired data and flow data in one solution.
Flow & MIB-II based data
Flow and MIB-II based data is a good source of network management information that enterprises can use in a variety of ways, including monitoring, reporting, capacity planning, troubleshooting & analysis, traffic analytics, usage-based billing, and intelligent traffic load balancing and forecasting.
You can handle the truth
Traffic data is the singular source of truth when it comes to dealing with resource constraints, disparate tools, IT silos, outdated processes, network complexity, and exponential data growth. Our nGeniusONE Service Assurance platform with Adaptive Service Intelligence (ASI) technology enables top-down service management and traffic-based intelligence across complex, converged IT environments.
Simplified workflows for complex problems
nGenius® for Flows analyzes and maps Flow based data and IP SLA results gathered by nGenius Collectors, MIB-II based data sources into powerful monitoring and troubleshooting screens and historical reports necessary for accelerating problem resolution and improving capacity and infrastructure planning.
Flexibility to group and create containers from different flow & mib-II based data sources to visualize service level flow data in a dashboard.
Flexibility to define alerts using baseline and threshold triggers on various Flow and MIB-II based metrics.
Powerful Flow & MIb-II based link and application troubleshooting workflows including conversation and host analysis.
Flexibility to slice traffic distribution by QoS, ASN, Sites and Router Interfaces.
Flexible reporting capabilities with out-of-box key reporting templates for link, application and location based analysis, automated base lining and trending of key traffic metrics to provide early warning alerts on anomalous changes in network behavior.
Full IPv6 support for flow data as well as flow exported from IPv6 management interfaces from routers/switches.
Powerful search and discover capability for various network traffic dimensions.
Network and application response time metrics from IP SLA test results
Statistical information from Cisco®'s Class-Based QoS MIB (CBQoS), including Discard Packets, Discard Bytes for MIBII data sources.
Seamless integration with nGeniusONE service assurance solution at a nGeniusONE Global manager with highly scalable and distributed architecture
ASI based technology
The proven and sophisticated ASI based technology architecture by NETSCOUT®
…
Case Study
Data Sheet
Quick Look
Extending Financial Services Remote Visibility and Application Performance Monitoring With NETSCOUT
Software-Based, Consultative Approach Protects Data Center, Call Center, and Real-Time Monitoring Transformations
Read More
Large North American Power Company Turns to NETSCOUT for Network and Application Service Assurance
nGeniusONE Service Assurance platform, InfiniStream appliances and NetFlow Collectors provide comprehensive analysis across the enterprise environment.
Read More
nGenius for Flows
The nGenius for Flows solution analyzes Flow-based data, as well as MIB-II, IP SLA, and IPPING data gathered by nGenius Collector hardware and virtual appliances.
Download PDF
Performance Management with nGenius for Flows
As Enterprise environments continue to grow, it is increasingly important for IT teams to understand the traffic that is traversing their network. Digital transformation is expanding business services into cloud, BYOD, and mobile computing areas, IT teams need to evolve their network monitoring strategy to look beyond basic link utilization and packet loss.
Download PDF