Iris Session Analyzer
See And Hear The End-to-end Detail of Your Subscriber Sessions
Iris Session Analyzer (ISA) uncovers and analyzes the specific calls and sessions that fail to deliver required performance.
Who uses it
Network operations
Engineering
CTO / LAB engineers
Why it's used
Customer care escalations
Trouble ticket resolution
New service introduction
Network expansion
Benefits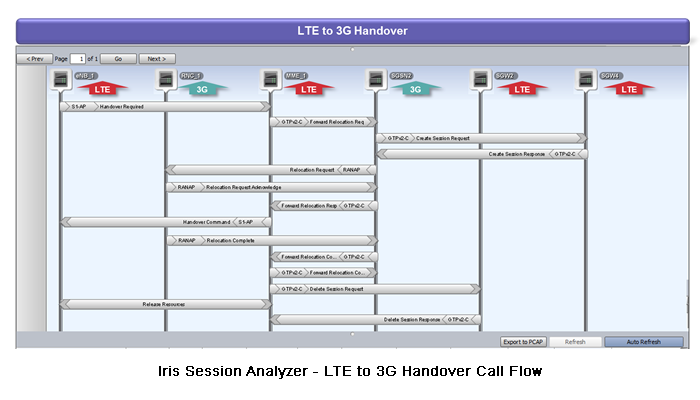 Enlarge Image
Reduce mean time for trouble ticket resolution
With ISA's fully correlated end to end ladder diagrams and intelligent color coded failure analysis, you can easily inspect complex session flows to quickly identify trouble spots.
Gain the deepest level of visibility available to the market
Deep Packet Classification supports hundreds of unique application behaviors. You can drill well beyond the HTTP layer and identify how applications like Facebook are affecting your subscribers' experience.
Improve workforce productivity
ISA allows users to create standard workflow templates that can be warehoused for use by the entire organization. These templates enable an efficient single step process for capturing, filtering and displaying only the data that is relevant to the troubleshooting process.
Bear or push the burden of proof
With integrated signaling and media analysis you can quickly identify if problems result from an issue with a network implementation, an equipment vendor's fault, or an OTT application.
A tool for everyone
ISA provides simple visuals and media playback for the less experienced troubleshooter while delivering highly customizable protocol details for the network expert.
…
White Paper
Data Sheet
Success Story
VoLTE Troubleshooting: Protect the Customer Experience
Empower your troubleshooting teams with Iris Session Analyzer.
Download PDF
Prioritizing VoIP Quality
Meet Customer Expectations with an Integrated Media Troubleshooting Approach
Download PDF
Iris Session Analyzer Application
Single, Optimized System Improves Productivity
Download PDF
GeoSoft RAN: Empower Monitoring and Troubleshooting Teams
Quickly isolate and resolve congestion and interference problems.
Download PDF
Leading Central European provider selects NETSCOUT to assure exceptional voice network performance and quality.
In order to monitor and deliver high-quality service, Voice Operations wanted a scalable solution to be used across multiple countries, an efficient solution that consistently evaluates the same metrics.
Download PDF