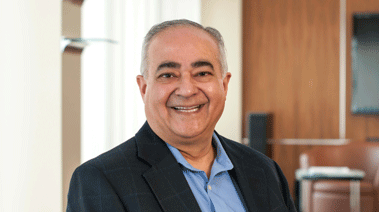 Dr. Vikram Saksena
Meet NETSCOUT's resident network expert, Dr. Vikram Saksena, PhD. Dr. Saksena serves as the Chief Solutions Architect for NETSCOUT's strategy and solution architecture initiatives. He has been at the forefront of technology innovations in the wireless, Internet, cloud and data analytics industries, holding senior leadership positions in several small and large companies.
He was named an "AT&T Fellow" in 1997 for his contributions to the growth of AT&T's data networking business and was recognized as "CTO of the Year" finalist for the Massachusetts Technology Leadership Council in 2008 for his contributions to Sonus wireless business. Most recently he was awarded Distinguished Alumnus of 2019 from the Indian Institute of Technology Kharagpur.
Watch each video in this series to learn more about Dr. Saksena's and leading industry guests views on how service providers are transforming the world.