UC&C: Stay Connected with Service Assurance
Unified Communications & Collaboration Services Monitoring
Even though most enterprises have deployed some type of unified communication and collaboration (UC&C) solution, many fail to get the most from their investment. Art Schoeller, VP and principal analyst for Forrester Research, estimates that 38 percent of users are unaware of the UC&C features they have, and 24 percent aren't convinced that unified communications offers any clear business benefits. Add to this the fact that more and more businesses are turning to UC&C cloud services (UCaaS) rather than or in addition to premises-based solutions.
Every second matters in today's connected world and business depends on UC&C to compete and get the job done. Yet, whether UC&C is on-prem or in the cloud, end users can experience service performance problems, and in some cases not report them to IT. That means IT teams must have unrestricted visibility into all aspects of service delivery to get ahead of performance degradations before they become business problems.
With businesses accelerating their speed of operation as part of their digital transformation, employees need real-time access to information and key people, to make quick decisions and deliver fast responses to customers and collaborators. The IT organization can't afford UC&C blind spots. That is especially true when things go wrong, and they do when you consider UC&C is one of the more complex deployments in the enterprise, with multiple stakeholders responsible for keeping it up and running. They need a common situational awareness to reap the competitive advantages that UC&C provides.
Bringing Everyone Together
ZK Research recommends taking a lifecycle approach to UC&C management. It starts with making sure your IT infrastructure is ready to support UC&C and conducting plenty of pre-deployment service quality testing. "It is not enough for IT managers to focus on voice over IP (VoIP) alone," says ZK. "They must subscribe to the IT lifecycle and develop a strategy that enables them to manage the availability and performance of all UC applications."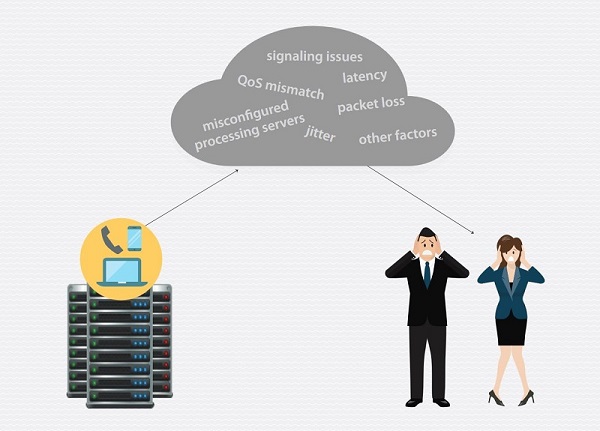 Once your solution is in production, you need ongoing service assurance. Most UC&C functions are deployed across multiple servers, using different combinations of on-site and cloud resources. And everybody must "play" together: NetOps, VoiceOps and DevOps. UC&C can't work effectively when these teams are siloed, only looking at their piece of the UC&C package. When this happens, invariably, the key metric for IT success becomes "mean time to innocence" rather than Mean Time to Knowledge (MTTK).
Service assurance also means continual optimization to get the most from your UC&C investment. Optimization includes both communicating with teams about what they need from UC&C and analyzing internal reporting to fine-tune the service. A senior architect from a global 500 pharmaceutical company said "In a multi-vendor environment, nGeniusONE gives the entire organization the ability to rule OUT areas and focus on the true impact. This reduces time spent in the war room and increases knowledge of end-to-end performance and end-user experience."
Making Unified Communications Monitoring and Analysis Easy
Art Schoeller says that, according to Forrester's research, most organizations need their UC&C monitoring solution to work with multiple vendors and monitor performance and usage against a defined set of metrics. NETSCOUT solutions meet these requirements and much more. The nGeniusONE platform and nGeniusPULSE for Cloud/VoIP give you the insights you need to ensure quality and availability for voice, chat, video, web and audio conferencing, call center, and all mobile and desktop apps.
When it's operating like it should, UC&C technology unleashes the human potential of everyone in your business.
Find out what NETSCOUT customers are saying about why time-sensitive, actionable intelligence is key to service assurance.