Taking on Illiteracy One Reader at a Time
NETSCOUT volunteers had an invaluable opportunity to hear presentations from LIFT staff and volunteers about LIFT's vital mission to "bend the trend" of adult illiteracy in Dallas County
Illiteracy is a big problem in this nation. And for one charitable organization in Texas, they're doing something about it. It is estimated that by 2030, Dallas County's population will reach 3.5 million and nearly one-third of them will be illiterate.
Founded in 1961 by a group of women in the National Council of Jewish Women, Literacy Instruction For Texas (LIFT) has been working to address this growing problem. Today, LIFT helps approximately 3,000 adults annually learn to read, write and speak basic English using an immersion program. A team of more than 375 volunteers help both English-speaking and non-English-speaking adults learn the language, as well as prepare to take the high school equivalency exam.
The importance of programs like this can't be overstated. "In Texas, one in five adults can't read at a functional level and that affects nearly every aspect of our society from inter-generational illiteracy and poverty all the way through workforce development, corporate relocation, the cost of healthcare, and criminal recidivism," explained Lisa Hembry, President and CEO of LIFT. "Unfortunately, many people have fallen through the cracks in our public education system and never learn to read. Others are non-native speakers, or have learning difficulties, like dyslexia, or have had a stroke. Our core mission is designed to help these adults."
LIFT works in collaboration with a number of other organizations including the Dallas Independent School District where they hold classes for adults.
NETSCOUT Lends a Helping Hand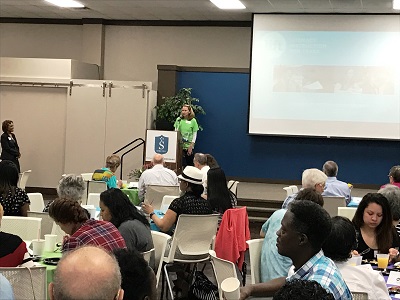 Once a year, the organization holds its Literacy Instruction for Texas Volunteer Appreciation Brunch. This is a special occasion where all of the active volunteers who teach classes, office support staff, employment coaches and mentors get to meet and interact with program organizers. For Lisa, the problem with this event has always been that setting up and running the brunch ends up being so time consuming that program organizers never really get a chance to mingle and meet all of the volunteers. That's where NETSCOUT came in.
A group of nine NETSCOUT volunteers (including some family members) from the Plano, Texas office served as hosts of the elegant brunch, which was held at a private school that offers their facility to LIFT for the day.  The NETSCOUT crew took over all of the organizational responsibilities of the event, including setting up the facility, managing registration of attendees, serving food and beverages, and then tearing down and cleaning up afterwards. This freed up LIFT organizers to spend more time with volunteers.
"The NETSCOUT volunteers were truly amazing. They got there early, worked hard, stayed late to strike the event, and overall played a huge role in the success of the Volunteer Appreciation brunch," added Lisa.
In addition to helping facilitate this event, the NETSCOUT volunteers had an invaluable opportunity to hear presentations from LIFT staff and volunteers about LIFT's vital mission to "bend the trend" of adult illiteracy in Dallas County.
Further support for this important event included a $2500 team volunteer grant from NETSCOUT's Heart of Giving program, which offset the cost of the brunch. This is a shining example of nonprofit collaboration, volunteer involvement and corporate engagement.
For the NETSCOUT volunteers involved, it was a rewarding opportunity to give back to the community. "Having worked at NETSCOUT for 10 years now, I've seen time and again employees stepping up and being very generous with their time when a charity needs assistance or donations," concluded Ginny Dudek, Senior Technical Writer for NETSCOUT and team captain for the volunteer project. "As we did for LIFT, I'm proud to say my co-workers always answer the call."