Service Assurance Challenges and Solutions in the SDDC
<p>The software-defined data center eliminates a lot of problems, but it also causes a bit more complexity. NETSCOUT's solution addresses those issues for more streamlined performance management and troubleshooting.</p>
The architecture known as the software-defined data center, or SDDC, is making a tremendous impact on digital services. The SDDC allows IT teams to extend abstraction, pool and automate many aspects of virtualized computing, and improves the way resources and services are utilized in the data center. The growth of the SDDC is strong, and isn't expected to slow down anytime in the foreseeable future. Currently the market for SDDC products and services are worth almost $26 billion, and are expected to grow at an annual rate of nearly 27 percent to reach a market worth of more than $83 billion by the year 2121. 

The Advantages and Disadvantages of the Software-Defined Data Center
SDDC also brings agility, which allows for innovation in the realm of new services, a greater level of operational efficiency, and lower overall costs. However, SDDC also adds to the level of IT complexity by spinning up and down resources, maintaining multi-tiered services, and configuring virtual application and front end servers. When monitoring tools are focused on specific silos within the architecture, there is no holistic view of the virtual and physical service delivery environment. When there are service performance problems, the natural starting point is to blame the network. The war room is sometimes where turf wars start which in turn impacts users and customers. The disparate tools and disjointed, unconnected data sets can then become more of a distraction and less of a "solution" within the IT department.
How NETSCOUT Resolves Problems in the SDDC
As such, IT departments need unimpaired visibility into the physical, virtual and hybrid service delivery path to assure successful business outcomes and the uninterrupted and secure flow of information supporting business services. TheNETSCOUT nGeniusONE platform is such a solution. It gleans IP intelligence from the network traffic and delivers insight into layers 2 through 7, plus meaningful and contextual views of the interrelationships and dependencies across all service-delivery components including networks, servers, databases, service enablers and applications.
In the Digital Economy where speed and scale reign, the SDDC helps business compete with rapid application deployment and high availability of server and network resources. In order to take advantage of these benefits of the SDDC, the IT department needs to implement robust best practices and service assurance policies. But as a recent report issued by Forrester Consulting found, most IT departments still use ten or more distinct monitoring tools. This leads to an obscure view of service performance and excessive wastefulness. In many cases, the waste can cost the business millions of dollars per year.
NETSCOUT provides enterprises with a means to accelerate migration to virtualized infrastructures with ease and confidence, and without compromise when it comes to the user experience or customer service. The nGeniusONE platform and NETSCOUT's Adaptive Service Intelligence (ASI) technology provide end-to-end visibility and advanced insights necessary to pinpoint performance problems in any IT environment. NETSCOUT delivers a solution designed to respond to service disruptions with a combination of continuous monitoring along with real-time analytics. With three clicks of the mouse, an IT professional gets service, session and packet analysis. Making the complex simple is particularly critical when successfully resolving performance issues that include virtual machines using the same hypervisor, as well as those using different hypervisors in multi-tier data centers.
Performance Clarity for Complex Private and Hybrid Cloud Environments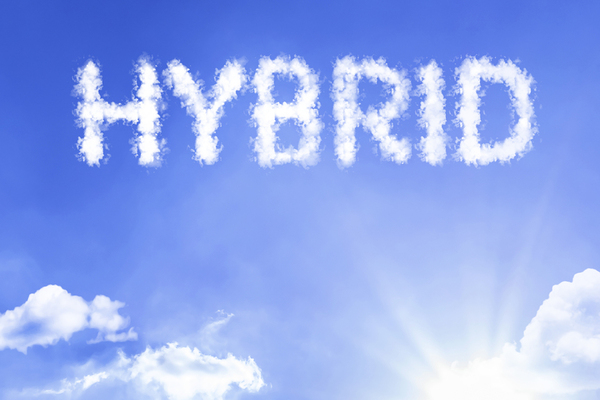 The hybrid cloud is by far the most popular cloud infrastructure in today's enterprises. It affords the cost-savings of the public cloud, combined with the data control and ownership demanded by executives and regulators.
SaaS, IaaS, PaaS, Public Cloud, Private Cloud, Virtual Private Cloud. The options and combinations are seemingly limitless and complicated. However, a simple reality remains: the business requires a flawless user experience, reliability of applications regardless of where they are deployed, and service availability. Most cloud deployments result in a hybrid IT approach. NETSCOUT delivers clarity to complex IT environments. The patented ASI technology analyzes traffic data and puts it into context, making the IT professional's job much easier. As a matter of fact, TechValidate, the premier voice of the customer researcher, concluded in a survey that around 70% of NETSCOUT users that quickly identified the root cause of service performance problems and anomalous behavior rate nGeniusONE for cloud and IoT infrastructure significantly better or best-in-class compared to alternative solutions for helping to solve service degradations in their IT infrastructure. According to TechValidate, the nGeniusONE solution had a payback period of 6 to 12 months or less for over 50% of NETSCOUT customers that gained a situational awareness through service-centric dashboards and a top-down approach when it comes to supporting new business models.
Harness IP Intelligence with ASI Technology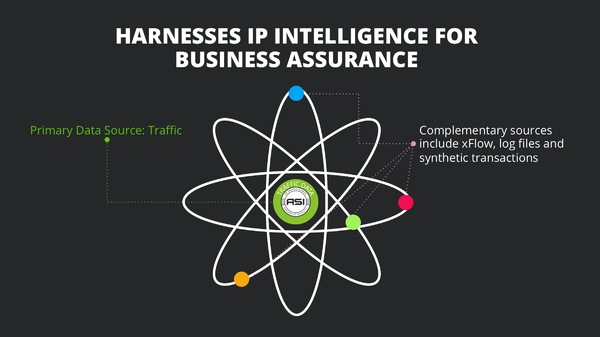 The ASI technology runs on NETSCOUT's Intelligent Data Sources, generating metadata in real time that is incredibly scalable, as the IP traffic makes its way across physical and virtual links. Utilizing pervasive instrumentation together with ASI technology, the IP intelligence gleaned from the network traffic enables a comprehensive, holistic understanding of the service experience. Additionally, it quickly identifies any source causing a performance issue, such as a glitchy Active Directory that is prohibiting email access, a mismatch in DSCP that is causing problems with UC&C, an application freezing on a virtual desktop, or an entire user community impacted by problems with a multi-tier application residing on different VMs and hypervisors.
Better Visibility Means a Consistent and Responsive Approach to Assure Services
In a connected world that requires heightened awareness, the software-defined data center shouldn't come with any blind spots. IT needs end-to-end visibility so that the network administrator can assure delivery of critical business applications and services, even in the most complex and demanding of environments, where both physical and virtual machines and networks are at work. Traditional monitoring solutions just don't work in the SDDC because network administrators aren't able to accurately and quickly locate service problems when trying to work with multiple and disparate tools and data sets. NETSCOUT's nGeniusONE takes a top-down approach to managing the SDDC, delivering a comprehensive view and complete understanding of the entire IT environment. This lowers risk to the business and allows for unmatched levels of operational efficiencies and innovation.
The SDDC and other innovative technologies are changing the scope of the network administrator's job almost daily. Are you prepared?
Download our eBook: Are You Ready for the Next Generation of Network Management? today.