Overcoming Real-World UC&C and UCaaS Challenges
How businesses can leverage smart edge monitoring to dramatically reduce MTTR
In the abstract, enterprise IT organizations understand that unified-communications-and-collaboration (UC&C) and unified-communications-as-a-service (UCaaS) tools are beneficial only when the services they offer are completely reliable and deliver the highest-quality user experience. However, the importance of both quality and availability of UC&C services is tied to an organization's unique use case and specific set of business demands. NETSCOUT's recent study found that half of companies responding received a UC&C ticket at least once a day or more frequently (see figure). Thus, sharing insights into how other organizations tackle UC&C and UCaaS problems can be a beneficial exercise.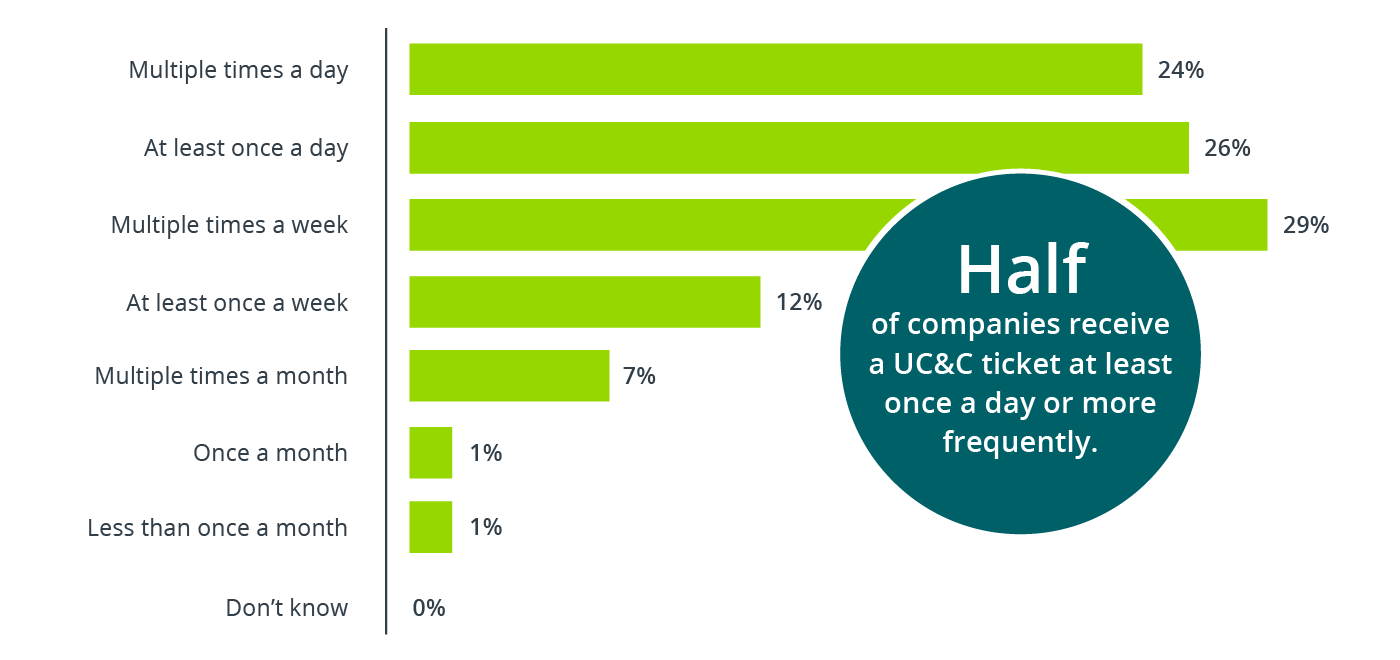 This blog provides two real-world examples. One involves a business process outsourcer that relied on a centralized UC&C application platform to facilitate customer service. For this business, reducing mean time to repair (MTTR) was viewed as critical for maintaining the highest level of customer responsiveness. The second example involves a European energy company that relied on UCaaS to connect its dispersed workforce during the COVID-19 pandemic. For this business, maintaining the quality of digital voice and collaboration services was imperative for supporting business continuity and the hybrid work requirements of the enterprise.
Faster Troubleshooting Keeps Call Centers Up and Humming
For a global contact center services provider, delivering call center services to hundreds of clients worldwide across numerous data centers meant relying on a UC&C solution to support thousands of incoming customer calls. Downtime and service disruptions presented a significant risk to the business. Difficulties responding to the more-complex trouble tickets, often requiring 72 hours to resolve, was costing the company millions of dollars, not to mention the reputational damage from poor customer experiences.
To address this problem, the company's IT team deployed a visibility and real-time monitoring solution to counter UC&C problems. NETSCOUT's Smart Edge Monitoring—which included nGeniusONE, offering real-time performance analytics for UC&C; InfiniStreamNG appliances with NETSCOUT Adaptive Service Intelligence technology installed in data center and contact center locations; nGenius Packet Flow Switch Appliances for packet acquisition and distribution; and nGeniusPULSE server with nPoints to remotely test the network infrastructure connectivity at remote client locations—was key to reducing downtime instances. As a result of this comprehensive approach, the company was able to reduce the time required to resolve complex IT tickets from 72 hours to fewer than 10 hours. These improved processes were used to close out 85 percent of all tickets and reflected an 83 percent reduction in MTTR. By reducing MTTR on voice infrastructure issues, the company has been able to deliver higher-quality customer service via its contact centers and is better positioned to comply with in-place service level agreements (SLAs) with revenue-generating clients.
Ensuring User Experience by Regaining IT Control of the Client Edge
A major European energy company serves as another example of an enterprise facing UC&C challenges. During the pandemic, the company—which employs more than 10,000 service specialists supporting customers across a multicountry service region—adopted a hybrid workforce model that relied on UCaaS for critical voice and collaboration services. However, when degradations in digital quality occurred, IT struggled to pinpoint the source of these problems in the company's complex, cloud-dependent infrastructure, making it difficult to ensure a quality user experience. In such multivendor service-delivery environments, end-through-end visibility and real-time analysis are essential for assuring 24/7 operations and successful troubleshooting when issues occur.
IT was able to overcome the company's client edge visibility and technology operations gaps by deploying the NETSCOUT nGeniusPULSE user experience monitoring solution with nPoint sensors. Continuous synthetic testing allowed IT to assess and trend end-user experience. By gaining granular assessments of vendor-related performance issues in the company's remote workforce environment, IT was equipped to share forensic evidence that compelled vendors to improve service delivery in compliance with SLAs.
Because of the mission-critical nature of today's collaboration tools, IT professionals need to be able to rapidly troubleshoot issues with UC&C and UCaaS. Gaining visibility out to the edge is essential.
For more information on reducing MTTK and MTTR when it comes to solving UC&C problems, please see the NETSCOUT report: "Communication, Collaboration & IT: Growing Pains and IT Strains".