NETSCOUT Student Hackathon goes Global with a Virtual Event
Facing the COVID-19 pandemic, NETSCOUT volunteers across the globe pulled together a hugely successful virtual hackathon
Over the last 18 months, NETSCOUT has partnered with the Shooting Stars Foundation to host six student hackathons across five locations—a resoundingly successful project that has seen 525 student participants collaborate to build solutions that address important needs in their communities. Thanks to the COVID-19 pandemic, the June 2020 hackathon turned into one for the record books, as the team pulled together a hugely successful virtual event with global participation.
Each of these 12-hour events has its own unique twist, bringing together volunteers and sponsors from businesses, schools, and nonprofits who support the event by getting the word out to students, working as mentors and judges, and making the event fun with great food and prizes. The June event was no exception. With an in-person event planned for March 28 in San Jose office canceled due to the pandemic, the hackathon team, an all-volunteer group led by Shailesh Kumar and Latha Narayannan, worked feverishly to reinvent this All-Girls Hackathon as a virtual event. The team started by connecting with a distinguished professor in India whose team had won hackathons at Harvard. He not only shared best practices for virtual hackathons but also helped organize and conduct three coding webinars for students in advance of the event.
The team managed the event through WebEx events and live-streamed the hackathon through YouTube. They then turned to popular gaming chat platform Discord for team-mentor chat and collaboration and updated a custom Salesforce application for scoring. Several dry runs helped streamline the process, while they also planned icebreakers and opportunities for interaction and team-building among students, mentors, and judges.
One of the unexpected joys of a virtual event was the chance for global participation for everybody involved. The 140 registrants hailed not only from west coast towns such as San Jose, Fremont, Milpitas, Cupertino, and San Ramon, but also Westford and Acton, MA, Denver, and Chicago. The judges and mentors, meanwhile, spanned five countries: the US, Mexico, China, Australia, and India.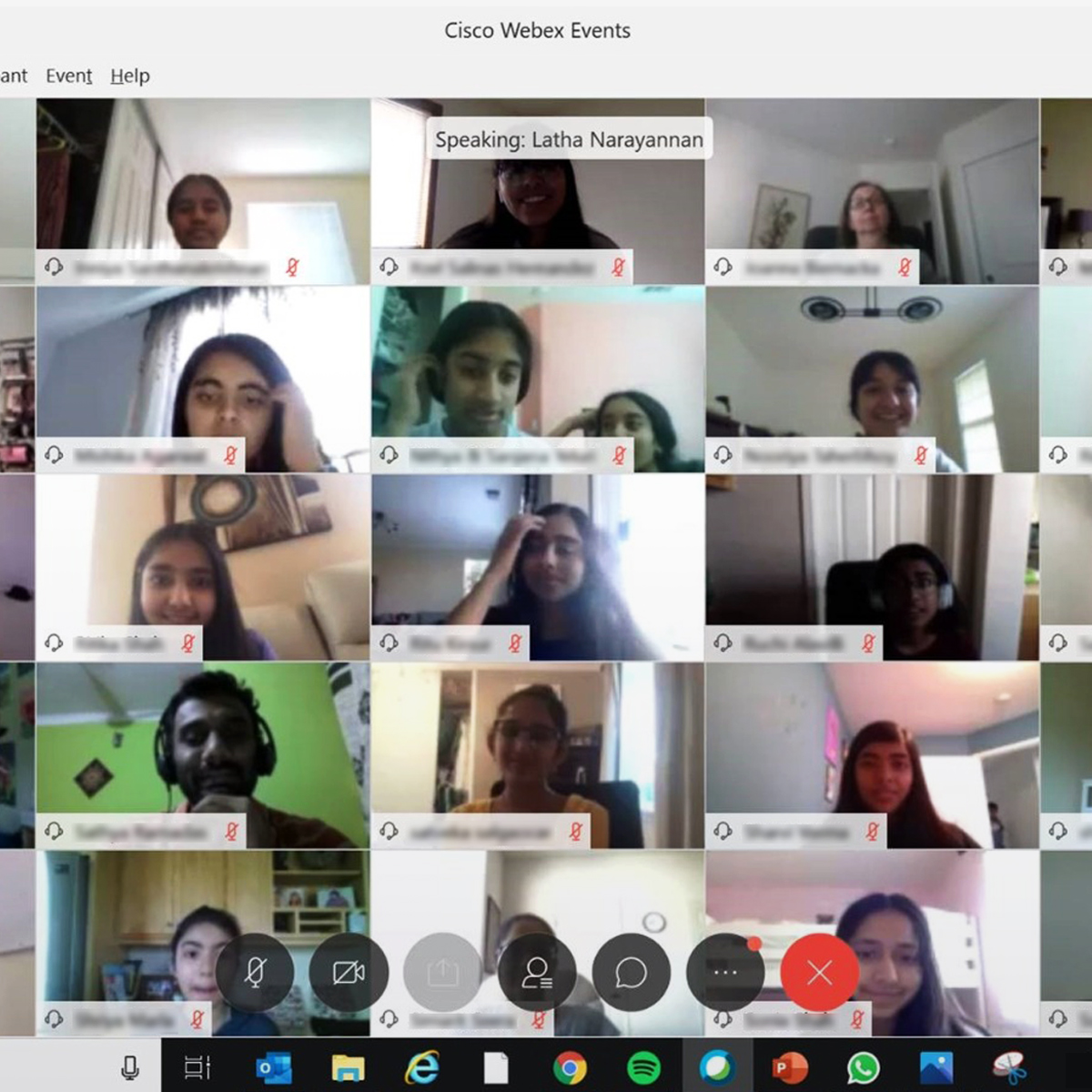 The hackathon fielded 22 teams tasked with creating an innovative response to pandemics, with each team evaluated on feasibility, creativity, entrepreneurship. The groups designed and developed project ranging from websites and applications to actual devices. Sample projects include:
A social distancing bracelet which alerts the wearer whenever they are closer than 6 ft to another person.
A website where one can upload a picture of themselves wearing a mask and then be informed whether or not they have worn the mask correctly or not.
A platform that provides instructions on how to make essential PPE items such as masks and helps donate them to people who need them.
The virtual hackathon gave employees an opportunity to contribute meaningful, skills-based volunteering —and because it was a borderless event, attracted volunteers from around the world. One clue as to just how engaged the volunteers were? Many logged back in at the end of the day (or the middle of the night, depending on their location!) to watch "their" teams present to the judges.
The mentors and judges were incredibly impressed by the student's ingenuity, presentation skills, collaboration and the overall solutions they developed. In fact, some judges were ready to hire some of the teams for the skills they demonstrated at this young age. NETSCOUT is glad to be a part of their journey towards a career in STEM. We left them with a final thought: "Take this passion—Win the world—Make us proud!"
Learn more about our previous hackathons.