Hackathons: Fun for the Whole Family
Meet our third NETSCOUT family team working on student hackathons that help build interest in IT careers across underrepresented communities.
Last of a three-part series
At NETSCOUT, we love to make a difference, and our hackathon partnership with Shooting Stars Foundation to sponsor StarHacks is a perfect example. The StarHacks helped to expose students to technology and STEM careers, and they also brought NETSCOUT families together.
In honor of Father's Day, we are profiling NETSCOUT dads and their student leaders in a three-part series about at their hackathon experience.
This week, we feature Abhay Silina and Harsha Silina.
Abhay is a rising sophomore majoring in data science at Purdue University, and Harsha is a senior director of IT application development at NETSCOUT.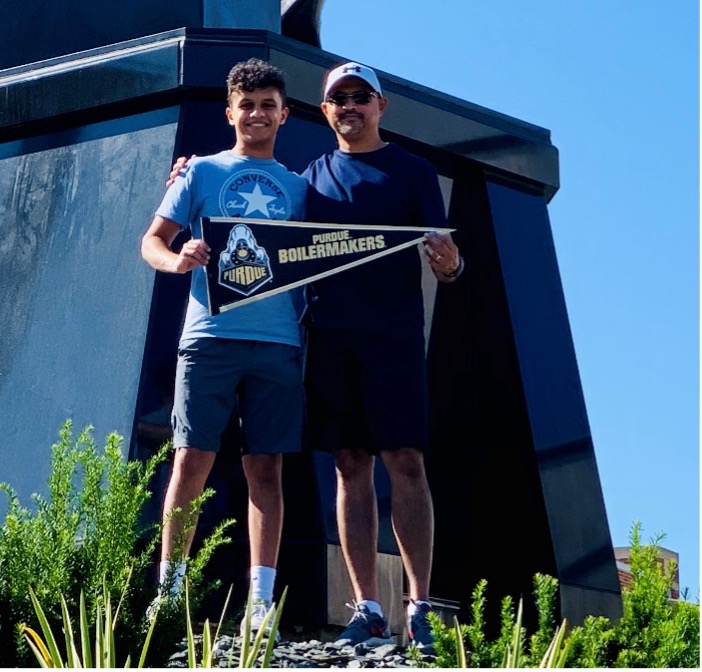 ABHAY: I worked on two hackathons: StarHacks 2019 in Westford, Massachusetts and StarHacks 2020 in Lowell, Massachusetts. I got involved in my first hackathon through the Shooting Stars Foundation. I decided to do it again because it was a fantastic learning experience to understand the process of planning and executing a public event. Additionally, I loved working with my team, which made every meeting enjoyable.
For the 2019 hackathon, I was the lead student organizer, delegating tasks to my team and managing many jobs during the event. No one in our group had ever planned an event of this magnitude, so honestly, everything was challenging. However, the most challenging part was probably adjusting during the event itself. Many unanticipated scenarios occurred on the day of the hackathon. We had to think on the fly and adapt our plan several times.
During the 2020 hackathon, I served as a mentor to allow my team members to get more involved. I gave insight to the new leadership on approaching planning the next hackathon and additionally helped with several activities during the day of the hackathon. The hardest part of my new role was allowing the new leadership to plan differently than how I imagined it.
An unexpected benefit that came out of the hackathon was learning how to manage money. We had only a certain amount of money, and we had to make tough decisions to allocate that money to the right things. Financial management is a skill we all need. Now in college, I have to constantly decide how much money to spend on food, textbooks, apartment utilities, and more. Having this experience helped me understand how to manage my finances.
Working with my dad was amazing. I never knew what a great leader he is. He led several of his colleagues to create an app to make check-in a seamless process, helped all the participants with their laptop issues, and managed all the technology used at the event.
Overall, I am incredibly grateful to NETSCOUT for the opportunity to be part of such a fantastic event. I learned so much, and I would highly recommend that everyone pursue any opportunity to participate in similar events. You never know how much fun you can have doing something like this until you do it.
HARSHA: When I first heard about the hackathon event, it was a new and exciting initiative for which to volunteer. Simply put, it was a team-building exercise, which became an opportunity to meet and collaborate with like-minded volunteers.
Harsha's ideal Father's Day:
Spending time with family, maybe hiking and throwing the football with my son, is my way of enjoying Father's Day.
The idea behind the hackathons was to provide problem-solving opportunities to middle school and high school students. The hackathons provided them with a platform for learning and developing many skills, including identifying real-world problems, brainstorming solutions, doing team presentations, making new friends, and more. The events involved countless meticulous planning and execution hours from the volunteers—including the student volunteers, who gained valuable hands-on experience to help them grow into future leaders. Considering all the benefits, volunteering in successive events was a no-brainer. It is rewarding to see the next generation learning from the opportunities we create.
When I approached Abhay about volunteering, I did not have answers for the simple questions he had. All I said was, "I don't know much; we all will be learning together to figure this out. If you are OK with this, then you will be fine." The entire event planning process was iterative; none of us had done this before. The student volunteers provided interesting suggestions, stepped up on many tasks, and were excited to work with the rest of the volunteer team leading up to and during the events. They showed immense growth during this process, which was satisfying to observe.
I was pleasantly surprised at how Abhay embraced the idea behind the event, embodied the spirit of volunteering, developed leadership traits, and honed his public speaking and presentation skills.
Working closely with my colleagues on this has been a fun experience. None of us had organized a hackathon before, and their creativity and energy was inspiring. The first hackathon during March 2019 was a 14-hour nonstop busy day. It was a successful event. We were crazy enough to sign up for the successive events. 
I am very thankful to NETSCOUT for providing these excellent opportunities for my son and me to volunteer together. They are priceless moments; we learned from each other!
Learn more about Life at NETSCOUT and NETSCOUT'S Heart of Giving program.