Digital Learning Gets an "F" When UCaaS Fails
Ensuring communications and collaboration platforms deliver the best user experience requires end-through-end visibility.
Educators around the world have spent the past two years developing ways to make remote learning work. Now, while substantial portions of the education system are bringing students back to classrooms, other institutions are embracing hybrid learning models that offer remote education in those instances where it best suited to meet the health, safety, and even climate needs of educators and students. 
A recent report from the National Council for State Authorization Reciprocity Agreements found that 60 percent of postsecondary institutions that moved courses to a remote option intend to continue to rely on some forms of distance learning in the future.
School districts and institutions of higher education have set the goal of delivering a quality student experience. This has entailed embracing unified communication and collaboration (UC&C) and unified communications-as-a-service (UCaaS) platforms to communicate student information, conduct administrative functions, and deliver state-of-the-art learning tools in order to facilitate a rich educational experience remotely. The figure below shows the major UCaaS vendors in use today. Some of these providers have become household names as a result of the adoption by school districts and colleges.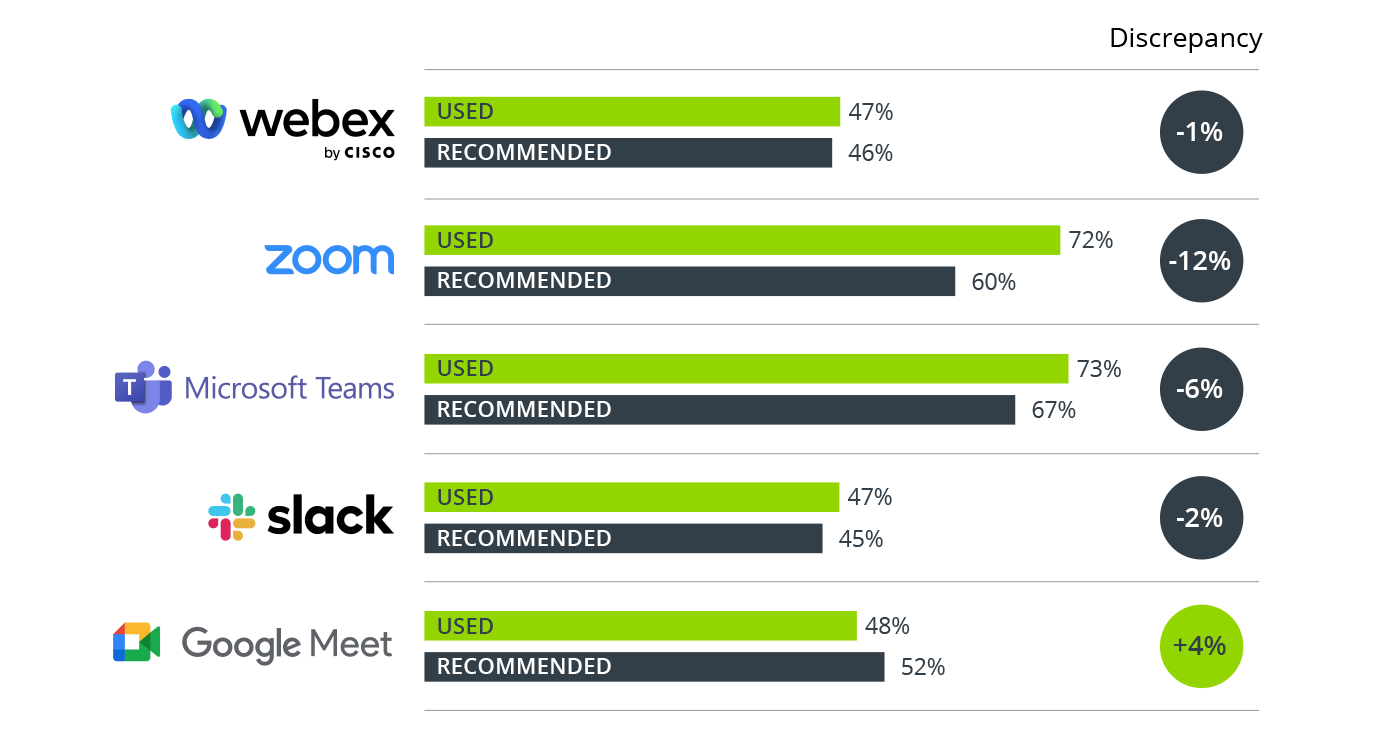 Reliance on UCaaS Comes with IT Challenges
Although UCaaS is making remote learning possible, it comes with IT challenges. The tremendous growth in network traffic, combined with ongoing reports of poor-quality experiences on these systems, creates monitoring hurdles. In the case of one large public school system, IT struggled with two issues—performance and bandwidth availability in the final mile to students' homes, and the quality-of-service (QoS) assignments used for traffic prioritization for remote learning content within their large data centers and across the internet to their students' homes.
Another school system was dealing with increased traffic between various data centers and schools within the district. Ensuring quality services so that learning can happen smoothly and continuously is an imperative. Network and application performance management and service assurance visibility are absolutely necessary in order to troubleshoot issues that may be disrupting the learning process and to pinpoint the location of any bottlenecks and/or other degradations.
As school districts and universities with tens of thousands of students, multiple data centers, and extremely complex networks spanning campuses and geographies continue to rely on remote learning, the need for greater visibility into collaborative applications, such as UCaaS, has never been more important.
Hybrid Learning Requires Visibility Across All Networks and Platforms
Gaining visibility into the performance of remote learning platforms and administrative services provided from the data centers to individual schools, satellite administrative offices, and individual users, including teachers, requires the right network and application performance monitoring tools. After all, if the user experience isn't high quality, the learning experience will not meet the needs of the students, and instructor productivity will suffer.
NETSCOUT offers industry-leading solutions that provide insights into critical applications and infrastructure environments that are essential to remote learning operations. These solutions provide deep visibility into network, voice, and application services systemwide with a single-pane-of-glass view. With detailed information about the causes of interruptions or degradations of service, threats and infrastructure issues can be quickly identified, and troubleshooting can proceed so efficiently that individual incidents can be addressed—sometimes even before users are aware of the disruption.
For many school systems or institutions, relatively small IT staff size makes for challenges when trying to continuously monitor and manage these complex infrastructures around the clock. Managed monitoring services can be the answer. By leveraging a visibility-as-a-service (VaaS) solution, IT is able to tap into an outsourced expert that thoroughly understands the technology.
VaaS can provide much-needed visibility into the function of services within data centers, as well as UCaaS platforms, protecting the end-user experience and helping to ensure educational tools are always available to faculty and students. VaaS enables IT to more easily manage complex, multivendor network environments, including private data centers, co-locations, public cloud, remote offices, and wide area networks (WANs). With universities expecting that students will deliver assignments via portals at 11:58 p.m. on due dates, study electronic texts overnight, and take finals online late into the evenings, it is reassuring to have experts' eyes on the network 24 hours a day, 7 days a week to ensure availability and performance of their resources.
Some school districts have been able to apply for specific government funds made available through recent COVID-19-related federal government legislation to pay for NETSCOUT monitoring solutions, including VaaS. In this way, they have found a cost-effective means of gaining critical data insights into voice, video, and software-as-as-service (SaaS) application performance issues, allowing them to keep students on track educationally, which is their primary mission.
For more information on the importance of assuring end-user experience for the education community, please see the "Communication, Collaboration & IT: Growing Pains and IT Strains" report.