Building Community at Work To Support Military Families
NETSCOUT's Silicon Valley Team Donates Two Playhouses
NETSCOUT's Silicon Valley team engaged in a different type of "engineering" project by picking up hammers and nails to construct two playhouses donated to a local chapter of Blue Star Moms, a non-profit organization dedicated to serving military personnel, veterans and their families from all branches of the United States Armed Forces. 
This is NETSCOUT's seventh consecutive year participating in the playhouse program with Habitat for Humanity East Bay Silicon Valley.  Each year the team looks forward to the project as a way to both assist children of families with members actively serving in the military and get to know fellow employees. 
In the last year, we welcomed employees who were formerly part of Fluke Networks and VSS Monitoring, as part of Danaher's Communications Business acquisition, into our San Jose office.  "Sometimes we get so busy with our day-to-day job we don't make the time to get to know people in other departments.  With the playhouse project, there is usually a great turnout from all areas of the company, and often people see what's going on outside and spontaneously decide to join in," said Shalini Das, senior human resources generalist at NETSCOUT. 
Working Together While Supporting Military Families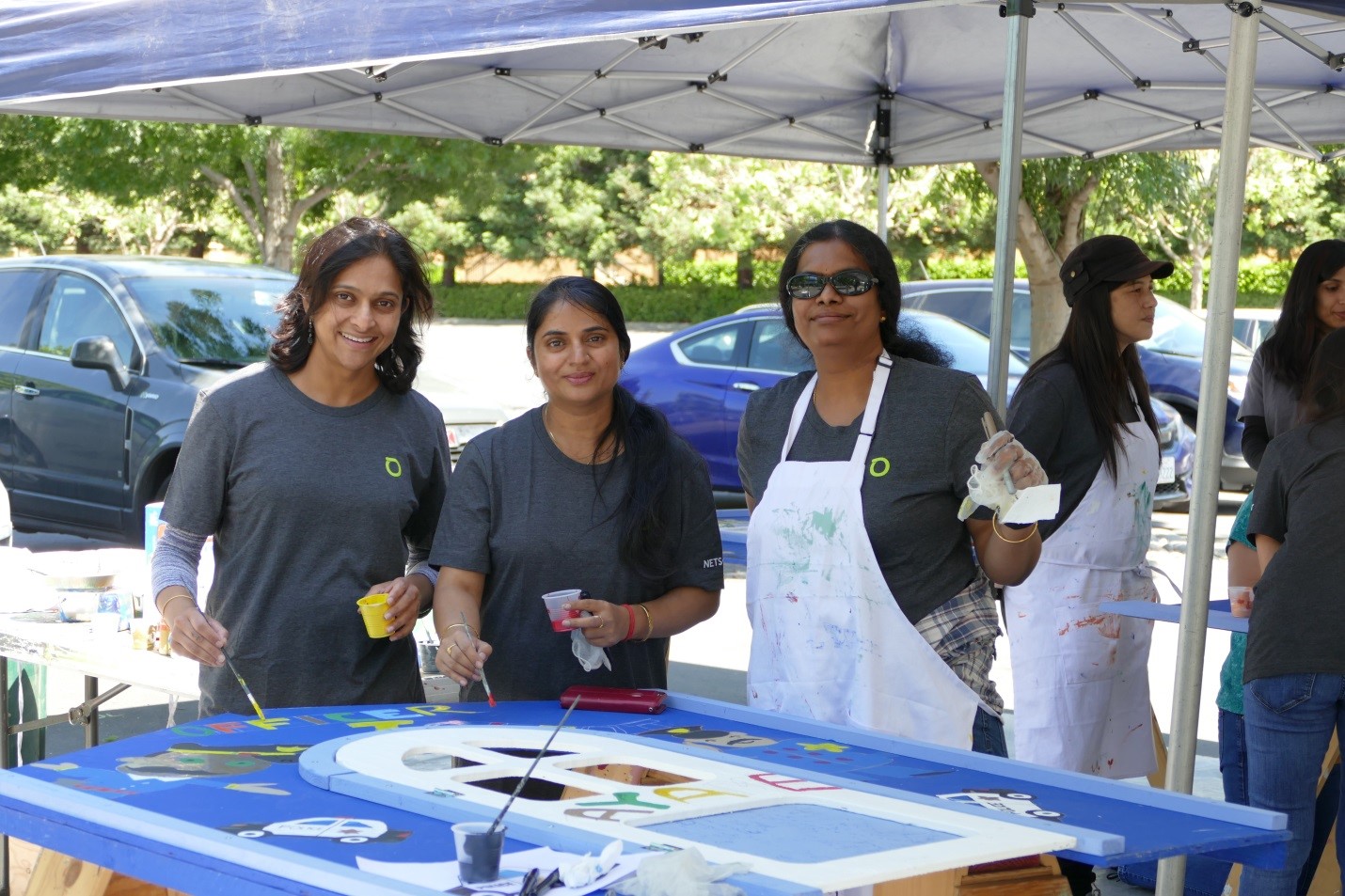 Shalini noted that a number of employees helped prepare for the build day, including setting up the parking lot for the project, recruiting volunteers and planning how to decorate the playhouses.  Habitat provides information about the children's ages, favorite characters or activities, colors, and employees' creativity takes over from there.  This year the team had the challenge of creating beach and police-themed playhouses for the children.  In the process of building a playhouse you find out who is artistic, who is a stickler about measuring twice, and who likes to play with power tools!  It's a fun way to see a different side of people. 
The favorite part of the day is when the families arrive to pick up their playhouses.  Not only do employees have the satisfaction of completing the project, they also have the opportunity to greet the families and let them know they appreciate their service.  But the expression of joy on the children's faces is by far the best part.  Nothing beats seeing the smiles and amazement as the kids realize this is their very own playhouse!
"As a company, it is inspiring to do something in return for those who serve our country.  This activity brings together our employees to participate in a unique way of thanking our military families for their dedication and sacrifice for our country," said Mike Ratzlaff, vice president, engineering and San Jose site leader at NETSCOUT. "Our efforts will bring excitement and opportunities for imaginative play to these children while supporting Habitat's mission of building homes, communities and hope."
The Habitat for Humanity East Bay/Silicon Valley Playhouse Program is a unique team building opportunity where volunteers work together to construct usable and durable children's playhouses, which are then donated to families and community charities in the area. The playhouse program helps fund the construction of local affordable housing through Habitat EBSV's mission.  Habitat for Humanity East Bay/Silicon Valley has donated over 450 playhouses to organizations including Blue Star Moms and Capes4heroes.