Assuring Wifi Offload to Diffuse Explosion of Mobile Data
Service Reliability and Performance
Mobile service providers face an ongoing challenge to handle the mobile data explosion and potentially declining revenues as the subscriber base becomes saturated. Juniper Research recently projected that mobile data will increase 533 percent from 2014 to 2019. Wifi Offload is the obvious solution to address the mobile data crunch, which takes traffic off the LTE network and puts it on the Wifi network to conserve investments in mobile broadband networks. As I discussed in an earlier blog, VoWifi benefits the mobile service provider, freeing up network resources by also taking advantage of local Wifi networks to handover calls which may in fact improve mobile voice service availability and quality. In this blog, I will explore the monitoring requirements to help assure carrier Wifi is a viable offload solution.
Wifi Monitoring Priorities should include:
Access Point (AP) - Health and Performance
Service Reliability and Performance
User - Quality of Experience
Subscriber Device (Handset) Usage and Metrics
Support Business Analytics
To start, the monitoring solution must provide key metrics for determining AP health. The Key Performance Indicators (KPI) that you will want to monitor cover the complex user login session flow, which includes protocols that provide authentication and access: DHCP, RADIUS, DNS, HTTPS. The critical KPIs include: application identification, utilization and throughput, response time measurements and application specific error code distribution. The graphic below shows how the Authentication process can be monitored for various locations to look at the success and failure, volumes, latency and errors experienced by that critical procedure.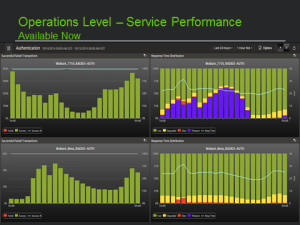 Given the number of access points being deployed, the ability to auto-discover access points is essential. And being able to organize, roll-up and visualize them in market and regional views facilitates the ongoing proactive monitoring of the Wifi network. Geo-mapping of AP metrics is a very popular and useful technique here.
In addition, network operators, engineers, marketers and executives will want reports on access point health, market and regional performance and user experience metrics (connect time, app throughput, latency) for the overall management of the application.
Finally, another important consideration for monitoring and managing Wifi access and offload is business analytics. AP performance and consumer use of Wifi resources provide an extremely rich source of information for network planning, marketing, executive management and more. Reports on web surfing activities, usage by top 10 web applications, value added services (ad inserting) and more can provide insights as to how service providers can monetize their investments in Wifi networks.
Wifi availability and smooth consumer access are key to exploiting the benefits of Wifi offload. Assuring Wifi service is the only way to make sure that happens.