Why NETSCOUT?
Because you're in the midst of a transformation era, business is moving faster, smarter, and expectations have never been higher. That's why you need NETSCOUT Smart Data, to extract the most vital, Smart Data-fueled insights for your business. We have a strategic vantage point – your packet data as you transform your business. We've learned how effective this is when serving some of the world's largest mobile networks and healthcare and financial enterprise organizations.
The cloud is now.
Cloud computing speed and efficiency is essential in today's digital climate, but no company can afford disruptions on the journey that jeopardize customer experience or business success. We work with the largest companies in the world as they tackle their digital transformations, using NETSCOUT Smart Data to provide holistic visibility and minimize disruptions at any stage of the Cloud journey.
Check out the findings from a recent survey conducted by IEEE exploring cloud migration challenges, strategies and top priorities as revealed by Cloud professionals.
READ SURVEY FINDINGS
Why NETSCOUT Smart Data?
We're cloud-agnostic. You'll get a single, pervasive view bridging the gap between public, private and hybrid-Cloud environments.
With user experience, anything less than flawless performance will put your business at risk. By proactively identifying issues and pinpointing the exact location you'll resolve them before it impacts your customer.
Unseen dependencies in the cloud can put your business goals at risk during a migration. That's why we use NETSCOUT Smart Data to make sure you can see, plan and react before it's too late.
Learn more about Hybrid Cloud Visibility & Monitoring
Visit our Cloud Resource Center
This is the future.
NETSCOUT, a VMware Ready Certified Partner in Networking and Security for SDDC, will bring continuous visibility of your micro-segmented environment, to assure the successful deployment and ongoing security and performance of services in your NSX environment. Read our solution brief for more details.
DOWNLOAD BRIEF
Why you need it:
Optimal user experience is good for business. We'll help you with continuous visibility to deliver a better user experience, faster and more seamlessly.
There's no time to operate in silos. With our revolutionary new NSX solution, your cross-functional teams will be better equipped to operate seamlessly together.
Issues will no doubt arise, but you need to solve them faster and more effectively. You can, with NETSCOUT Smart Data's truly pervasive visibility.
NETSCOUT is a VMready partner. Learn about our partnership
Learn more about vSTREAM for Hybrid Cloud Environments
Deploy more, with less.
Digital transformation requires visibility and DevOps transformation to reduce risk. That's why you need NETSCOUT Smart Data to help accelerate user deployments, remove micro-services blind spots, and mitigate risks, all while improving service quality, availability and security. You're only at risk when you don't have the right information, and that's why our system-level telemetry and unobstructed visibility will keep you running at peak performance. We recently published a blog on this topic
Read Blog
Why you need it:
If a user doesn't have an optimized experience, they'll find it elsewhere. That's why we prioritize the fastest and most reliable feedback loops possible.
You need to do more with less. With NETSCOUT Smart Data's pinpoint visibility, your team will spend less time debugging and more time deploying.
So much noise, so little time. We will enable your teams to identify the root cause of performance problems, quickly and seamlessly.
Learn more about DevOps Monitoring
"In a software-driven economy, it's easy to pinpoint the root cause of IT infrastructure problems with nGeniusONE"

Nexus Technologies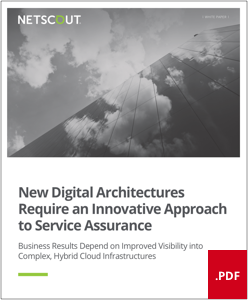 Navigate the noise.
How do you maintain security and optimize service quality in an increasingly complex digital landscape? In this white paper, Cloud solution thought leader, Joe Weinman, explores the new service assurance approach that's helping organizations successfully navigate the complexities of the new digital architecture.
Download Now