Securing The Unstoppable Enterprise Requires Visibility Without Borders
Leverage your organization's investment in NETSCOUT and extend the power of our Visibility Without Borders® platform to your cybersecurity teams for more effective threat detection and incident response.
The Network Is the Only Place Attackers Can't Hide. Time to Expose Them.
Effective cybersecurity requires comprehensive network visibility. NETSCOUT's Omnis Network Security is powered by a highly scalable deep packet inspection and multiple methods of threat detection. It provides comprehensive network visibility across your entire digital infrastructure, including public clouds, enabling your cybersecurity teams to detect, investigate, and remediate threats missed by other tools.
Omnis Network Security at Work
Unlike firewalls, SIEMs, EDR, or UBA security technologies, Omnis Network Security transforms packet data into real-time threat detection. It empowers your team with relevant network-based contextual data, allowing for smarter threat detection, investigation, and faster, more accurate mitigation and response.
Global Scale
Designed to scale to the world's most complex networks, on-premises to the cloud, and everywhere in between.
Real-Time Threat Detection
Uses multiple methods of real-time threat detection at source of packet capture.
Investigation & Hunting
Leverage long-term storage of network metadata and packets for network context and evidence of attack.
eBook
3 Steps to Improve Your Incident Response
100% threat prevention is not possible! But using a Deep Packet Inspection-based Network Detection and Response security solution provides network visibility, context, automated threat detection leading to improved incident response time. Check out this ebook for the steps to focus on visibility to improve your security posture:
Fill Visibility Gaps
Use Packet-Derived Data
Put the "Advanced in "Advance NDR"
And a Bonus Step!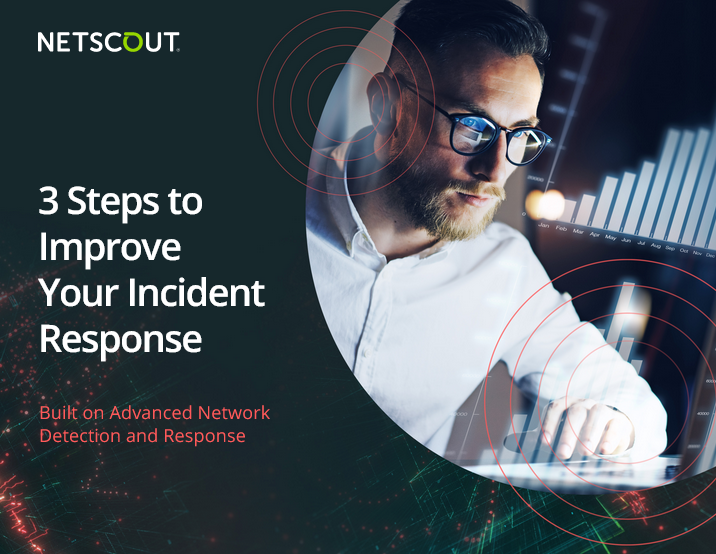 From the Planet to the Packet, Unstoppable Visibility Everywhere
Our Visibility Without Borders® platform examines packet-level data that's critical to enabling performance, security, and availability, at any scale.
Drawing together four core solutions (nGenius Enterprise Performance Management, nGenius Carrier Service Assurance, Omnis Network Security, and Arbor DDoS Protection), our Visibility Without Borders® platform goes broader and deeper to deliver the real-time visibility, monitoring, and automated analysis it takes to achieve never-been-done-before levels of security, availability, and performance – across any network, any cloud, any data center, any application, anytime.

Why Deeper, Broader Data Matters

With the deepest and broadest visibility possible— from every data packet to the broadest view of global Internet traffic, across all cloud environments, applications, and end users—you can track everything that moves through your network and identify problems faster and more accurately.
Actionable Insights for Solving at Scale

With a common set of data unified in one platform, network and security teams can consolidate tools and work from a single source of truth to rapidly detect, pinpoint, triage, analyze, and resolve network, application, or security anomalies.
Unstoppable Success
Built on decades of success, NETSCOUT has the most experience assuring, securing, and protecting distributed, complex digital ecosystems like yours, more efficiently and cost-effectively.
90%
of the World's Tier 1 Service Providers
9/10
of the Largest Cloud Hosting Providers
3/5
of the Largest Social and Online Brands
9/10
of the Largest Global Financial Institutions
Let Us Prove It To You
Using a common Visibility Without Borders Platform reduces costs, mean time to threat remediation (MTTR), and risk.