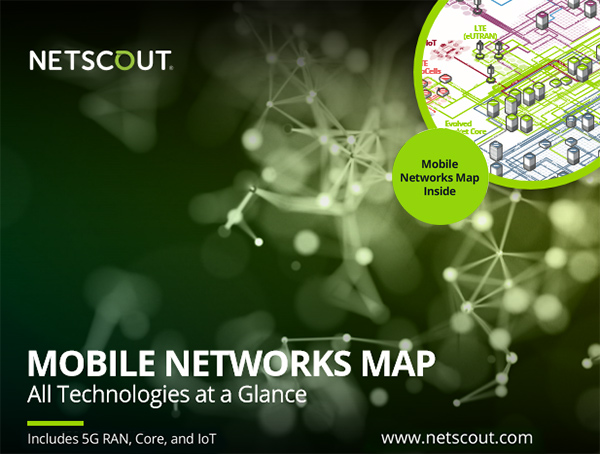 Mobile Network Map
NETSCOUT's Mobile Network Map is a valuable reference tool for Carrier Service Providers (CSPs) and covers technology details for 2G, 3G, 4G LTE, 5G, and IoT. The Map shows placement of network nodes, protocols, interfaces and includes an extensive glossary of terms.
Monitoring 5G Networks
NETSCOUT's scalable monitoring solution, designed for the cloud, helps Carrier Service Providers (CSPs) to successfully deliver actionable insights into reliability and latency for 5G networks and services.
See it all or risk it all. End-to-end visibility from RAN to Core, and to the EDGE is critical and ensures troubleshooting for automated decisions for any cloud (public, private), any network (physical, virtual, hybrid), and any workload — Cloud, Virtual RAN, Virtual Core, and Edge Computing throughout the 5G Life Cycle.
---
5G Velocity requires Ultra High Definition (UHD) visibility for uninterrupted service assurance from: pre-launch, launch, to commercial operations for proactive and continuous insights into emerging 5G use cases.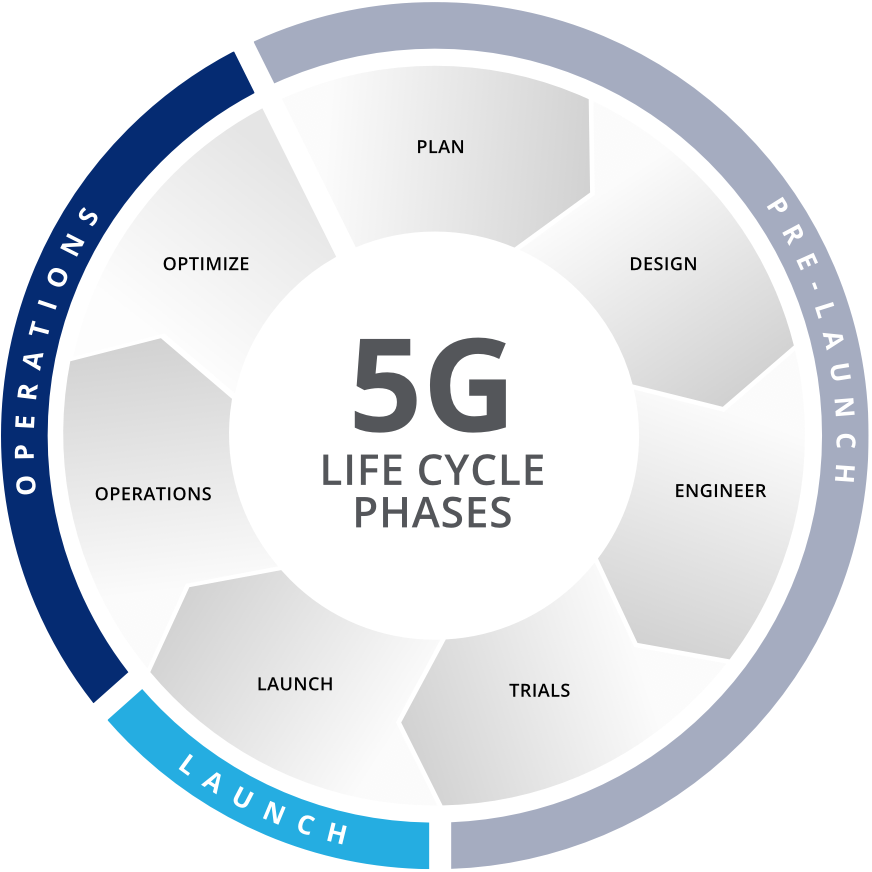 Click the 5G Life Cycle to learn more about any of the phases
Use Case
Assure Reliability of 5G and IoT Services
Achieve visibility into mission critical IoT services, create new revenue opportunities, assure high availability, secure devices, maintain service level agreements (SLA), and lower total cost of ownership (TCO) with our carrier-grade solutions.
• Provide input data from modeling
• Understand traffic growth/trends
Use Case
Analyze 5G Network Behavior
From a single pane of glass validate design implementations, test entire 5G network design before launch, and assure a superior customer experience.
• Test network design
• Analyze traffic
• Validate configuration
Use Case
Know Your 5G Network Uptake
Capitalize on the right analytics, for insights into the distribution of 5G services by unique subscriber counts and launch 5G with confidence.
• Validate customers usage
• Verify network is working properly
• Confirm internal resources
Use Case
Troubleshoot Your 5G Network
Leverage end-to-end troubleshooting, ensure low latency at the Edge, reduce MTTR, and improve OPEX.
• Manage CEM
• Evaluate ROI
Use Case
Optimize Your 5G Network with GeoAnalytics
Quickly identify traffic hotspots, determine specific locations to deploy new cell sites, and save on OPEX.
• Optimize system performance
• Improve KPIs
• Drive essential ROI with automation and analytics
Use Case
Improve Planning and Design for 5G Networks with Predictive Analysis
Gain visibility into augmentation measurements required for network planning and design from 4G to 5G with propagation models; accurately reflect pathloss around cell sites, avoid over planning and/or under planning network design, and save on CAPEX.
• Build propagation models
• Analyze density and patterns of traffic
Use Case
Pre-Launch Your 5G Network
Know your network use near real time insights, to make 'No Go or Go' production ready decisions.
• Test traffic volume
• Test system readiness for multiple sites