Free White Paper
IT downtime can cost as much as $60 million a year.
To avoid disaster, you need a packet flow architecture optimized for service assurance. When it comes to solutions, how can you ask the right questions to ensure what you evaluate meets your needs?
This checklist will help you formulate your requirements, know which questions you need to ask, and evaluate with confidence when it comes time to work with your solutions vendor.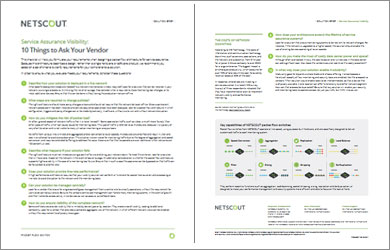 Evaluate Packet Visibility Solutions with Confidence
Download now for valuable insights related to:
New solution deployments
Required policy changes
Maintaining network speeds
Ensuring complete visibility
And much more…
Don't settle for anything less than optimized service assurance. Read now.
Download Your White Paper
Currently unavailable, please contact NETSCOUT Sales.
RECOMMENDED RESOURCES
5 Reasons to Choose NETSCOUT