Free White paper
Are You Getting the Most out of Your Packet Flow?
As networks grow, the monitoring infrastructure that ensures applications are up and running—and running securely—needs to grow too. Many IT organizations want to optimize their packet flows to ensure network security solutions have complete visibility.
If your organization is looking to traffic aggregation or packet optimization to maximize efficiency and performance of security solutions, there are 10 key questions you should ask your vendor.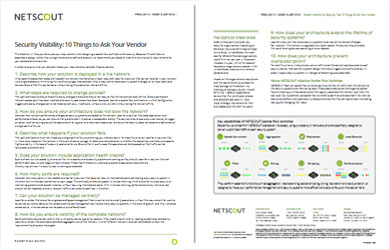 Evaluate Packet Visibility Solutions with Confidence
Download now for valuable insights related to:
New solution deployments
Required policy changes
Maintaining network speeds
Ensuring complete visibility
And much more…
Make sure your security systems get the packets they require. Read now.
DOWNLOAD FREE WHITE PAPER
RECOMMENDED RESOURCES
5 Reasons to Choose NETSCOUT
Inline Security Streamlined