Free White Paper
The future of packet brokers is software-driven. Find out why.
Software transformed the data center and it's about to change the way you think about your packet visibility architecture.
In its latest report, analyst firm ACG explores the ways Open Compute platforms are being applied to packet flow visibility and how this can be leveraged to benefit your network.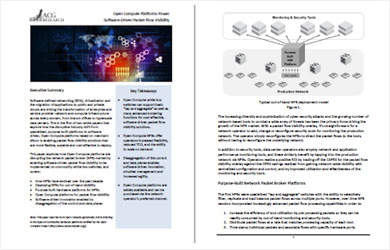 See the next stage in the evolution of packet visibility solutions
Download and discover:
New developments in network packet broker capabilities
Software-driven vs. traditional packet broker features
How Open Compute platforms impact packet visibility
Register now and learn how you can take advantage of this evolution in packet flow technology with the latest research from ACG.
Download Your White Paper
RECOMMENDED RESOURCES
Learn About Packet Broker 2.0