Evolving Threats, Evolving Networks
Proliferation of IoT devices, attack vectors and automated attack tools have brought an onslaught of larger, more sophisticated DDoS attacks to the connected world. Organizations are challenged to deal with these attacks quickly and efficiently, whilst minimizing operational overhead and maximizing service quality.
Networks themselves have evolved with more focus at the edge, in terms of content and value-added service delivery, and more built-in intelligence and capability.
Security solutions need to utilize next-generation analytics, machine learning and Smarter Visibility to drive new intelligent automation engines that orchestrate a coordinated response to any attack – providing complete assurance and protection.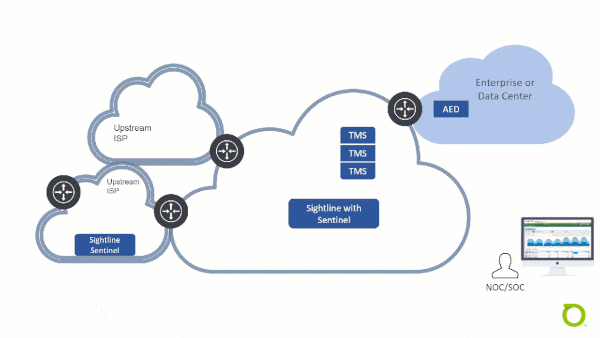 Revolutionizing The Fight Against DDoS Attacks​
Managing today's and tomorrow's DDoS attacks effectively and efficiently requires an integrated approach to attack mitigation. An automated, orchestrated combination of the best mitigation mechanisms for a given attack in a given environment; leveraging intelligent and network infrastructure capabilities, and co-operation across network boundaries. All with full visibility through a single-pane-of-glass.
Arbor Sightline with Sentinel uses NETSCOUT Smart Data to deliver Smart Visibility, application and service layer visibility that drives automated detection of a broader range of DDoS and botnet threats in terabit scale networks. NETSCOUT ATLAS provides unique intelligence into the global threat landscape, allowing organizations to better defend their networks, services and customers.
These unique capabilities combined, revolutionize how DDoS attacks are mitigated.​
Additional Resources
Arbor Sightline with Sentinel
Arbor Sightline with Sentinel combines the technologies of NETSCOUT and Arbor to deliver smarter traffic visibility and threat detection, as well as an automated, fully integrated DDoS defense.
Adopting Automation. A Technology Imperative With Risk
Watch James Hodges, Chief Analyst from Heavy Reading and Scott Iekel-Johnson, Director of Product Management from NETSCOUT as they discuss automation for network security and the implications it has for service providers and large enterprises
Empowering Your Network to Stop DDoS Attacks
Smarter visibility can drive smarter DDoS protection. Listen to how the Arbor platforms evolve to address the next wave of advanced DDoS attacks.
Under Attack?​ Smart Security is here.
Call us for DDoS Attack Support

+1 734 794 5099 (International)
844-END-DDoS (North America Toll Free)