nGenius PFS Fabric Manager
Centralized Orchestration and Management
Centralized Orchestration and Management of the Packet Flow Switch Fabric
nGenius PFS Fabric Manager is a central management pane of glass that enables administrators to easily configure, deploy, and troubleshoot monitoring networks consisting of the nGenius 5000 and 6000 series packet flow switches. It provides an intuitive, drag-and-drop configuration with powerful but simple-to-use workflows that cover the three major areas, or lifecycles, of a packet flow switch system: configuration, deployment, and monitoring.
Configuration
Administrators can easily configure physical hardware and elements, such as switches, blades, and ports. Reusable logical elements, like filters or load balance groups, can be configured for drag-and-drop deployment in graphical traffic maps, called topologies. Intelligent workflows allow administrators to create completely new filters, or new filters based on a previously configured filter, allowing for quick and easy changes to filters already in deployment.
Deployment
In deployment, administrators configure the graphical representation of topologies. Topologies represent flows of traffic, typically from tap, to the packet flow switch or switches, and out to monitoring tools. The PFS Fabric Manager provides control to administrators, allowing for configuration on a canvas that is non-intrusive to the underlying infrastructure until the administrator chooses for the configuration to be pushed to the switches. Pre-staging of changes can be made ahead of a maintenance window, without disrupting the current configuration.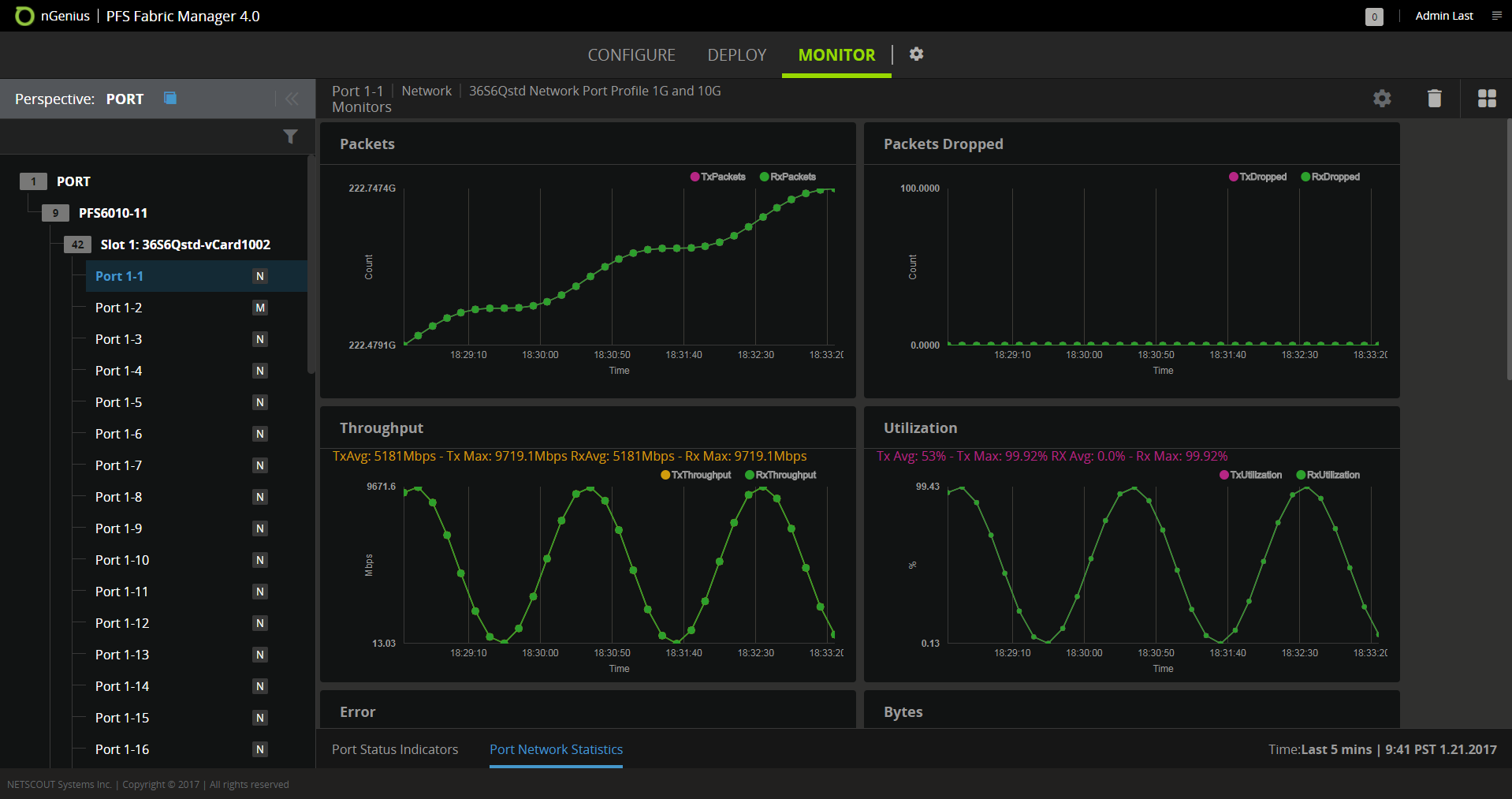 Monitoring
Using the monitor tab, administrators oversee the health of the current system, hardware or topologies, including ports and statistics. Easy-to-read graphs, called monitors, allow for at-a-glance status of ports or topologies or the switches overall.
nGenius PFS Fabric Manager helps you:
Single pane of glass for managing one or dozens of switches across the monitoring network
Intuitive way to orchestrate, manage, monitor, and troubleshoot the Packet Flow Systems (PFS) fabric
Intuitive, drag and drop, browser-based UI
Products You Can Trust
Let us show you how nGenius PFS Fabric Manager delivers an intuitive, drag-and-drop, end-to-end solution that eases configuration, administration and provisioning to achieve your traffic acquisition and distribution objectives.
nGenius Packet Flow Switch Fabric Manager
Centralized Orchestration and Management of Visibility Fabric
Download PDF