Overview | Enterprise | Service Provider | Case Studies | Commentary | Infographic
NETSCOUT nGeniusONE Service Assurance Platform Reduces Time Spent in the War Room, Slashes MTTK, and Decreases Capital and Operational Expenses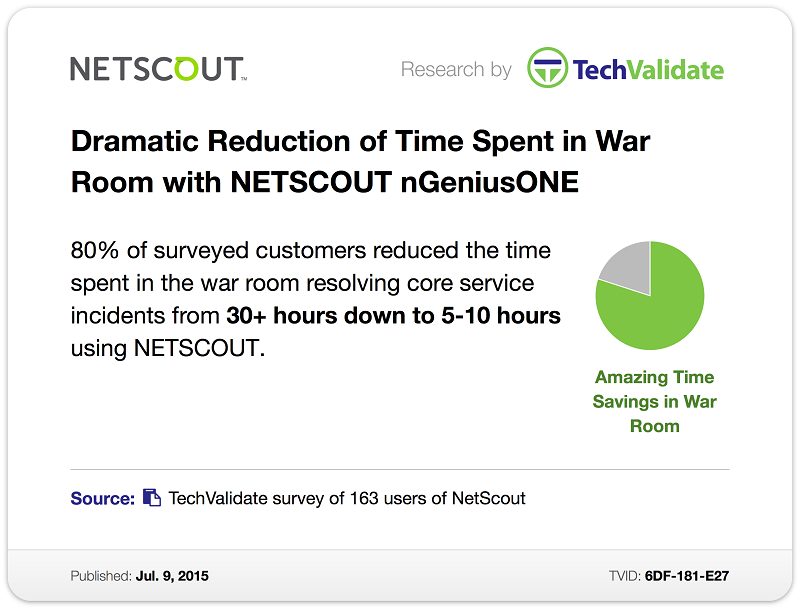 In the Information Technology (IT) sector, war rooms are by their very nature reactive. An unexpected technical snafu has occurred and it's impacting service performance. Then, the "call to battle" is sounded with the relevant stakeholders, e.g., VoiceOps, NetOps, DevOps, Systems are gathered to identify and resolve the issue (or issues) as fast as humanly possible. Everyone starts by protecting their own turf ("mean time to innocence"), then they spend a lot of time trying to find the cause of the problem; data is collected and analyzed and more discussion ensues; strategy and tactics are outlined. Meanwhile, users and customers are not happy. Business is negatively impacted with mean time to knowledge (MTTK) rising and dwarfing mean time to repair (MTTR). Industry experts affirm that MTTK is 90 percent of MTTR. Moreover, in a research report from Forrester Consulting, enterprises reported that 90 percent of their IT issues take more than 24 hours to resolve. What's the end result? The financial cost can literally be in the millions of dollars.
This process plays out across war rooms around the globe on a daily basis. Indeed, the war room is not going away when one considers the added IT complexity that comes with digital transformation that includes cloud, software-defined data centers, SDN and virtualization. Organizations need ongoing service triage of unforeseen technical issues. In fact, customers need a way to accelerate their migration to virtualized infrastructures with confidence and without compromising end-user or customer experience – all while reducing capital and operational expenses.
So, what can be done?
NETSCOUT to the Rescue
NETSCOUT's elegant and synergistic nGeniusONETM Service Assurance platform powered by its patented Adaptive Service IntelligenceTM (ASI) technology coupled with InfiniStream® appliances and Packet Flow Switches, dramatically reduces MTTK, MTTR and time spent in the war room. In fact, in a recent survey of its customers, four out of five NETSCOUT customers confirm that they reduced their MTTK by 80 percent or more while simultaneously decreasing operational expenses.
Some of the other real-world customer results independently verified by TechValidate, a third-party "voice-of-the-customer" research firm, are as follows:
Conclusion
Time spent in the war room is inevitable, but when an organization uses NETSCOUT solutions, that time spent can be dramatically reduced and save money while making users and customers happy. Perhaps a senior IT architect of a global pharmaceutical company said it best when he commented, "In a multi-vendor environment, NETSCOUT's solution gives the entire IT organization the ability to rule out areas and focus on the true impact. This reduces time spent in the war room. We have increased knowledge of end-to-end service performance and end-user experience as well."