Overview | Enterprise | Service Provider | Case Studies | Commentary | Infographic
From Local Governments to Large Enterprises, IT Teams Improved Operational Visibility of Their Services and Increased ROI with the NETSCOUT Service Assurance Platform
The necessity of innovative, smooth-running services and high quality user experience has never been more important to organizations. That's why thousands of them have turned to NETSCOUT to achieve the highest level of service assurance across the most demanding and complex IT infrastructures. We help customers compete and innovate in their respective industries with proven solutions comprised of the nGeniusONETM platform, InfiniStream® appliances and Packet Flow Switches, with all underscored by NETSCOUT's patented Adaptive Service IntelligenceTM (ASI) technology.
And these service performance and commensurate business benefits will only grow with NETSCOUT adding the comprehensive and complementary offerings of Fluke Networks, Arbor Networks, VSS Monitoring and Tektronix Communications to our product family.
TechValidate Survey Results
NETSCOUT commissioned a detailed customer satisfaction survey in mid-May 2015, which was conducted and independently verified by TechValidate, a subsidiary of SurveyMonkey. The customer research results were astounding and found that NETSCOUT has a superior solution to the competition, and some of the more noteworthy results include:
Conclusion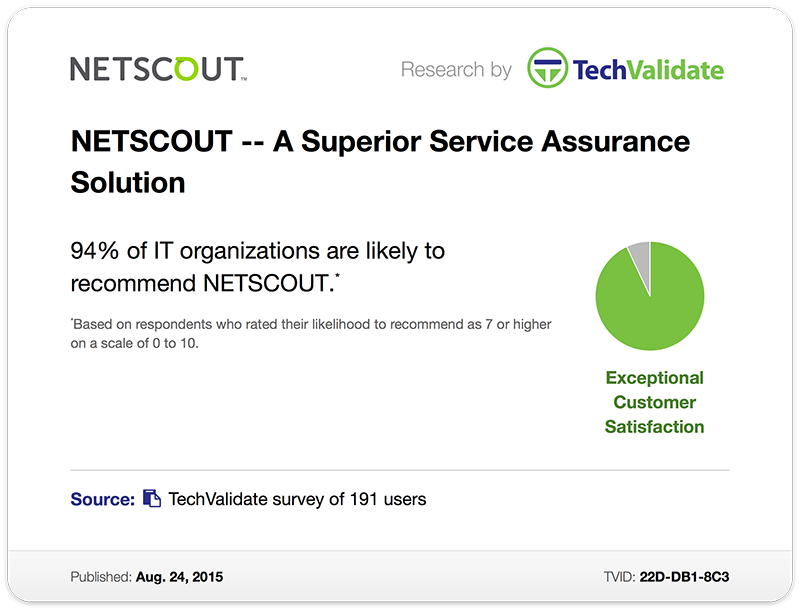 According to the results verified by TechValidate, the advantages NETSCOUT customers touted in the survey results included enhanced network visibility, reduced MTTK and substantially increased ROI due to lowered OPEX/CAPEX that can number in the millions of dollars. It is NETSCOUT's ASITM technology that enables these benefits by providing the packet-based visibility for all services that go across the network. IT teams get real-time actionable service performance information and a common situational awareness across the entire service delivery infrastructure.
In an increasingly connected and competitive world, NETSCOUT unlocks the power of traffic-based data to address service assurance challenges and enables enterprises and service providers to achieve high-value outcomes.