Enterprise | Service Provider | Case Studies | Commentary | Infographic
NETSCOUT works with TechValidate to survey and validate "Voice of the Customer" information. You will find interesting and compelling customer facts, figures, and use cases completely derived from a TechValidate survey conducted with active users of NETSCOUT solutions including engineers, architects, IT managers and operations directors.
TechValidate Confirms Customers Greatly Benefit from NETSCOUT Service Assurance Approach
Single Platform Most Effective Approach to Triage Service Performance Issues


Save Millions

Unlock the Power of Traffic-based Data to Address Service Assurance Challenges



Enterprises Choose NETSCOUT
To compare and contrast between the efficiency of service assurance methodology relying on multiple silo-specific tools and a single nGeniusONE platform for service triage, NETSCOUT recruited TechValidate to conduct a customer survey. TechValidate, the premier "voice of customer" researcher, surveyed IT professionals from more than a dozen industries and determined that NETSCOUT's top-down, real-time approach to service assurance significantly decreases the time to knowledge.
In fact, 4 out of 5 NETSCOUT customers reduced MTTK (Mean-Time-To-Knowledge) by 80% or more and at the same time reduced their operating expenses. A senior architect from a global 500 pharmaceutical company said "In a multi-vendor environment, nGeniusONE gives the entire organization the ability to rule OUT areas and focus on the true impact. This reduces time spent in the war room and increases knowledge of end-to-end performance and end-user experience."
TechValidate learned through their survey that NETSCOUT customers realized an increase in quality end-user experience and improved IT staff productivity. How? By using the nGeniusONE platform and Adaptive Service Intelligence (ASI) technology to collect, analyze and contextualize traffic data to understand the interrelationship and dependencies of their service delivery environment.
With NETSCOUT solutions, companies have consistently been able to manage risk to innovate with confidence. And save millions of dollars in the process.
IT Complexity Grows. Things Can Go Wrong.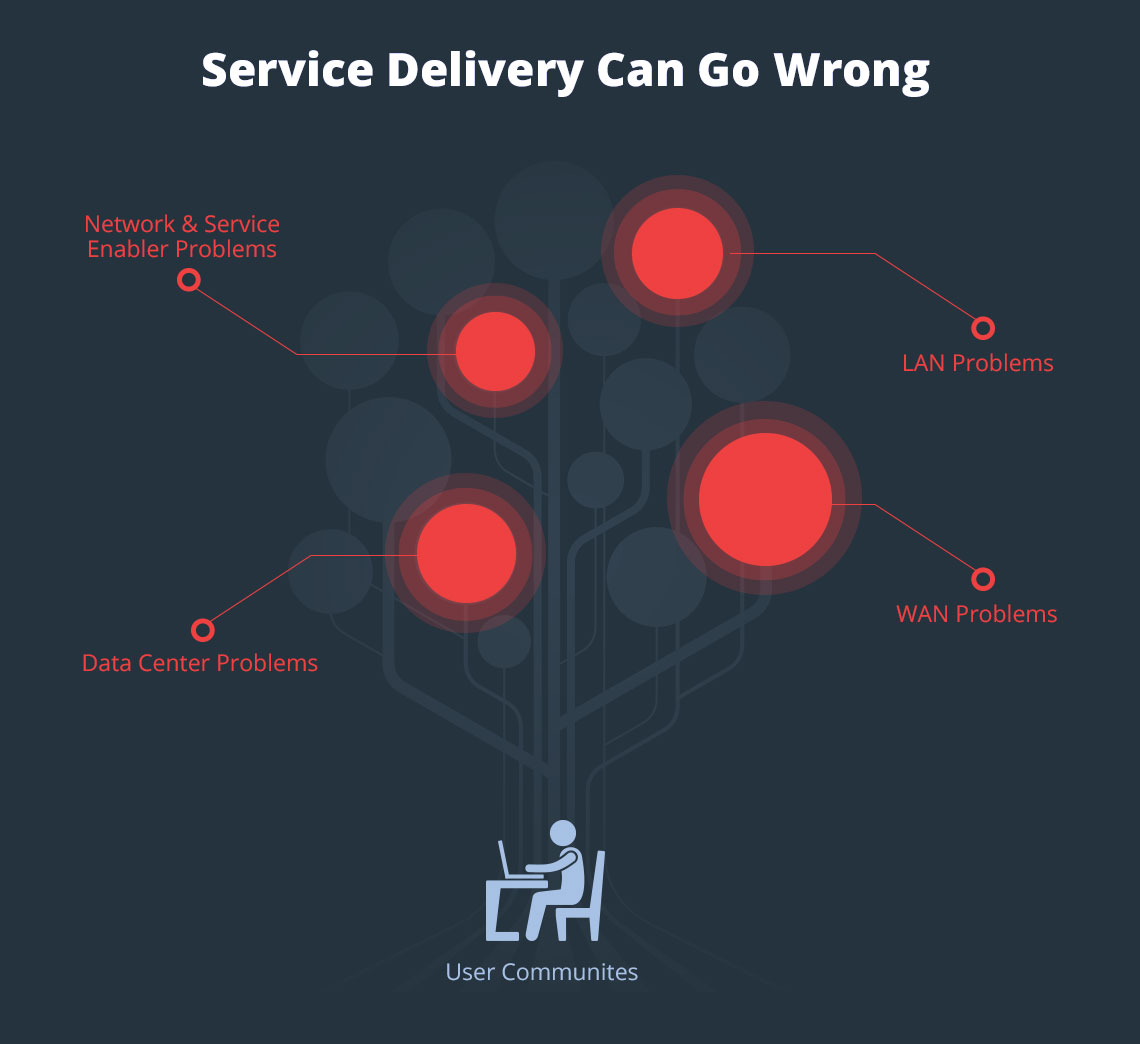 As IT complexity grows, and as initiatives like BYOD and hybrid cloud take hold, so does the possibility of things breaking. The NetOps engineer, IT Director or CIO is not worried so much about a switch or a router going down; they are concerned about service performance degradations and the impact on user experience and customer satisfaction. IT professionals are tasked with delivering services such as Microsoft Exchange, Oracle, Sharepoint, SAP, Lync, Jabber, Citrix and a lot more. And they must assure these services across virtual, physical and hybrid service delivery environments that include network, servers, service enablers (like DNS), n-tier applications, middleware, databases, and QoS.
Service Delivery is Strategic. But Problem Identification Needs Improvement.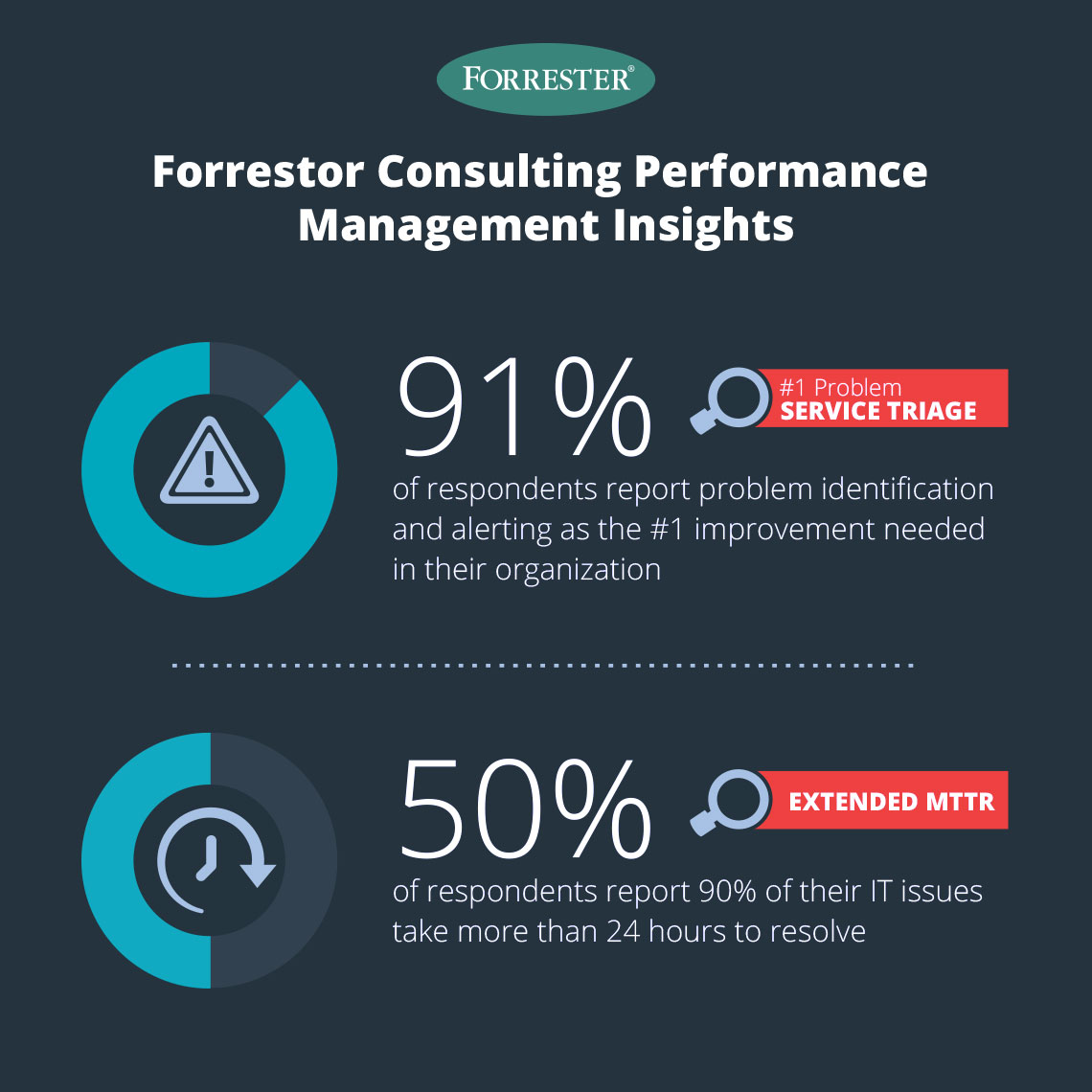 The strategic importance of delivering services is constantly increasing. Yet, senior IT decision makers said in a recent Forrester Consulting report that service problem identification or service triage is the number one improvement needed in their organization. With MTTR (Mean-Time-To-Repair) taking more than 24 hours in some cases, they are pressured to find ways to deliver services faster, with higher quality and more cost effectively.
Silo-Specific Monitoring Tools Makes Rapid Service Triage Impossible.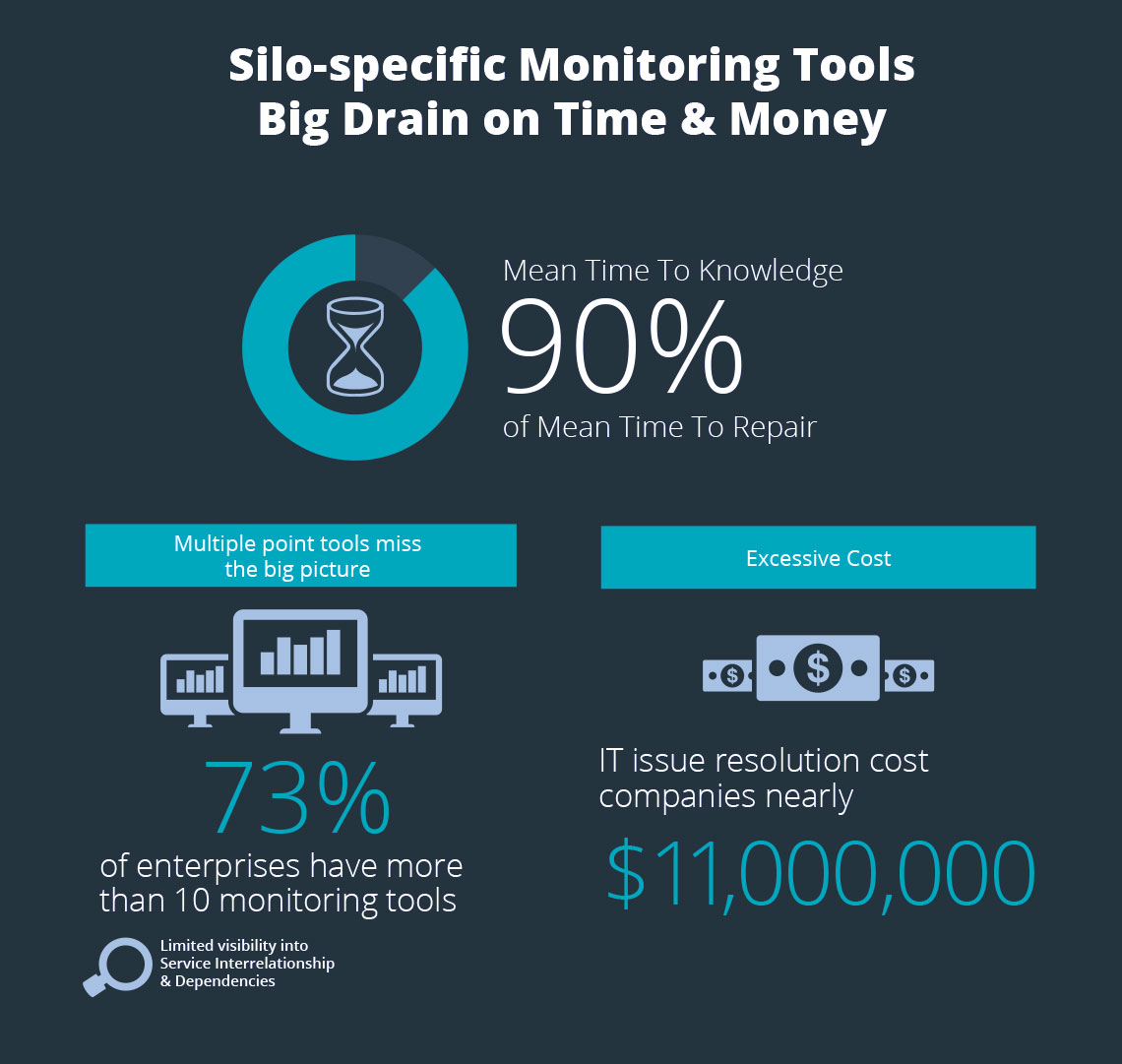 As the Forrester report points out, 3 out 4 Enterprises use 10 or more silo-specific monitoring tools. Not only does this inhibit cooperation between different IT teams, but it makes rapid service triage impossible and increases the time spent in war rooms. Disparate datasets from these tools lack the insight into interrelationships and dependencies between service delivery components. The IT organization simply can't see the whole picture when using multiple silo-specific tools, and they discover that just finding the problem can take ninety-percent of the time. The usual starting point is IT finger pointing and turf protection. And all that extra time wasted looking for the problem increases operational expenses and is time taken away from more profitable activity, such as innovating. The bottom line, according to Forrester, is that bottom-up approaches to assuring service delivery is failing businesses and it's costing 50% of them nearly $11 million per year.