Arbor Sightline
Arbor Sightline provides comprehensive network visibility and reporting capabilities to help you detect and understand availability threats, and improve traffic engineering, peering relationships and service performance. Sightline helps you grow your business by serving as a platform for managed DDoS protection services.
Arbor Sightline with Insight
Arbor Sightline with Insight builds on the industry-leading Arbor Sightline visibility platform, adding powerful new big data analytics and visualizations built around specific use cases so you can explore your traffic data at the speed of thought.
ATLAS Intelligence Feed (AIF)
With ATLAS, ASERT and the ATLAS Intelligence Feed, Arbor delivers unparalleled visibility into the backbone networks that form the Internet's core down to the local networks in today's enterprise
Solving your business problems starts with proper network visibility. Deploy Arbor visibility solutions how you want it – software, virtually, appliances – and realize pervasive visibility with ease.
This is the only solution built for operators and proven to scale cost-effectively across your entire global network. Arbor analyzes packets, NetFlow, SNMP and BGP routes from across the network transforming the data into insights. Then, you can take action based on these insights to solve your business problems from network planning and engineering to threat detection and mitigation.
As network operators, you demand a solution that evolves with your business needs. Arbor solutions have been evolving with operators over the last decade and continue to be the de facto platform for understanding how traffic is flowing through your network. Arbor network visibility solutions address the following key business objectives:
Gain Business Insights, Not Just Data
The network is the business. Operators must optimize resources and thus save money, and Arbor Sightline provides robust capabilities from network-wide capacity planning to managing overlay BGP/MPLS VPNs. This pervasive network data can also be leveraged to make routing and peering design decisions, lower transit costs, and provide your business with new revenue – generating services.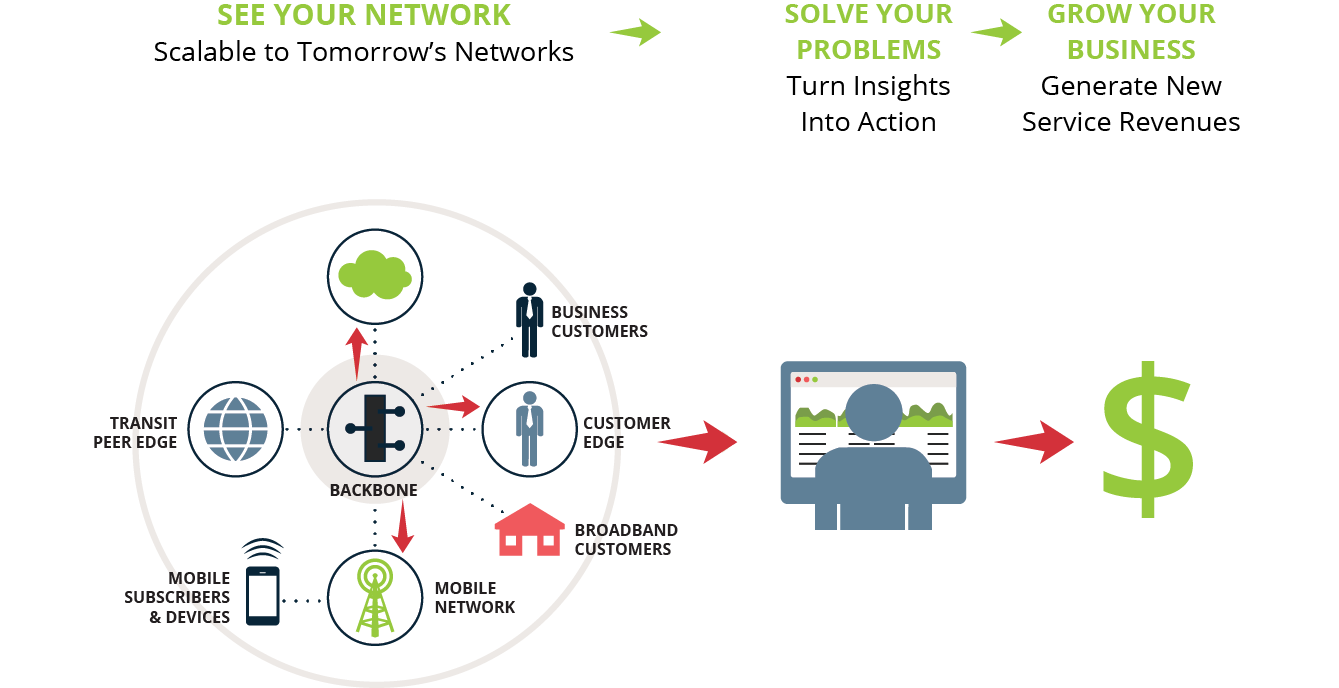 Keep the Network and Services Running
Time is money. Operators must quickly detect and resolve problems before they impact the business. Arbor Sightline can detect potential outages from network hotspots, BGP hijacks, DDoS attack traffic or even network misconfiguration. Then, Arbor Sightline enables root cause analysis tools to quickly diagnose and resolve the issue.
Launch Revenue Generating Services
Growth is crucial. Operators must support and drive top-line growth. With Arbor Sightline, operators can propose new service offerings such as DDoS protection, customer or ASN specific traffic analytics, Quality of Service (QoS) and MPLS VPN services. Current investments and infrastructure can be utilized to quickly launch new services or enhance existing ones. The built-in portal, multi-tenant customer scoping and RESTful API help operationalize these new revenue-generating services quickly and efficiently.
…
Data Sheet
Solution Brief
Video
NFV services from Arbor and Netcracker
Service Providers are implementing SDN/NFV to improve network availability performance, reduce infrastructure complexity, and roll out new cloud services. NETSCOUT has partnered with Netcracker to deliver a cloud-based solution incorporating DDoS protection and threat filtering that Service Providers can bring to market to address demand from Enterprises around the need for increased network protection.
Download PDF
Arbor Visibility Solutions
As network operators, you demand a solution that evolves with your business needs. Arbor Sightline has been evolving with operators over the last decade and continues to be the de facto platform for understanding how traffic is flowing through your network
Download PDF
Arbor Sightline Flex Licensing
Sightline Flexible Licensing allows customers to scale cost-effectively across entire global footprints as the network grows so they can maintain pervasive visibility from their peering points to the backbone to the network edge. The license model provides an operationally flexible way that accommodates both CAPEX - or OPEX-centric business models. Customers have the flexibility to deploy SP Flex on their own virtual infrastructure or in hybrid mode as they bridge from appliances to an all-virtual future.
Watch Video
Arbor Sightline Insight
Arbor Sightline Insight builds on our industry-leading visibility platform, adding powerful new big data capabilities that create a photographic memory of network traffic data plus new visual analytics for exploring it at the speed of thought. Leverage Arbor SP's unique flow annotations and enrichment to create context by matching this memory to your network topology, customers and traffic patterns – enabling you to conduct agile, multi-dimensional searches of raw and enriched data with unlimited filtering, the ability to maintain granularity over time, detailed retrospective drill-downs and effortless pivots from graphical to tabular visualizations – all while maintaining state on the event and period of interes
Watch Video
ISP Traffic Visibility and the Future of Network Services - Interview with Talbot Hack
NETSCOUT's Arbor traffic visibility and DDoS mitigation solutions are deployed by nearly every Tier 1 and 2 ISP and Cloud Hosting provider in the world. Arbor's Talbot Hack discusses the increasing importance of traffic visibility, the evolution of managed security services and the future of SDN/NFV infrastructure.
Watch Video