NETSCOUT AED
Arbor Edge Defense: First and Last Line of Smart, Automated, Perimeter Defense
NETSCOUT AED (Arbor Edge Defense)
Using highly scalable stateless packet processing technology, NETSCOUT AED acts as a network perimeter enforcement point where it detects and blocks in bulk, inbound cyber threats, and outbound malicious communication - essentially acting as the first and last line of perimeter defense for an organization.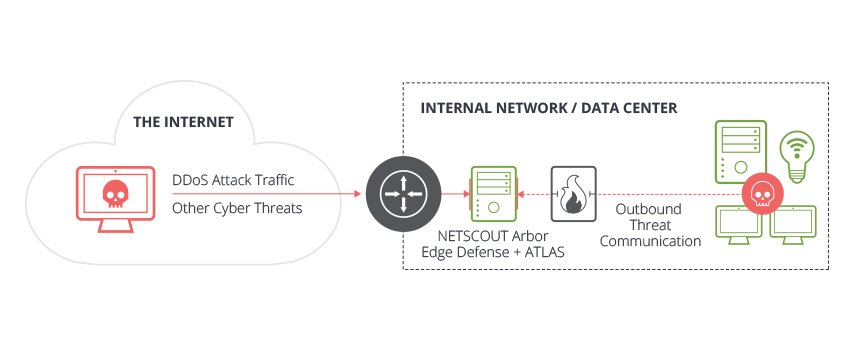 Benefits of NETSCOUT AED
First Line of Defense: Deployed at the network perimeter, using stateless technology and armed with millions of IoCs, NETSCOUT AED detects and blocks inbound commodity cyber threats thus taking pressure off of stateful devices such as Next Gen Firewalls.
Last Line of Defense: Missed by existing security stack, NETSCOUT AED can detect and block outbound communication to known bad IP addresses, domains, URLs, geographies; thus helping stop the further proliferation of malware with an organization and avoid a data breach.
Contextual Threat Intelligence: When an IOC is blocked, NETSCOUT AED leverages the global threat intelligence of NETSCOUT ATLAS to provide more context related to the IOC thus helping security teams determine risk and/or give them more information to proactively hunt using their other security tools.
Best of Breed DDoS Protection: NETSCOUT AED can automatically detect and stop inbound application layer, TCP-state exhaustion and DDoS attacks as large as 40 Gbps. In the event of even larger DDoS attacks, Cloud Signaling automatically reroutes traffic to Arbor Cloud or a MSSP's cloud-based mitigation center.
Integration: NETSCOUT AED's robust REST API, support Syslog, CEF, KEEF and STIX/TAXII enable NETSCOUT AED to integrate into existing security stack and processes.
SDN/NFV Ready: NETSCOUT AED can integrate with OpenStack, Heat, Tacker, Ansible, Nokia Cloudband, Cisco NSO, and other ONAP or ETSI NFV management and orchestration technologies.
Highlights
First & Last Line of Defense
NETSCOUT AED's unique location on the network edge, its stateless packet processing engine and ATLAS® global threat intelligence feed allow it to stop inbound threats and outbound communication from compromised hosts.

Always On, In-Line, Advanced DDoS Protection
Out of the box, on-premise protection from all types of advanced DDoS attacks including volumetric, state-exhaustion, application-layer and SSL.

Intelligently Automated, Hybrid DDoS Protection
The intelligently automated, fully managed combination of in-cloud (via Arbor Cloud) and on-premises (via NETSCOUT AED) is continuously armed with ATLAS global threat intelligence; offers the most comprehensive form of protection from the modern-day DDoS attack.

Outbound Threat Communication Detection and Blocking
NETSCOUT AED's ATLAS derived, reputation based threat intelligence allow it to detect and block outbound communication from internal compromised hosts; helping to stop further proliferation of malware or data breach.

Support for Virtual & Hybrid-Cloud Environments
vAED is a virtual version of the NETSCOUT AED appliance that can be run in your private virtual environment like Amazon Web Services, providing unified protection for your hybrid-cloud environments.
…
Data Sheet
Solution Brief
NETSCOUT AED (Arbor Edge Defense)
NETSCOUT Arbor Edge Defense is an inline security appliance deployed at the network perimeter that can automatically detect and block inbound threats and outbound malicious communication using highly scalable, stateless technology and unique, global threat intelligence.
View PDF
ATLAS Intelligence Feed for Arbor APS & NETSCOUT AED
The AIF from Arbor empowers users with policies and countermeasures to address attacks as part of an advanced threat or DDoS attack. The information provided enables network and security operations teams to ensure the latest threat protections are available and defending their Enterprise environment. The AIF is a service of the Arbor Security Engineering and Response Team (ASERT), and directly benefits Enterprise networks from the depth and breadth of Arbor's research.
View PDF
Arbor Cloud DDoS Protection for Enterprise
Arbor Cloud combines on-premise NETSCOUT AED DDoS defense with global cloud-based traffic scrubbing services for best of breed, hybrid, DDoS attack protection.
View PDF
NETSCOUT Arbor Edge Defense
First and Last Line of Smart, Automated Perimeter Defense.
View PDF