Introducing Smart Edge Monitoring
The Netscout® Smart Edge Monitoring solution expands the scope of visibility into user experience across service edges that is critically needed by IT operations to monitor and assure high-quality performance for their transformed enterprise environments.
Smart Edge Monitoring is comprised of the InfiniStreamNG (ISNG) and vSTREAM appliances with Netscout Cloud Adaptor module, which enables smart data from synthetic tests to be received from nGeniusPULSE nPoints strategically deployed throughout the enterprise, including both remote and work-from-home locations.
Netscout's transformative visibility approach, combining passive packet and active test monitoring, dramatically changes the way organizations plan, deliver, integrate, test, and deploy services and applications in the cloud to assure user experience.
Benefits
Flexible "Anywhere" Visibility
Passive packet and / or active test monitoring in any environment – from home offices, branch locations, and headquarters to data centers, private & public cloud, and co-locations, with seamless analysis from Netscout Smart Edge Monitoring solution.
Extends Value of your Investment
Leverages investments already made in nGeniusONE, InfiniStreamNG, vSTREAM, nGeniusPULSE, and nPoint technologies strategically deployed in your multi-cloud environments.
Lowers MTTR
Troubleshooting performance issues is faster, as Smart Edge Monitoring provides insight throughout the complex, multi-vendor path between a user-client and data centers or cloud providers – information that can be shared with stakeholders.
Cloud Adaptor Deployment Options
The Cloud Adaptor module is an integrated technology add-on available on approved InfiniStreamNG and vSTREAM models. This service edge visibility solution is designed for deployment in environments ranging from home / remote sites and branch offices, to large-scale data centers, co-locations, headquarters, and cloud locations. Approved Netscout ISNG appliance models supporting Cloud Adaptor functionality include:
InfiniStreamNG hardware appliances
NETSCOUT Certified InfiniStreamNG software appliances
NETSCOUT Qualified InfiniStreamNG software appliances
Remote InfiniStreamNG appliances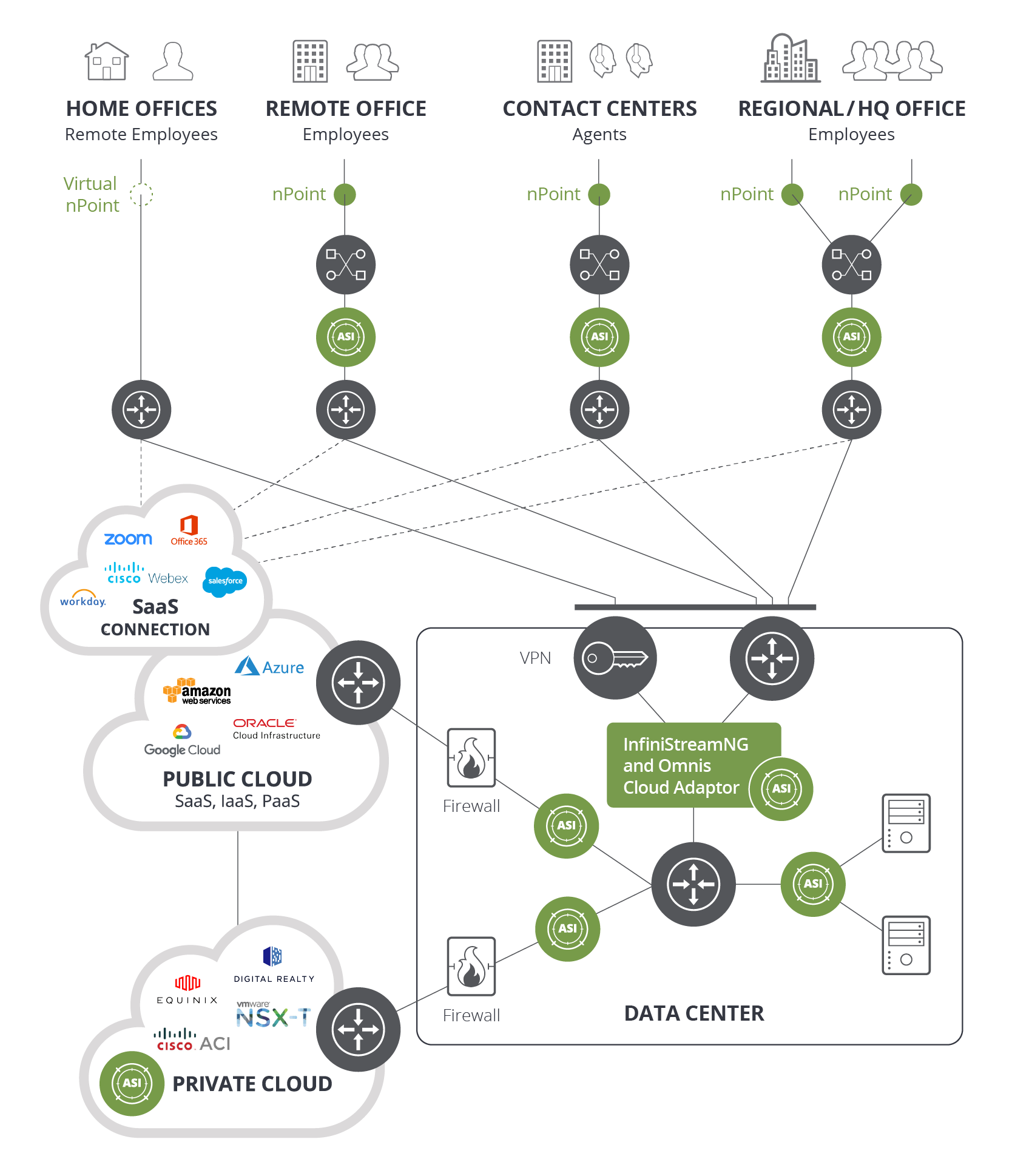 Features
Receives smart data from Synthetic Tests performed by nGeniusPULSE nPoints

Takes advantage of continuous synthetic testing, including business transaction tests (BTT), configured in nPoint devices that test, measure, and analyze user experience from anywhere.

Use cases enabled from integrated smart analysis and views

Delivers continuous testing and performance baselines for SaaS, UCaaS, on-premis applications, VPN, VDI, SD-WAN, service enablers and other critical business services for assuring quality user experience.

Accepts customer configurable BTT smart data

Tests IT staff build to evaluate application quality degradations at different points in the application transaction. Tests for measuring application actions including log-in, file upload, file download, export, and logout will show which step may be impacting overall performance.
Contact NETSCOUT Today
To learn more about how NETSCOUT can help your company, speak to one of our highly-experienced subject matter experts.