Free Report
Does your security operations center have what it takes?
Organizational security operations centers (SOCs) are maturing and expanding their capabilities, but there are clear opportunities to improve.
In its latest survey, SANS Institute investigates the modern operations center environment and identifies emerging challenges and opportunities that can make or break a SOC.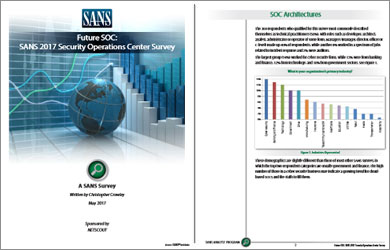 Discover the benefits of an optimized SOC
Register now and receive:
New global SOC trends & technologies
SOC and NOC communication tips
Actionable SOC best practices
An adaptable SOC is vital. These trusted insights from SANS will show you what you need to know to keep up with the evolving cybersecurity landscape. Download the report today.
Download Your White Paper