Organizations around the globe have instituted lean and work-from-home policies on a massive scale. This shift in where people work puts a significant strain on Communication Service Providers (CSPs) and their customers' critical infrastructures.
End-user and business internet circuits, routers, VPN gateways, and firewalls are being pushed to their capacity limits.
CSP backbone, peering/transit link, customer edge traffic, and other digital services are running at much higher utilizations for a much greater proportion of the time (i.e., a 3–4-hour peak utilization window is now stretched to 12+ hours).
CSP call centers and supporting applications (e.g., UC&C, CRM, Helpdesk) are being pushed to their limits as customer experience is impacted.
With workers needing access to UC&C, SaaS, and enterprise data-center resources and services remotely, communication service providers play a vital role in ensuring that the evolving world economy can continue to function and grow. CSPs need complete visibility into the traffic that is traversing their networks to make optimal traffic-engineering decisions, troubleshoot problems, and detect and mitigate threats.
Blog
Measuring the Cruelest Month DDoS Attacks During a Pandemic
The evolution of threats to network and service availability during a global pandemic is vital to maintaining and defending public-facing internet properties.
DDoS attacks pose a significant threat to the availability and performance of CSP's and their customer's critical infrastructure.
Remote Worker and Corporate Internet Circuits
Need to be up for remote workers to access corporate network information and services. Due to the increased utilization of these circuits, even a small-sized DDoS attack could impact an enterprise's business continuity. CSPs must detect and mitigate attacks quickly to protect remote workers and businesses from this threat.
Peering/Transit Links
Can quickly become saturated by highly distributed and large-sized DDoS attacks. This is especially true for larger CSPs with multiple peering/transit points providing international connectivity. CSPs need the ability to identify and mitigate DDoS attacks at multiple ingress points on their network to avoid impact on backbone and customer edge services.
Cloud-Based Services/Data Centers
Critical business applications, e.g., UC&C, CRM, distance learning, etc. are also vulnerable to DDoS attacks. CSPs need to protect the availability of these infrastructures because remote workers need access to them to maintain productivity.
The NETSCOUT Solution
NETSCOUT's industry-leading Arbor Network Monitoring and DDoS Protection for CSPs is an intelligent, single-pane-of-glass solution.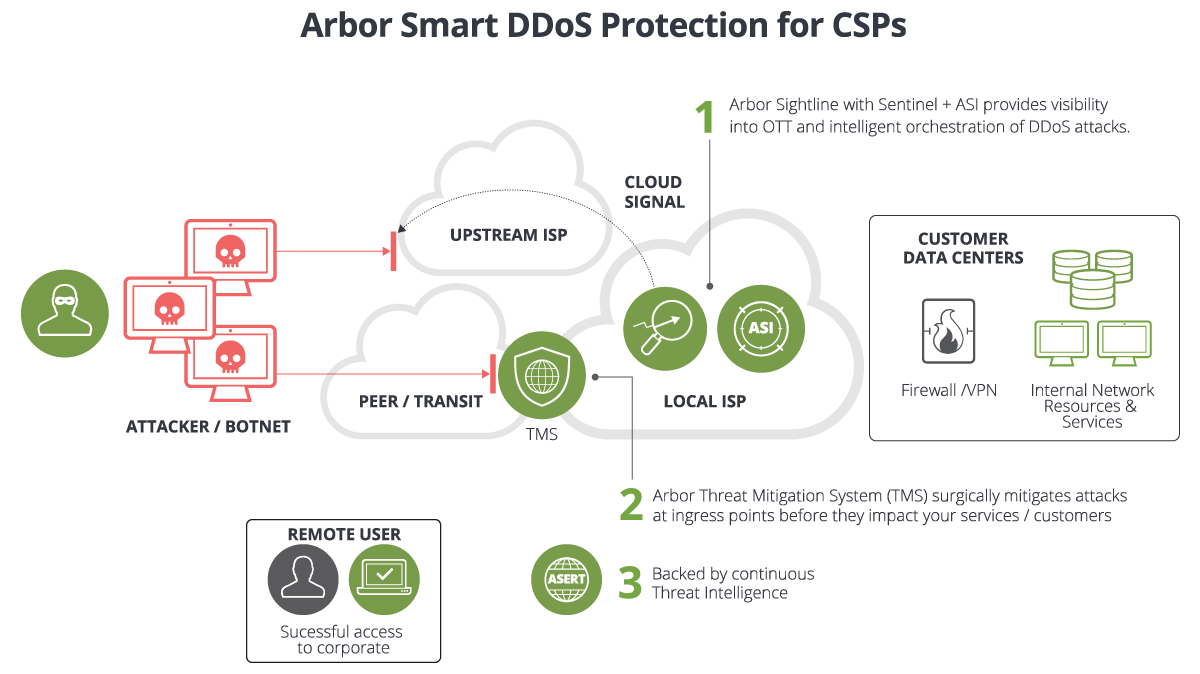 Arbor Sightline with Sentinel
With complete visibility of network activity, up to layer-7 for OTT services, and total knowledge of a network's intelligent and infrastructure mitigation capabilities, Arbor Sightline with Sentinel can provide the visibility needed for CSPs to optimize their networks and defend against DDoS attacks. Sentinel automatically detects DDoS attacks and intelligently orchestrates the most effective mitigation, which can include infrastructure Flowspec capabilities, intelligent mitigation using specialized products such as Arbor's Threat Mitigation System (TMS), and even upstream service provider capabilities, via Sightline Cloud Signaling. When combined, this intelligently orchestrated mitigation provides the most effective response to any attack.
Arbor Threat Mitigation System (TMS)
Working in conjunction with Arbor Sightline, TMS surgically removes all types of DDoS attack traffic.  Available in appliance, software-only for COTS hardware, or virtual form factors, TMS has mitigation capacities of up to 400 Gbps of mitigation in a single 2U device, with up to 140Tbps of mitigation capacity per Sightline deployment.
ATLAS Threat Intelligence
Sightline with Sentinel and TMS are continuously updated with ATLAS Threat Intelligence which enhances protection from the latest DDoS threats.   
Call us today to protect the availability of your critical network infrastructure.
Under Attack/ Emergency Provisioning / Increase Mitigation Capacity