ENGAGE 21 Changes the Game
ENGAGE 21, NETSCOUT's annual technology and user summit, will once again go virtual with an agenda designed to help companies overcome challenges and thrive in today's connected world.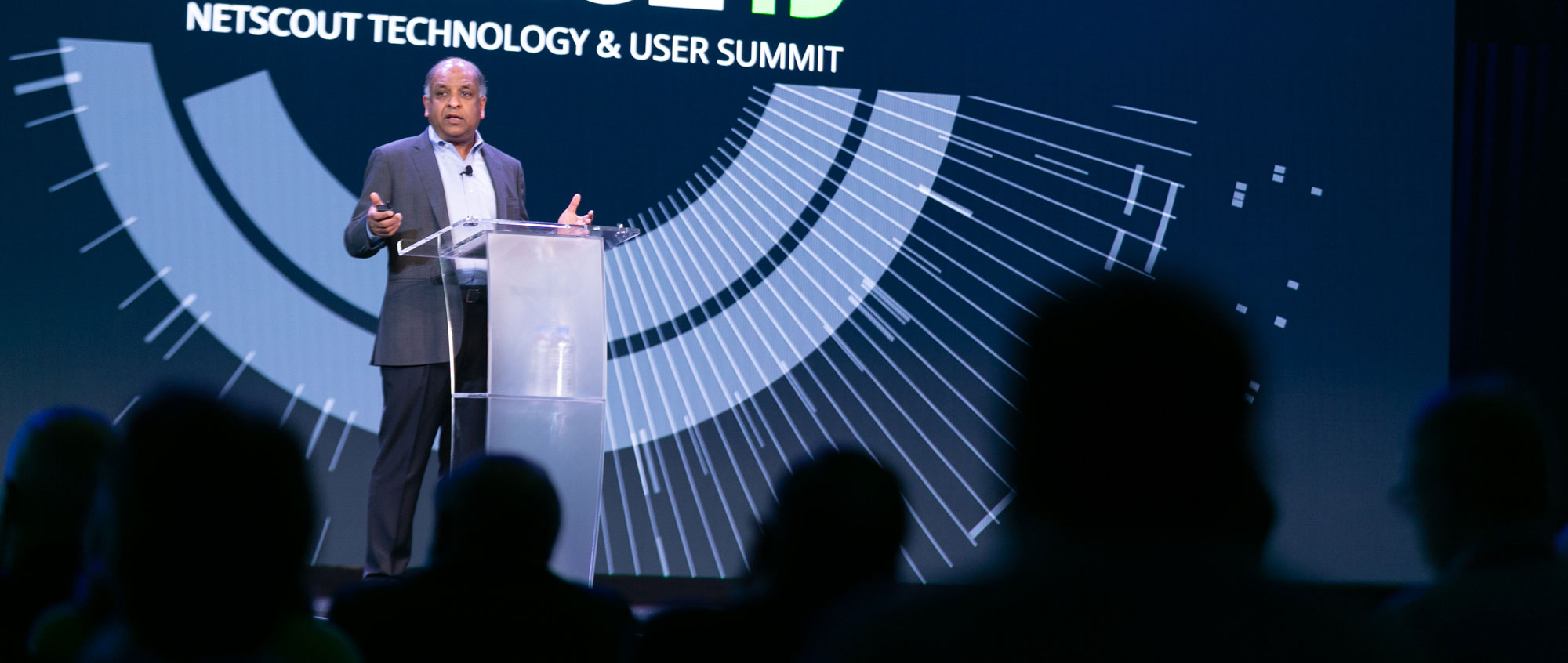 Photograph is from the ENGAGE 19 Keynote Presentation by Anil Singhal.
As a long-time partner in securing and assuring the performance of mission-critical applications, NETSCOUT is excited to share our newest innovations designed to help companies protect vital digital ecosystems and fortify business resiliency. This year's event will deliver an engaging and educational experience, online and at no charge. Here are five key reasons why ENGAGE 21 is a must:
Access to expertise. Pick the brains of industry experts, listen to insights from NETSCOUT executives, and get the latest from technology problem solvers.
Customized experience. Build a customized agenda from the hottest industry and technology topics, all designed to help solve problems and build innovation.
Innovative technology. Learn about cutting-edge solutions designed to achieve operational endurance, resiliency, and excellence.
Unmatched education. Access knowledge and skill-building opportunities delivered by expert trainers. Get certified and strengthen your game.
Virtual connection. Although we can't meet face-to-face, ENGAGE 21 will deliver the next best thing: Engrossing interactions via roundtables, live demos, panel discussions, and peer connections.
Look for multiple keynotes, CTO roadmaps, breakout sessions, and a virtual space to connect with peers, get demos, and talk to the experts. And don't forget the ever-popular virtual boot camps, where attendees can roll up their sleeves for a hands-on training experience using real-world use cases, expertly crafted by NETSCOUT University trainers.
For the first time ever, ENGAGE sessions will be offered live in GMT, ET, and PT time zones, with recorded viewing options in the Asia Pacific region. Virtual boot camps are by reservation only for specific dates and times:
April 19-23: Keynotes, sessions, roadmaps, and product demonstrations
April 26-30: NETSCOUT University virtual boot camps
May 3-6: NETSCOUT University virtual boot camps
Learn more or Register for Engage 21