Sixty-Eight Students Innovate at "Tech for Good" Hackathon
Girls are Solving Today's Challenges and Learning to Become Tomorrow's Heroes
On Saturday, September 23, NETSCOUT hosted its 10th civic hackathon in collaboration with Shooting Stars Foundation. 
Held at NETSCOUT's office in Allen, Texas, this event was an 8-hour, all-girls hackathon that challenged students to think about hard problems and then to uniquely build and design solutions to solve these problems utilizing their STEM and leadership skills. We hope to encourage these 68 girls, in grades 6-12, to further their education and perhaps choose a career in STEM.  These students represented more than 30 schools from 15 cities including Allen, Frisco, McKinney, and Plano.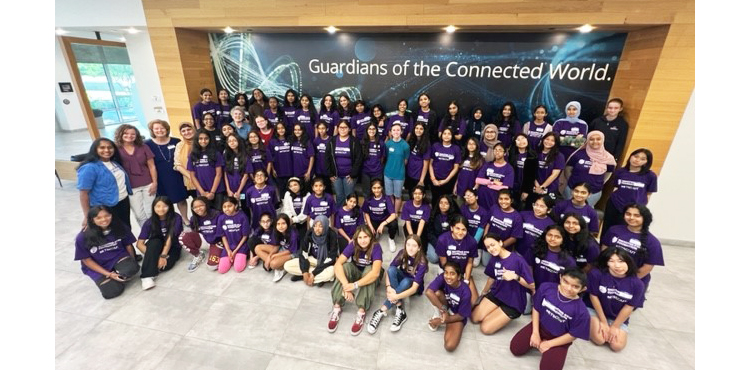 These girls were challenged to use "Tech for Good."  Students brainstormed and then created websites and mobile apps to solve community challenges like food waste, teen mental health, access to feminine hygiene products, gun safety, and reducing carbon emissions. They pitched their solutions to NETSCOUT executives who volunteered as judges.  Prizes were awarded in several categories.
Guest speakers and community representatives at the event included:
Prominent local leaders Amy Gnadt, board trustee for Allen ISD, and Nadia Bilal, professor of computer science at Collin College (Frisco campus) inspired the students with their keynote addresses centered around knowing yourself and your priorities, and sharing how these girls can see themselves as heroes.
Community representatives Jan Jungman, Business Retention and Expansion Manager for the City of Allen; and Regina Taylor from the Foundation for Allen Schools attended the opening ceremony.
The Rice Middle School (Plano) Ravenclaw Robotics Team #11472 talked to the students about their robotics club and demonstrated their working robot.
Sanjay Munshi, NETSCOUT's senior vice president of product management, provided the closing keynote; he offered real-world examples of how NETSCOUT's software helps the world's largest companies protect their essential online services from the risks of disruption and cyberattacks.
Hackathons grow students' interest in STEM topics and community issues by providing an opportunity to practice 21st-century skills such as critical thinking, technology literacy, collaboration, and innovation.  In advance of the event, Shooting Stars Foundation offered registered students the opportunity to attend free workshops in website design, app building, and other STEM and leadership-focused areas.
More than 30 NETSCOUT employees volunteered as mentors, guiding brainstorming and advising on their projects; as judges for the final presentations; and as general event support.  We appreciate that so many people gave their time to work with the students at the hackathon. Volunteers and mentors enjoyed the experience and were impressed with the quality of the students' projects. This kind of community outreach is one of the ways we can encourage students to build technology skills and consider STEM as a career pathway.
It seems the hackathon may already be having the intended impact.  Volunteers at the event overheard one young woman say she was celebrating her birthday that day. When her friends asked her where she would have wanted to be for her birthday, she said, "Nowhere else but here.  This is where I want to be."
Here is what some other students said:
     
More information can be found on the event website, the Shooting Stars Foundation, and the NETSCOUT Heart of Giving websites.