NETSCOUT a Platinum Sponsor at AWS re:Invent
Visit booth 306 to learn about DPI-at-scale technology for advanced NDR and APM
Last year, NETSCOUT was honored as an AWS Partner Network Migration and Modernization Competency launch partner. We rightfully earned that distinction and proudly display that competency badge and others on our AWS Technology Partner page.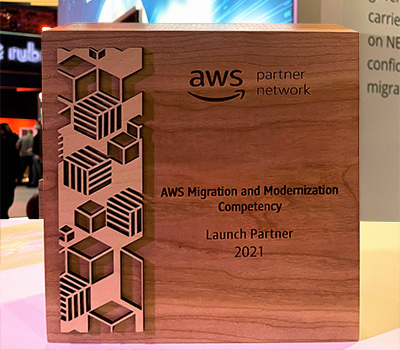 At AWS re:Invent 2022, to be held this year in Las Vegas, Nevada, November 28 to December 2, NETSCOUT isn't sitting back and reflecting on what we did last year. Rather, we will be demonstrating our tightly integrated and interoperable solutions that companies and governments around the world say is the most effective method of managing risk and accelerating cloud migration. Join us at booth 306 to learn about:
Enhancing your hybrid cloud security posture with NETSCOUT advanced network detection and response (NDR) solutions
Migrating to AWS with confidence with NETSCOUT deep packet inspection (DPI)-at-scale technology
Enriching the quality of your AI/ML with NETSCOUT Smart Data   
NETSCOUT continues to collaborate with AWS to provide first-of-its-kind network traffic visibility via interoperability with a variety of AWS services and technologies. This deep collaboration makes it possible for IT teams to reduce time to results by efficiently and effectively assuring security and service performance before, during, and after cloud migration.  
Innovative Solutions at the Booth
While at AWS re:Invent, please swing by the NETSCOUT booth to chat with our experts, explore our innovative solutions, and discover how NETSCOUT Visibility without Borders allows you to handle the unexpected at the speed of business.
NETSCOUT Omnis Cyber Intelligence (OCI) is a platform for advanced network detection and response (NDR) that helps security teams easily detect, validate, investigate, and respond to threats. OCI's cloud-first approach to cybersecurity investigation helps companies manage threats across increasingly complex hybrid-cloud infrastructures with attack surfaces broadening as applications migrate to environments such as AWS. OCI integrates with AWS Security Hub and supports a wide variety of AWS-native packet acquisition technologies.
Migrate to AWS with confidence by using NETSCOUT's vSTREAM and CyberStream virtual appliances to monitor service-critical traffic running within cloud infrastructures and to generate NETSCOUT Smart Data at its point of collection. Combining AWS traffic-mirroring functionality and points of aggregation with the NETSCOUT packet acquisition architecture simplifies operations and reduces operational expenses in AWS. The solution can scale across global and multitenant AWS deployments.
Security operations (SecOps) is demanding unified insights as security shifts from on premises to the cloud. NETSCOUT's patented technology finds the signal among the noise, turning packet data into Smart Data for actionable cybersecurity intelligence. Compatibility with data lakes for security logs enables NETSCOUT to become a custom source of security findings and enables detailed security insights into what's happening in your enterprise, such as cyberthreats, security risks, and attack surface changes. These findings are produced by NETSCOUT Omnis CyberStream and OCI and then exported to the data lakes. The exported data uses Open Cybersecurity Schema Framework (OCSF) format. The NETSCOUT OCI exported data meets the core requirements of a data lake source, including format, schema, partitioning, and performance-related aspects.
NETSCOUT and AWS are working together to help organizations reduce Capex and Opex in a rapidly transforming technological landscape. For more information, take a look at our partner highlights, including validated qualifications and certifications.
We look forward to seeing you at AWS re:Invent.
Visit the NETSCOUT booth at AWS re:Invent November 28–December 2.