A Look Back on Some Positives from 2021
Despite huge challenges, NETSCOUT Guardians achieve notable charitable successes volunteering in their communities.
We've closed out 2021—and are looking forward to a brighter, better 2022. We're also reflecting on some of the positive changes our employees were able to bring into the world through our Heart of Giving program, despite the very real challenges of the past year.
Heart of Giving
The NETSCOUT Heart of Giving team volunteer program is open to all full-time and part-time employees. Employees can support their favorite causes and plan meaningful events in their communities at any time during the year. Starting with our inaugural project in San Jose, California, in 2013—installing a weather station at an elementary school and planning activities to educate students about weather and show them how the station worked—by the end of 2021 we had completed 152 employee-driven volunteer projects and donated a total of $515,000 to more than 80 organizations around the world.
Over the years, employees from China, the Czech Republic, India, Ireland, Italy, the Netherlands, the United Kingdom, and all over the United States have participated in these efforts in person and virtually. Any employee can see an opportunity to address an issue in their community and, with support from Heart of Giving, step up and organize a team to help address it. The program has evolved to include a mix of favorites that run each year along with new projects for new organizations or locations, or from new team captains, added annually. This mix makes the Heart of Giving program dynamic and flexible for employees and their communities.
And these employee-led projects have covered a wide area of interests and needs, including the following.
Hands-on: Building, cleaning up, or painting gardens, play areas at children's organizations, camps, and hospices; sorting and collecting food, clothing, holiday gifts; shopping, preparing, and serving meals; working at animal shelters; clearing trails at outdoor spaces and conservation lands; event support for music and art shows
STEM skills-based: Working with students to build an internet radio station; student workshops for coding, cybersecurity, career exploration, entrepreneur workshops, and business plan judging; hackathons and robotics teams
Other skills-based: Working with organization staff to prepare a detailed marketing and fundraising plan; career workshops for recent adult immigrants to the U.S. addressing résumés, mock interviews, job searches, LinkedIn profiles, etc.
2021 Volunteer Projects
In 2021, despite the very real challenges the COVID-19 pandemic presented, our employees completed 16 volunteer projects in their communities.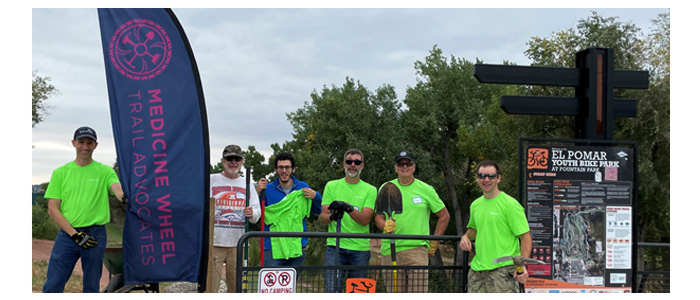 In Colorado Springs, employees partnered with Medicine Wheel Trail Advocates helping to provide safe, outdoor space for kids of all ages to get out on their bikes and exercise. Said David Adair, team captain and technical writer, "I am proud to work for a company like NETSCOUT that encourages employee engagement with community organizations and shows it by donating employee time and corporate money to those organizations that its employees truly care about. In Colorado Springs, Medicine Wheel Trail Advocates and Kids on Bikes have benefitted from this program." This was the second year NETSCOUT supported Medicine Wheel Trail Advocates and the second year Adair captained the team.

Over in the Czech Republic, Ales Gilik, senior technical support engineer and veteran captain of no fewer than eight volunteer projects, led a team that used their hands-on engineering skills as well as their technical IT skills to benefit Podcestny Mlyn, a therapeutic community for treating addictions. Said Gilik, "We demonstrated our engineering skills and our strength during the building of a stone pathway next to the barn. Some of the stones were very heavy and the entire team was needed. Another task was to store round bales of hay in a barn for the winter. We also helped build a pigpen roof. Our IT skills were useful during installation of a printer." This was the fourth year a NETSCOUT team volunteered for the organization.

At Operation ELF in Massachusetts, NETSCOUT volunteers sorted, packaged, and delivered holiday gifts to 248 children. Team captain Catherine Jenkins, who has captained seven other efforts, noted, "Volunteering is a great way to get to know people in the company whom you don't work with daily. Working together to help someone brings out the best in everyone, so the experiences are very rewarding. I have enjoyed all of my Heart of Giving volunteer experiences. Being a team captain is great: I get to tell everyone about the project that I am passionate about, and I get to see other people get excited about the project as well."
As everyone knows, 2021 was a difficult year, to say the least, but NETSCOUT Guardians all over the world worked smartly and creatively to make their communities even better places for all.
Hear them talk about it in their own voices: NETSCOUT's Heart of Giving Program | Connected for Good
Learn more about Heart of Giving