HardenStance Briefing
Intelligence-Driven DDoS Defense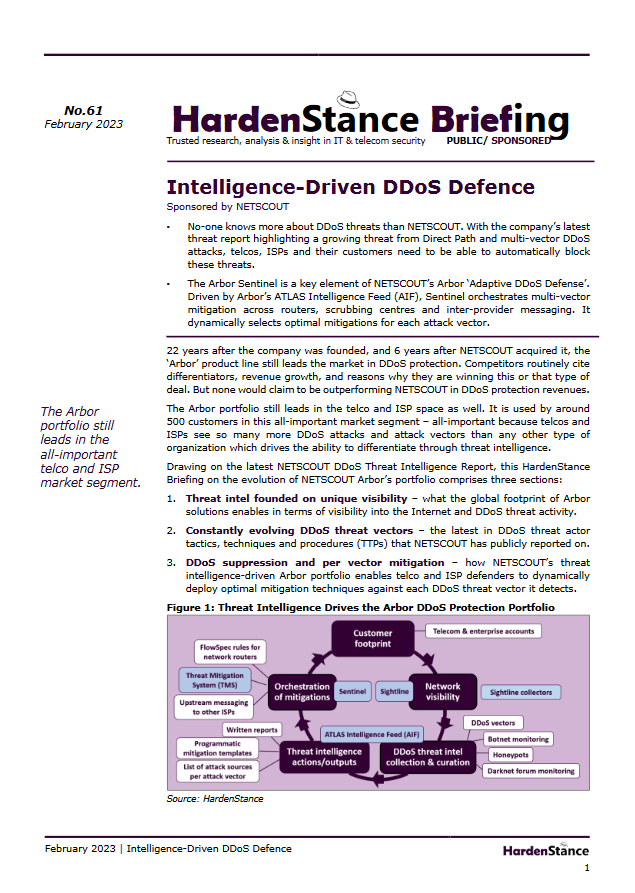 For over two decades NETSCOUT Arbor DDoS Protection solutions have been and continue to be the leader in the telco and ISP space, where more DDoS attack vectors are seen that in any other type of organization.

With this breadth and depth of visibility into DDoS threat activity, NETSCOUT through its ASERT team, gathers and reports on vectors, trends, and suppression methods, both through public reports and via automated distribution to all Arbor DDoS Protection solutions.

In this HardenStance Briefing you will find new insights into the world of DDoS attacks and Adaptive DDoS Defense offered by NETSCOUT:
ASERT threat intelligence derived from unique visibility: 190 countries, 550 types of business organizations, 36,000 DDoS attack alerts per day, 6.7million connections from 608,00 unique IP addresses – in 6 months!
Constantly evolving DDoS threat vectors: how and why direct path attacks are overtaking reflection/amplification attacks, botnet driven innovation, and attacks that are adjusted in real time.
Adaptive DDoS Defense that uses ATLAS threat intelligence to automatically detect and orchestrates per vector mitigation of the most sophisticated DDoS attacks.