Monitoring the Network Edge: Extend Visibility, Exert Control, and Enhance Service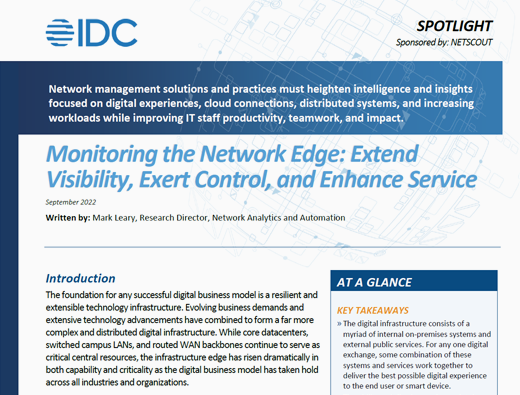 The rising complexity and criticality of the infrastructure edge increase the challenges, responsibilities, and risks in deploying and operating an efficient, resilient, and responsive digital infrastructure for end users and smart devices. In this complimentary IDC Spotlight paper, learn about:
The three major challenges that IT faces in meeting digital demand
The new responsibilities and risks relating to the digital infrastructure
The key focal points and best practices for edge monitoring and management
How NETSCOUT nGenius Performance Management leverages key monitoring and management capabilities to help IT cut resolution times, solidify user experiences, validate service levels and drive business outcomes.
Download the free paper for actionable insights you can use to tackle your toughest IT challenges.