Shifting to a service-oriented lab infrastructure
Individual test labs have become islands; unable to leverage the collective investments being made across the organization and resulting in inefficient use of CAPEX and OPEX. Shifting to a service-oriented lab infrastructure allows test labs to operate with much higher efficiency as a result of their larger scale, dedicated management, and proper tooling. In addition to providing significant capital and operating expense savings, implementing Lab as a Service (LaaS) improves the quality of tests being conducted.
Challenges implementing lab as a service
Deploying LaaS can present significant challenges due to the increased complexity inherent with creating larger, multi-use test labs. Add to this the need to utilize new test tools and techniques that may not exist in single-use test labs in order to meet the requirements for global 24×7 operations, and test lab professionals may find themselves in a jam. Simply consolidating equipment from multiple smaller test labs into a larger facility will not yield the desired results.
Deploy service-oriented labs quickly and easily
NETSCOUT Test Optimization solutions enable test lab professionals to deploy service-oriented labs by providing innovative functionality that combines layer 1 switching with layer 2-4 intelligence. Our easy- to-use, intelligent, highly scalable technology allows you to quickly realize the capital and operating expense improvement potential of implementing a LaaS solution.
Solutions you can trust
NETSCOUT understands the challenges test lab professionals face in today's complex lab environments. Let us show you how to enable a service-oriented lab using our Test Optimization solutions. Additional layer 2-4 functions such as test stream aggregation and rate conversion, or enabling a TAP with a filtered data feed for analysis can be provided via a software interface and without requiring physical access to the lab.
Traditional Test Lab
Traditional test labs, which often include underutilized test tools connected through patch panels, can be exceedingly wasteful of CAPEX and OPEX due to ongoing infrastructure costs coupled with poor utilization of these tools. Implementing a Lab as a Service model from NETSCOUT can not only solve these problems, but also improve test quality.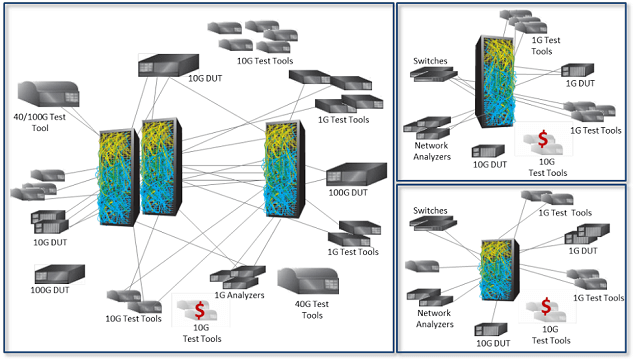 Traditional test labs often underutilize expensive test tools and lead to increased CAPEX and OPEX
NETSCOUT Solution
A NETSCOUT solution enables customers to deploy service-oriented labs by providing innovative functionality that combines layer 1 switching with layer 2-4 intelligence. By replacing patch panels with layer 1 switches, such as the nGenius 3900 Series for Test Lab Automation, which enables simplified moves, adds, and changes of test tool connections, customers can dramatically improve the utilization of existing test lab equipment. With the layer 2-4 intelligence and functionality offered by the 3900 Series and its TestStream Management Software, customers can add capabilities including filtering, impairment, packet generation, test stream aggregation, and rate conversion to further improve test lab performance.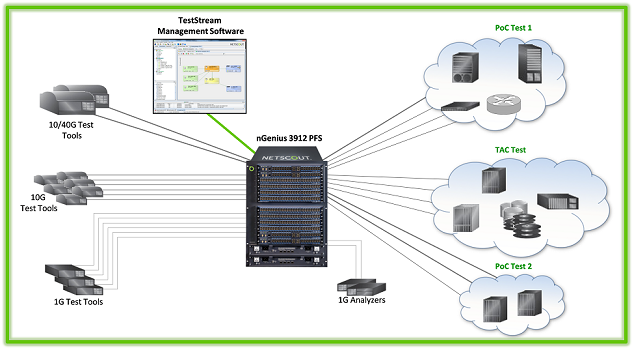 A NETSCOUT Solution provides the infrastructure required to enable lab as a service (LaaS)
With such a solution, customers quickly realize the CAPEX and OPEX improvement potential of Lab as a Service (LaaS).
…
Quick Look
White Paper
Video
Solution Brief
Webinar
Case Study
Data Sheet