Active Monitoring
Finding and fixing problems before customers notice is one of the main objectives of any monitoring solution. Rather than waiting for symptoms to appear, Spectra2 Controlled Assurance solutions establish real transactions on your next generation IMS/EPC or VoLTE production network in order to verify that your customers are getting the best experience possible.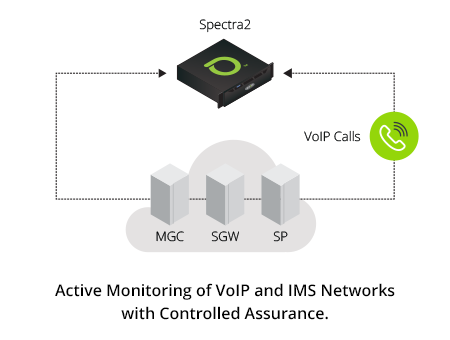 Dropped calls, one way audio, poor voice quality, and many other potential problems can be detected utilizing a Controlled Assurance solution.
Controlled Assurance transactions use SIP, VoLTE, or Diameter to mimic real-world use cases. Transactions can be scheduled to occur at any time interval and can target different destinations.  Throughout the session, customer experience metrics are measured and reported to your existing performance management system if they are outside pre-defined boundaries. This level of flexibility and control helps to ensure that you will be the first to know when network issues occur.
Voice Calls 
Initiate voice calls using SIP or VoLTE in order to assess signaling performance and media quality. Each end-to-end session can measure important metrics such as protocol response times, RTP packet loss, and audio quality using PESQ or POLQA.
Diameter Transactions
When AAA services slow down, all revenue generating services slow down. Controlled Assurance allows you to actively monitor your Diameter based functions, including HSS, PDF, OCF, PCRF and PCEF. By initiating real Diameter transactions on a pre-determined schedule, performance issues are raised quickly and the problematic server(s) can be identified without the need for time consuming analysis.
End-to-End or Specific Functions
Controlled Assurance transactions can cover an entire network, a specific device, or anything in between. When specific devices or functions are targeted, transactions can traverse individual resources all the way down to the blade, port, and DSP being used.
…
Quick Look
Data Sheet
Solution Brief
White Paper