Improve Service Performance and Reduce Business Risk with a Real-time Information Platform
Disruptive innovation is nothing new to business. Henry Ford pioneered the assembly line and the automotive industry was born; Walmart reshaped the retail industry and its competition has never been the same; and Amazon led the charge for ecommerce when the internet was still in its infancy and has changed business-to-consumer commerce forever. Now, a digital thread is weaving its way throughout every business and organization. It is global in its impact – and it's just getting started. Digital transformation goes by many names, e.g., digitization, digital services, but the impact is the same: digital transformation is disrupting previously unchanged or complacent organizations in unprecedented ways.
This driving force is moving organizations to re-think their digital DNA, and the impact of such digitization upon organizational processes is profound and perhaps no digital service more so than Unified Communications and Collaboration (UC&C). The business value of UC&C is indisputable. The various mechanisms of UC&C facilitate decision-making but a complete integration of applications such as virtual white boards, video conferencing, Voice over IP (VoIP) and real-time audio foster collaboration at the speed of business. In fact, collaboration is now the key that unlocks many of the business process improvements at the heart of an organization's day-to-day activities – and as many organizations could testify, UC&C helps accelerate digital transformation.
But the core promise of UC&C lies in its availability. Without it, collaboration, communication and decision-making suffer. In this highly agile and hyper-connected world in which the digital economy thrives, that simply can't happen. A Business Assurance solution, therefore, is the foundation for UC&C availability and the basis for IT to face the challenges imposed by innovative and accelerator technologies such as cloud, mobility, IoT, and of course, UC&C. And assuring service delivery for any IT infrastructure, today and tomorrow, requires making the complex simple with a real-time information platform. Furthermore, that platform needs to deliver unrestricted visibility and operational analytics so as to support digital services that go beyond traditional network and application tools.
The Challenge of UC&C in the Digital Age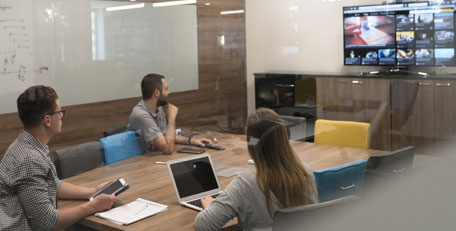 According to ZK Research, for many businesses, a key challenge is: How can employees have real-time access to information and people in order to perform business-critical tasks at the speed required? More so, how can they accomplish these tasks at an accelerating speed brought on with digital transformation? This includes the ability to make fast decisions but it also requires quick responsiveness to co-workers, customers, business partners and other members of the extended enterprise using a wide variety of communication tools.
To solve this challenge, businesses have turned to UC&C. According to Ovum, an analyst and consultancy firm, UC is integral to any company's digital transformation and workplace strategy. Indi Sall, a technical director for a large British engineering services company, believes that the implementation of a well thought out UC infrastructure should be the first priority of digital transformation initiatives and he may be right.1 But UC&C is inherently complex. If not done right, the ripple effect could cause a digital tsunami that impacts individual productivity, workforce agility and company competition.
To make UC&C succeed in the lab and production environment, there must be a fusion of Business Assurance with digital transformation initiatives – including UC&C. This fundamental requirement is the difference between delivering a flawless end-user experience and time wasted hunting down the root cause of service degradations or outages that could result in the loss of millions of dollars a year. According to Dun & Bradstreet, "The average annual [IT] downtime for 60 percent of the Fortune 500 is 83.2 hours."2 And digital downtime for employees and customers can literally cost a company hundreds of thousands of dollars per hour, depending on the industry.3
The Multiple Dimensions of Digital transformation
Undoubtedly, digital transformation is not a one-dimensional paradigm but a multi-phased construct necessitating not just development transformation but IT operations transformation as well. Such a renewal requires the absolute necessity of service delivery. Organizations need a Business Assurance solution to preserve critical digital asset functionality including UC&C while enabling DevOps to work efficiently, too.
Indeed, Business Assurance requires end-to-end, real-time visibility of the entire IT infrastructure that supports UC&C service elements such as DHCP, DNS, SBCs, LDAP/Active Directory, backend databases, firewalls, application servers, gateways and load balancers. End-users want instant, seamless and trouble-free UC&C service. Thus, UC&C requires not just a well thought out approach by IT engineers, but a comprehensive service-triage solution that is capable of rapidly identifying service issues across the global infrastructure.
The Business Assurance Solution for UC&C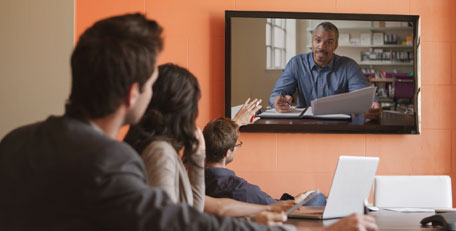 The NETSCOUT nGeniusONE Service Assurance solution provides service-oriented workflows for complete operational intelligence and information allowing enterprises to investigate, identify and triage UC&C and other service-delivery issues. Whether it's exploring SIP Trunk concerns, triaging voice and video QoS, analyzing SIP signaling failures, examining RTP issues; or whether it's probing internal or external web services, or identifying one-way call problems, organizations in the Digital Age need a Business Assurance solution that can scale to process large volumes of data in complex infrastructures and rapidly identify the root cause of UC&C issues anywhere along the service-delivery path. NETSCOUT nGeniusONE is that solution.
With the NETSCOUT nGeniusONE solution there are no UC&C performance blind spots. Through its patented Adaptive Service Intelligence™ technology coupled with InfiniStream® virtual and physical appliances, the nGeniusONE solution enables superior business insights and decision making as a real-time information platform based on smarter data and superior analytics. NETSCOUT collects, correlates, and contextually analyzes critical UC&C traffic data as it traverses physical or virtual links within the service-delivery infrastructure. This coherent data is then visualized through multi-tiered, top-down views. Quickly pinpointing and resolving UC&C problems before they have significant impact on the business can be as easy as three clicks of the mouse to get service, session and packet analysis.
What are the typical results? Time spent in the war room, mean time to knowledge (MTTK) and mean time to repair (MTTR) are dramatically slashed. The positive ripple effect is significant as well resulting in a myriad number of benefits to the organization include lowering capital or operational expenditures, safeguarding and improving user experience, and preserving corporate brand and reputation.
Truly, NETSCOUT is the catalyst for Business Assurance in complex multi-vendor environments, providing complete visibility into all UC&C service components. Whether it is call servers, applications, gateways or end points, NETSCOUT nGeniusONE allows complete visibility into all service interrelationships and interdependencies that affect the UC&C experience.
Real-World Customer Results – A Digital Silver Lining
But what are the real-world results with actual customers? The outcomes NETSCOUT has helped its customers achieve have been nothing short of spectacular. Recently, TechValidate, the premier Voice of the Customer researcher, surveyed enterprises and discovered that an astonishing 90 percent consider nGeniusONE superior in assuring UC&C service delivery. But that's not all. NETSCOUT helps reduce business risk dramatically while improving service performance. One such example is Canadian Tire. The automotive retail giant not only ranked NETSCOUT nGeniusONE UC&C monitors for SIP trunking, call servers, and voice and video performance as "Best in Class" but they also achieved 80-100 percent reduction in business risk and improved service performance 80-100 percent as well. Moreover, Canadian Tire achieved a payback in only zero to three months in each of the following areas: customer experience, operational efficiencies, support for new business models and increased collaboration.
They are not alone. Cambia Health also rated NETSCOUT nGeniusONE as best in class for UC&C service assurance as did USPS, AAA Michigan and Norfolk Southern. Visa and other customers, not only increased IT collaboration and operational efficiencies using nGeniusONE but also leveraged a broad range of business assurance features including:
Identifying the root cause of service performance problems
Discovering automatically vital service-delivery components and interrelationships
Understanding current capacity utilization
Gaining enhanced situational awareness
Improving contextual analysis for applications and digital services inherent to digital transformation initiatives
Perhaps the most telling feedback came from Visa's Robert Ferguson, an IT director with the financial services company. Ferguson said, "NETSCOUT nGeniusONE helped develop confidence in the support organizations to identify root cause for failure or degradation of services. Our IT engineers consider NETSCOUT as the 'go-to tool of choice' for problem isolation and resolution."
Summary
Dr. Stephen R. Covey, the award-winning author who inspired millions with the power of universal principles, wrote, "Communication is the most important skill in life."4 In the Digital Age, and with the criticality of UC&C within enterprise organizations, that message is indisputable.
Business is more connected than ever before with mobility, analytics, cloud and IoT, and perhaps one of the most important technological innovations being UC&C as it facilitates business outcomes. UC&C is increasingly critical to the success of organizations in the Digital Era due to the operational necessity of collaboration. Therefore, service visibility throughout the IT infrastructure is the foundation stone to achieving business goals while limiting business risk and enabling a flawless user experience.
UC&C has the potential to be a force multiplier for top- and bottom-line growth. To make that happen, UC&C must be bound with a world-class Business Assurance solution. UC&C demands a best-in-class solution that solves challenges related to the complexity of managing digital services at scale and at a high speed of change. And with NETSCOUT nGeniusONE, it's possible.
For more information on how you can enhance your organization's UC&C service performance, please visit our website or call +1-800-309-4804 today.
Are your employees, customers, and business partners truly enabled and empowered by Digital Transformation? Download the free research paper, 3 Essential Steps to UC Service Assurance.
---
2 Dunn & Bradstreet, Assessing the Financial Impact of Downtime, Vision Solutions white paper, 2014
3 Network Consulting, the Meta Group and Contingency Planning Research, Vision Solutions white paper, 2014
4 Covey, Stephen R. 1989. 7 Habits of Highly Effective People. NY: Simon & Schuster