Overview | Enterprise | Service Provider | Case Studies | Commentary | Infographic
Customers Use NETSCOUT's Patented Adaptive Service Intelligence (ASI) Next-Generation Technology to Provide Holistic IT Infrastructure Visibility and Rapid Service Triage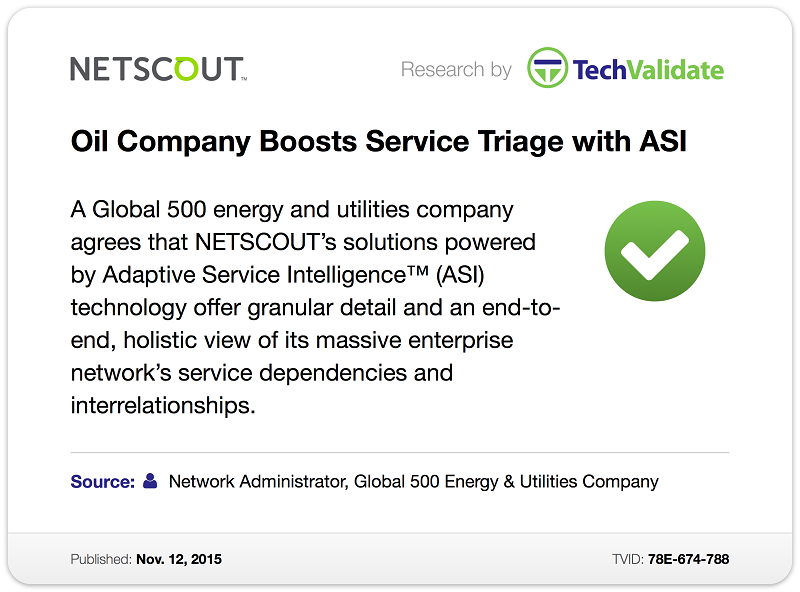 Organizations of every type need a service monitoring solution that has complete operational insight into their entire service-delivery environment. From executive management down to the specialists handling the day-to-day operations of an organization's IT infrastructure, all know that service performance and availability are the most critical metrics in today's connected world where "there is no off."
Service performance degradations – no matter for how long – is costly; any perceptible disruption of service quality simply can't happen to users and customers. Why? Because users will experience reduced productivity, customers will run to the competition, and the organization's costs will go up while revenue goes down. In July 2014, the Wall Street Journal reported companies lose between $5,000 and $10,000 a minute when a business service breaks because of problems with the IT infrastructure. In some cases, the damage is so pronounced it makes the front page news and goes viral through social media.
Achieving the highest quality end-user and customer experience is not a magic act. It requires continuous monitoring and real-time analytics of the entire service-delivery environment, and that is where NETSCOUT nGeniusONETM Service Assurance platform bolstered by its Adaptive Service IntelligenceTM (ASI) patented technology comes to the rescue.
So what is NETSCOUT's ASI? It is a technology that utilizes the traffic-flow data Deep Packet Inspection (DPI) engine to generate metadata. This metadata is what enables a rich, comprehensive, real-time and historic view of the entire service-delivery network infrastructure. The metadata itself is generated by actual session traffic in real-time as the traffic crosses any physical or virtual links.
This metadata provides vital metrics such as server throughputs, application server response times, traffic volumes, and more. ASI technology is the foundation of the service-delivery monitoring architecture that collects, correlates, contextualizes and analyzes data for all operational services. It is also the cornerstone of service triage and to rapidly identify the root cause of exceptionally challenging network and application issues anywhere along the service delivery path.
So, what kinds of results are customers deriving from NETSCOUT's ASI technology?
TechValidate Survey Results
In May, 2015, NETSCOUT sent out a carefully crafted customer satisfaction survey asking various customers from many different industries including healthcare, financial services and manufacturing, for feedback regarding the NETSCOUT nGenius platform and ASI. The results far surpassed expectations. Moreover, in order to ensure the accuracy of the results, the content was independently verified by TechValidate, a subsidiary of SurveyMonkey. Customers from every industry lauded the power of ASI with some of the more noteworthy results detailing the following:
In addition, nine out of 10 customers agree that ASI technology offers a comprehensive, end-to-end perspective of their network's vital service dependencies and interrelationships.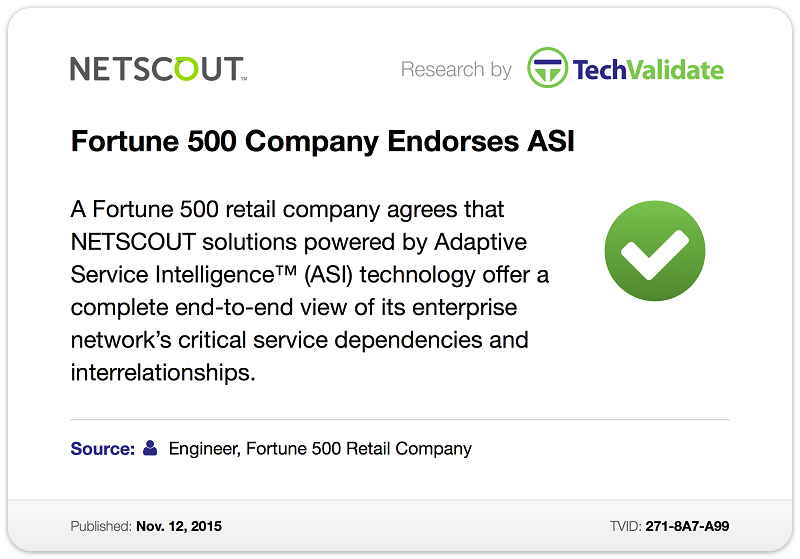 Conclusion
NETSCOUT's ASI technology coupled with the NETSCOUT nGeniusONE Service Assurance platform, InfiniStream appliances and Packet Flow Switches is a superior service assurance solution that provides streamlined and efficient service triage for troublesome technical issues. But the common denominator is the ASI technology that facilitates and expedites the rapid identification of service performance problems and mean time to repair. Indeed, with NETSCOUT and its ASI technology, enterprise and service provider customers rest easy knowing their patch of the connected world is always on.